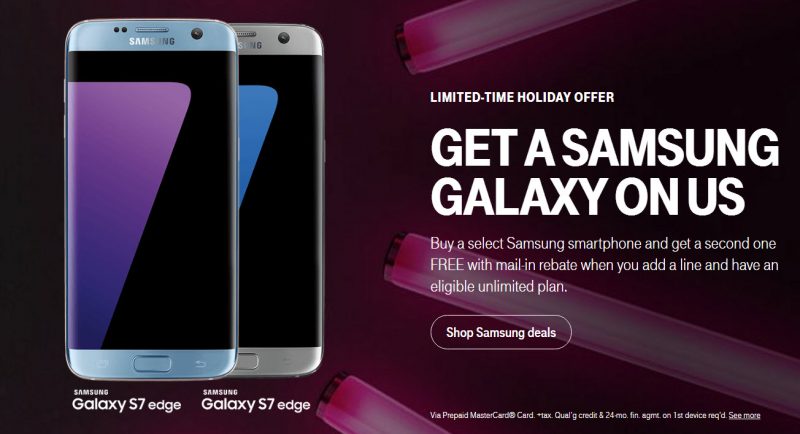 Missed out on T-Mobile's Black Friday deals and you still need a gift for that special someone? Well, T-Mobile has you covered.
Recently posted on their website, T-Mobile is offering a buy one, get one free offer on a number of Samsung Galaxy smartphones. The full list of smartphones include the Samsung Galaxy S7, Galaxy S7 Edge, Galaxy Note 5, Galaxy S6, Galaxy S6 Edge, Galaxy S6 Edge+, or Galaxy J7.
The way this works is you'll have to purchase two qualifying Samsung Galaxy smartphones and be a T-Mobile One or Simple Choice Unlimited customer. Once the purchases have been made, simply head on over to the T-Mobile promotions website here, complete the online form and enter the promo code HOLIDAYBOGO before January 27, 2017 to receive a prepaid MasterCard on the cost of the second smartphone. Those with larger families can get up to six free Samsung Galaxy smartphones per account while those with T-Mobile @Work accounts have no device limits.
Currently, no end date has been posted for the promotion, but previous Samsung BOGO offers from T-Mobile typically doesn't last too long. If you've had your eyes on a brand new Samsung Galaxy S7 Edge for a while, this could be the perfect opportunity. Happy Holidays!
Source: T-Mobile