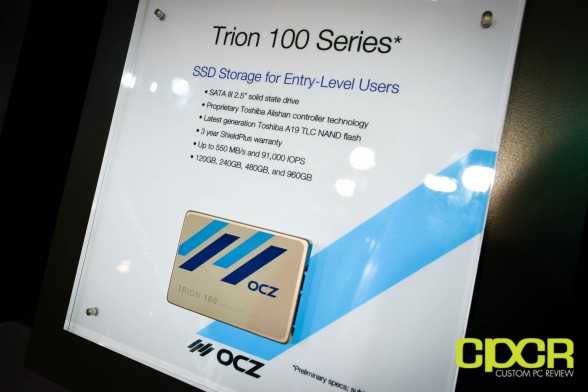 OCZ's biggest product announcement at Computex 2015 is the Trion 100 series SSD, which is squarely designed for the cost conscious mainstream consumer. To achieve this, the Trion 100 leverages not only Toshiba's A19nm TLC, but also an all new Toshiba Alishan controller.
We thought it was strange that OCZ would still use A19nm with 15nm on the horizon, but we were told that A19nm is a more mature, more well understood process than 15nm which is why A19nm was used. Future iterations of the drive will certainly see a shift to 15nm. As for the controller, we weren't told much about it other than the fact that we'll be seeing more melding of Toshiba technologies into OCZ drives. One major benefit of using Toshiba's controller however, is that it will finally give OCZ drives low power states and DevSleep support which is a feature that's sorely needed in the Barefoot 3. This should allow OCZ to finally compete for the mobile market where low power consumption is a must.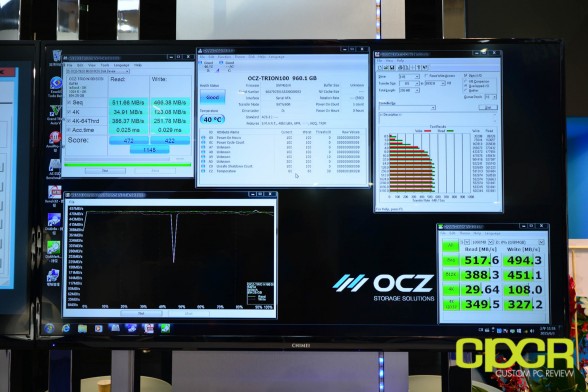 The only performance figures on the drive were read performance which is rated at 550MB/s sequential reads and 91,000 IOPS 4K random reads. The rest of the performance numbers are still unknown, but above we can see that the 960GB Trion 100 is able to reach ~562MB/s sequential reads and ~533MB/s sequential writes. Of course, lower capacity models will likely offer lower write performance.
Toshiba expects to offer the Trion 100 in capacities of 120GB, 240GB, 480GB, and 960GB and expects to launch in the Q2-Q3 timeframe. No details on pricing are available at this time, but it should be competitive.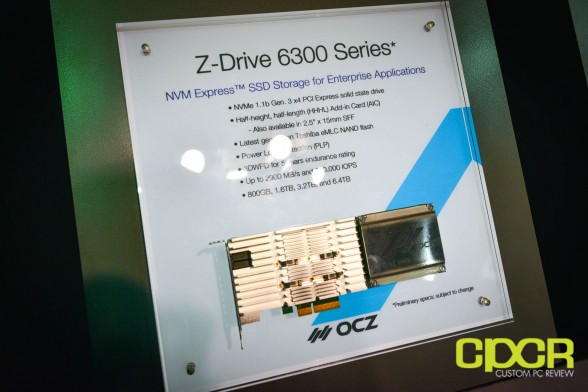 On the enterprise side, OCZ also introduced the Z-Drive 6300 which is basically an enhanced HHHL version of the Z-Drive 6000 we've seen before. The biggest change for the Z-Drive 6300 (other than the HHHL form factor) is the switch to Toshiba eMLC NAND to achieve 3DWPD for 5 years from the Z-Drive 6000's 1DWPD. The Z-Drive 6300 also offers capacities up to 6.4TB, which is double the maximum capacity of the Z-Drive 6000.