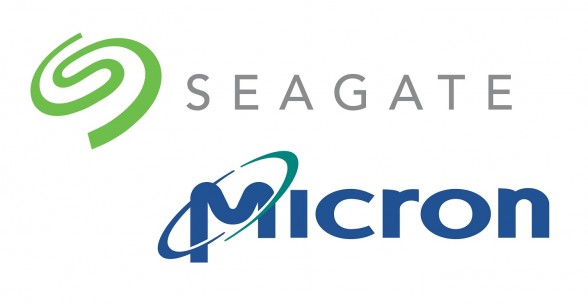 In a joint announcement recently made by Seagate and Micron, the two storage juggernauts recently revealed that they've entered into a multi-year strategic agreement, combining their expertise to more quickly and more effectively deliver industry leading storage solutions. While most of the finer details of their partnership was left out of the announcement, Seagate and Micron revealed that their initial focus will be on next generation SAS SSDs and strategic NAND supply with future collaboration opportunities to follow.
Our Take
Seagate is trying hard to work their way into the SSD market and it looks like the pieces to making it happen are finally coming together. After acquiring LSI's flash business from Avago early last year, Seagate now owns both top notch controller technology and a piece of the enterprise SSD business. The only thing that they're missing is a stable top tier NAND supply, and it looks they've found it in Micron.
On the other hand, Micron is one of the world's top producers of NAND with tons of knowledge and expertise in NAND, but they still lack their own controller technology. Rumors have it that Micron is developing an in-house controller for their enterprise solutions, but it's still not ready. Development of a high performance SSD controller definitely isn't easy and it can't hurt to have Seagate and their recently acquired SandForce guys give a helping hand. Depending on what Seagate plans to do with SandForce we may even see SandForce powering the next generation of Micron/Crucial products – something we've never seen in the past.