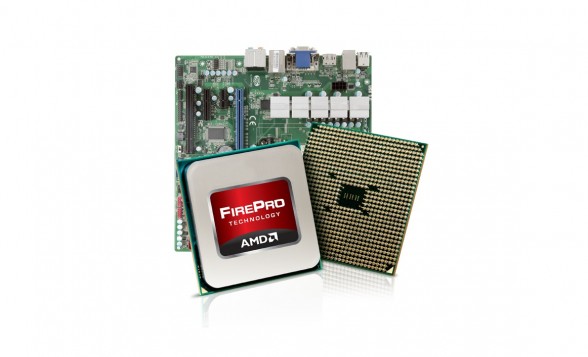 Press Release
Integrating APU and GPU to Provide Outstanding Performance and High Flexibility
SAPPHIRE PGS announced today a professional FirePro workstation platform that uses the all new AMD FirePro™A300 APU equipped with the SAPPHIRE PGS A3 M series mainboard exclusively supplied by SAPPHIRE Technology. This platform is mainly targeted for entry level and intermediate mainstream desktop 2D and 3D workstation markets.
"Big Things Come in Small Packages", this type of small workstation platform has the advantage of being high performance and space-saving, as well as offering flexibility; it can perform DCO (Discrete Compute Offload) technology together with the AMD FirePro 3D graphics card, which allows additional compute capability by using select discrete GPUs in parallel with APU graphics for extended GPGPU performance. This professional FirePro platform also supports AMD Eyefinity multi-screen display technology, not only satisfying the professional user's need for high performance computing and rendering, but also supporting computer-aided design(CAD), media and entertainment (M&E) workflows while providing a simple multi-screen output solution.
The SAPPHIRE PGS A300M/A320M professional platform uses the all new GCN architecture Southern Islands A300 series Accelerated Process (APU), which is the first family of single-chip processors that provides workstation-class visual computing performance, able to satisfy the need for todays most advanced professional design workflows. The release of the FirePro A300M/A320M professional platform not only brings greater design flexibility for OEM manufacturers and workstation integrators (WSI), it also allows this new type of workstation design to maintain workstation-level performance and reliability while helping with energy-saving, space-saving and reducing heat and noise levels.
There are two specifications available for selection:
| Model | Graphic performance | TDP | Core | CPU ClockBoost/Base | GPU Clock | AMD Stream Processor | Max. DDR3 | Discrete compute offload | Unlocked |
| --- | --- | --- | --- | --- | --- | --- | --- | --- | --- |
| A320 | Entry-Mid Range | 100W | 4 | 4.2/3.8GHz | 800MHz | 384 | 1866 | FirePro V3900/V4900 | Yes |
| A300 | Entry-Mid Range | 65W | 4 | 4.0/3.4GHz | 760MHz | 384 | 1866 | FirePro V3900/V4900 | No |
The SAPPHIRE PGS professional platform has passed rigorous testing and has received certifications from major ISVs for its reliability and compatibility.  All of the AMD FirePro A300 series APUs support the AMD Catalyst™ Pro software; enabling application performance and compatibility with ISV-certified software and optimized performance for CAD and M&E applications. The AMD FirePro graphics ISV Alliances team maintains very close collaboration with dozens of ISVs to ensure alignment for product and driver updates.
The certified software list includes the following:
| ISVs | Software |
| --- | --- |
| Adobe | After Effects/Photoshop/Premiere Pro |
| Altair Engineering | HyperWorks |
| ANSYS | ANSYS / Worksbench/FLUENT V14 |
| Autodesk | Maya 2013/Softimage2013/Mudbox2013/Motionbuilder2013AutoCAD Inventor2013/2012/3ds Max 2013 |
| Bentley | MicroStation |
| Dassault Systemes | SolidWorks |
| ESRI | ArcGIS 10.1/ ArcGlobe 10.1/ ArcMap 10.1/ ArcGISExplorer Desktop Build 1750 |
| GRAPHISOFT | ArchiCAD V16 |
| IMSI/Design | TurboCAD/DoubleCAD |
| Maxon | Cinema4D |
| Missler Software | TopSolid V6/V7 |
| NEMETSCHEK | AllPlan |
| OPTIS | THEIA-RT/VRLab |
| Planit Group | Edgecam 2012R2/ 2013R1 & Edgecam Part Modeler 2012R2 |
| Redway3D | RedSDK |
| Robert McNeel & Assoc. | Rhino V4 SR9 |
| SIEMENS PLM Software | FEMAP/Solid Edge |
| SpaceClaim | SpaceClaim 2012 SP1 |
Updated to August, 2012; please refer to AMD's official website for more certifications: http://support.amd.com/us/gpudownload/fire/certified/Pages/certified-applications.aspx
The SAPPHIRE PGS professional workstation platform has the following product features:
It is the first to use the professional AMD FirePro APU A300 series; the single chip has simultaneous GPU and CPU computing performance. Its professional graphics ability can achieve entry level to intermediate level performances.
It supports the Discrete Compute Offload (DCO) technology; by using the discrete AMD FirePro GPU together with a parallel-operating APU graphics core which can further extend the GPGPU's performance and provide additional computing ability (It can work with AMD FirePro V3900/V4900 and perform parallel computing simultaneously).
It has 3 native display outputs, which are VGA, DisplayPort 1.2, and DVI-D; it supports AMD Eyefinity Technology multi-screen output technology to deliver high work efficiency and telepresence, and to achieve high productivity in a multi-screen environment.
The AMD Turbo Core technology can dynamically adjust the CPU and GPU's performance according to the workload need, providing a more effective computer response speed.
It supports 30-bit color fidelity, displaying stunningly realistic images and colors in the most advanced operating procedures; it can perform color correction and image processing operations, etc., when using a monitor in which each color channel supports 10-bit color fidelity.
Dedicated UVD (Unified video decoder/VCE or video CODEC engine) media coding hardware; when processing H.264/MPEG4 files and other dynamic media format files, if a compatible software is used, the CPU resource can be released to execute other tasks, achieving faster (fixed function) GPU processing performance.
Supports DisplayPort 1.2: Single-monitor output resolution can reach up to 4K.
Equipped with 4 * USB3.0 and 8 * USB2.0 ports
Expansion Slots: 1 x PCI-Express (Gen2) x16 slot/1 x PCI-Express (Gen2) x1 slot/1 x PCI-Express (Gen2) x4 slot/ 1 x PCI 2.3 Slot.
The Performance
(Figure 1) – When testing the GPU graphics performance alone, the SAPPHIRE PGS professional platform (A320 APU) can achieve the graphics performance of the AMD FirePro V4900 and in certain software such as SNX and PRO-E, it almost surpassed the performance of the V5900.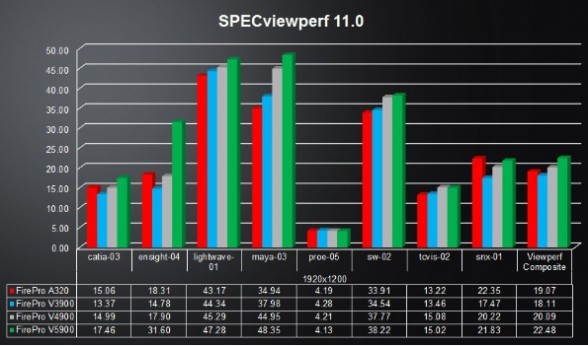 (Figure 2)SPECViewperf11 test: Tested using SAPPHIRE PGS professional platform (A320 APU) and Intel Xeon E3-1275V with Intel HD Graphics P4000, the SAPPHIRE PGS platform won greater performance advantages over the Intel Xeon platform on various software.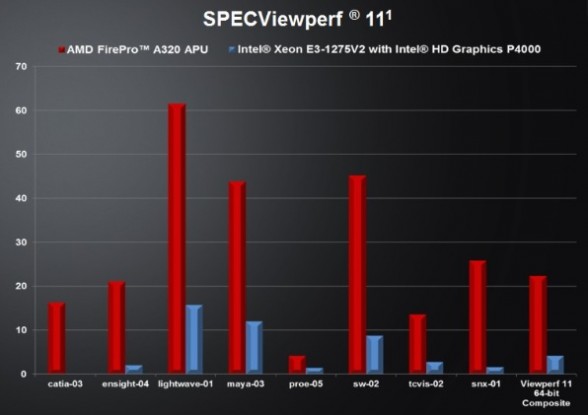 (Figure 3)Inventor 2013 and SpaceClaim Engineer 2012 when tested using SAPPHIRE PGS professional platform (A320 APU) and Intel Xeon E3-1275V with Intel HD Graphics P4000, the SAPPHIRE PGS platform also achieved 2-3 times the performance over the Intel Xeon platform.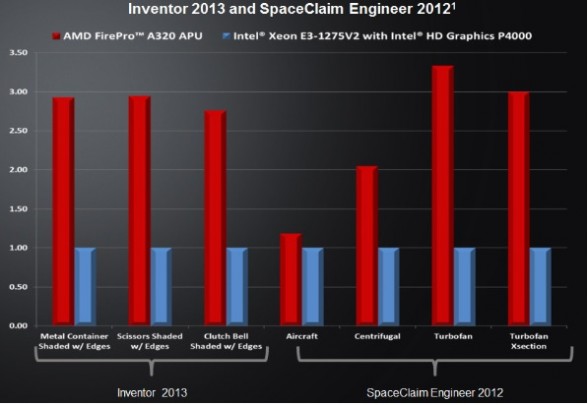 Industry Partners Endorsements.
"SpaceClaim is excited to partner with AMD as they bring to market a solution that helps enhance productivity and value for our customers. The combination of our 3D direct modeling software that significantly streamlines the process of preparing geometry for simulation and manufacturing with workstations utilizing the new AMD FirePro A300 APU allows SpaceClaim users more flexibility in their workflows while reducing the costs required for enabling true workstation-class reliability and performance." Said Bernard J. Buelow, Vice President Corporate Marketing of SpaceClaim Corp.
"IMSI is proud to call AMD a close technology partner and we're excited to see the new AMD FirePro A300-based workstations coming to market. Our TurboCAD users now have a powerful and cost-effective new option when choosing their next workstation."Said Bob Mayer, Chief Operating Office of ISMI/Design.
Note:
The AMD FirePro A300/A320 will only be shipped along with SAPPHIRE A3 M series mainboard as a platform unit.
SAPPHIRE will be ready to supply Professional Platform Units to OEM manufacturers and workstation integrators (WSI) in late September.
For more information, check out the product page here.