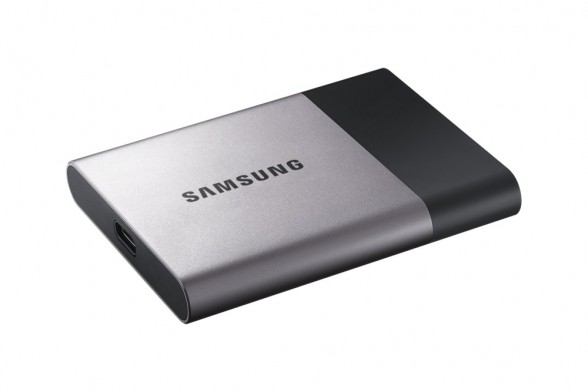 For CES 2016, Samsung announced the T3 Portable SSD which is the successor to the T1 Portable SSD launched at CES last year. Despite the naming scheme that suggests a two generational improvement, the T3 Portable SSD is mostly a refresh of the existing T1.
Externally, the T3 PSSD is now equipped with a metal chassis which makes the unit slightly heavier, but more durable. Additionally, a USB Type C connector replaces the USB 3.0 Micro-B connector used on the T1 PSSD. Along with the new USB connector, the T3 PSSD also includes support for USB 3.1 however, performance is still capped at 450 MB/s.
Internally, the T3 PSSD still utilizes Samsung's 3rd Generation 3D V-NAND and most likely a combination of the MEX/MGX/MHX controller depending on capacity. The biggest improvement to the drive is that Samsung now offers up to 2TB of storage with the T3 PSSD. The T3 PSSD also includes hardware AES Encryption support for data security without a compromise in performance.
The Samsung T3 Portable SSD is expected to be available in early March with pricing still unavailable at this time. That said, pricing should be relatively similar to the Samsung T1 Portable SSD. More information about the T3 PSSD can be found at Samsung's website here.
https://www.youtube.com/watch?v=GsVHSykXB0Y