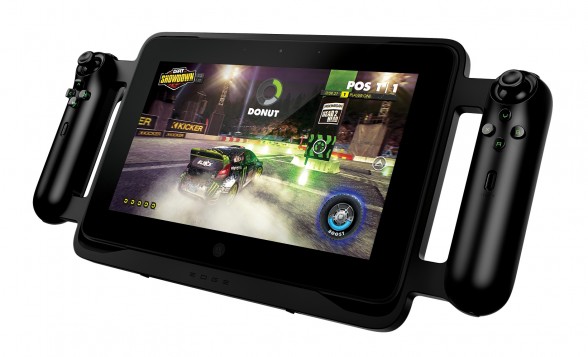 Press Release
Razer™, the world leader in high-performance gaming hardware, software and systems, announced that its award-winning Razer Edge tablet will be available for pre-order on March 1, 2013, at 12:01 a.m. PST at the Razer website.  Purchased units will be shipped to consumers later that month.
The most powerful tablet in the world is also already one of the most decorated of its kind, with the Razer Edge claiming eight awards at the 2013 International Consumer Electronics Show (CES), including CNET's "Best of Show" award, where it beat more than 20,000 other products. In addition, the Edge was voted the "People's Voice" award recipient by fans, making this the third consecutive year that a Razer product earned that honor.
"The Razer Edge combines the features of full-functioning PCs, touch-enabled tablets and gaming consoles into one incredible, portable form factor," says Min-Liang Tan, Razer co-founder, CEO and creative director. "Furthermore, the Razer Edge's powerful chipset, unique among all tablet computers, ensures that you can take advantage of the world's most sophisticated games, programs and apps on these multiple platforms anytime."
PC gamers helped shape the Razer Edge by way of a massive crowdsourcing effort put into place by Razer, which targeted millions of gamers to help determine final specifications for the tablet.  Razer let its community decide the final chipset, weight, thickness, features and even price for the Edge, hosting the initiative on its social media pages, an unprecedented move for a hardware manufacturer.
The Razer Edge and its Intel i5 processor and 64 GB SSD, and the Razer Edge Pro with an Intel i7 processor and the option of a 128 GB or 256 GB SSD, will begin shipping this March. The gamepad controller, home console dock and extended battery accessories will be made available for pre-order and shipping concurrent with the Edge on March 1.  An optional keyboard dock is slated for launch later this year in Q3.
The all-in-one Razer Edge PC gaming solution starts at $999 and is available here.