Warning
: Undefined array key "width" in
/var/www/vhosts/custompcreview.com/public_html/wp-includes/media.php
on line
1381
Warning
: Undefined array key "width" in
/var/www/vhosts/custompcreview.com/public_html/wp-includes/media.php
on line
1386
Warning
: Undefined array key "height" in
/var/www/vhosts/custompcreview.com/public_html/wp-includes/media.php
on line
1386
Warning
: Undefined array key "width" in
/var/www/vhosts/custompcreview.com/public_html/wp-includes/media.php
on line
1381
Warning
: Undefined array key "width" in
/var/www/vhosts/custompcreview.com/public_html/wp-includes/media.php
on line
1386
Warning
: Undefined array key "height" in
/var/www/vhosts/custompcreview.com/public_html/wp-includes/media.php
on line
1386
Well since we all know the new Radeon HD 7970 will cost $550 USD, the obvious gpu to look out for on January 9 will be the HD 7950 and from a leaked slide on DonanimHaber, we now have an idea of the HD 7950's specs!
While its no HD 7970, the specs are still quite impressive.
4,312,711,873 Transistors
1792 Stream Processors / 28 Compute Units (CU)
3GB GDDR5 / 384 bit Memory Interface
5Gb/s Memory Clock
We still don't know the core clock and pricing of the card itself, but similarly to the HD 7970, details should be surfacing in the coming days. Stay tuned for that. This one will be quite exciting!
Who's picking up a HD7950 on launch day? Anyone? Anyone?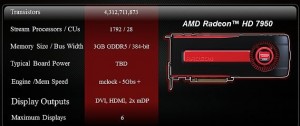 Source: DonanimHaber