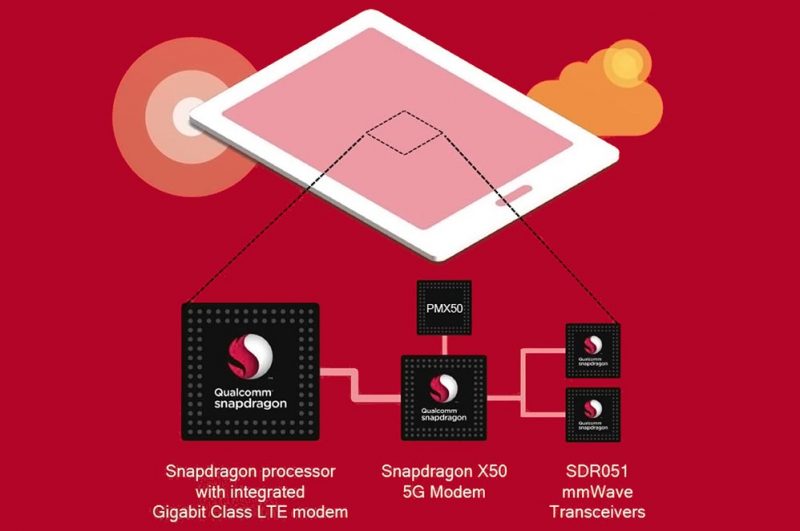 At Qualcomm's 4G/5G Summit in Hong Kong, Qualcomm recently introduced several new products including their new Snapdragon X50 5G modem and Snapdragon X16 LTE modem.
Qualcomm X50 5G Modem
The recent unveiling of the Qualcomm Snapdragon X50 5G modem will make Qualcomm the first company to introduce a commercial 5G modem.
The Snapdragon X50 5G modem will initially support millimeter wave spectrum operation in the 28GHz band. 5G networks will utilize a number of different high band millimeter wave frequencies which includes the 28GHz band currently in development by Verizon. Thanks to MIMO (Multiple-Input-Multiple-Output) antenna technology with adaptive beamforming and beam tracking, the Snapdragon X50 5G modem will have the capability of taking advantage of up to a massive 800MHz worth of bandwidth which will allow it to support a maximum theoretical transfer rate of up to 5Gbps (~625MB/s).
The Snapdragon X50 5G modem will initially be offered to OEMs and network operators for 5G trials and deployments beginning 2H2017. The first commercial products are expected to be available 1H2018. 5G networks, which can operate up to 5x faster than 4G LTE networks, is expected to begin replacing 4G LTE networks starting in 2020.
Qualcomm X16 LTE Modem
As 5G networks aren't expected to begin rolling out until 2020, Qualcomm also unveiled the X16 LTE modem which will allow for a maximum throughput of up to 1Gbps over 4G LTE.
In order to achieve this, the X16 LTE modem will be able to take advantage of up to 80MHz of bandwidth through the use of MIMO antenna technology. It'll also be able to utilize LTE-U (LTE-Unlicensed) spectrum which is essentially unlicensed wireless spectrum currently being used by Wi-Fi technology. LTE-U has been controversial as many argue putting LTE signals over the same frequency bands used by Wi-Fi would significantly impact Wi-Fi performance however, a number of US telecoms such as Verizon, T-Mobile, and Sprint have been testing LTE-U for quite some time.
The Qualcomm X16 LTE modem is expected to be integrated into Qualcomm's next generation flagship Snapdragon 800 class SoCs.