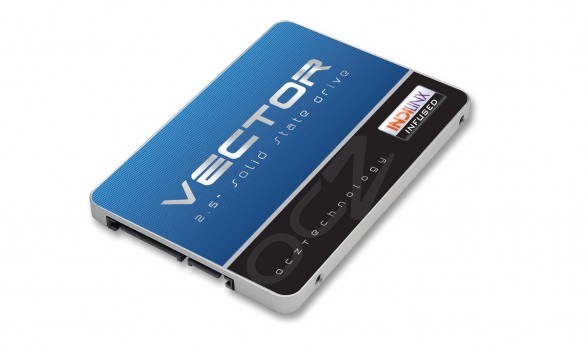 Press Release
Groundbreaking Barefoot 3-Based Vector SSDs Deliver Enhanced Sustained Performance and Endurance for High Performance Computing Environments
OCZ Technology Group, Inc., a leading provider of high-performance solid-state drives (SSDs) for computing devices and systems, today announced the availability of its new SATA III-based Vector SSD Series featuring the company's next-generation Indilinx Barefoot 3 controller. OCZ's worldwide technology hardware and firmware teams developed the new controller silicon and firmware completely in-house to enable full design control over the Vector SSD Series roadmap, while delivering exceptional I/O performance, enhanced reliability and endurance, and a host of differentiated features to empower high performance laptops, desktops, and workstations with superior storage capabilities.
OCZ Vector SSDs provide exceptional input/output operations per second (IOPS) performance and the cutting-edge Barefoot 3 controller consistently delivers superior sustained performance over time regardless of whether the data streams are in compressed or uncompressed formats. As a result, this groundbreaking SSD series provides faster file transfers and boot-ups, and a quicker, more responsive storage experience.
"The development of the Indilinx Barefoot 3 controller architecture is a crowning achievement in our company's history, being our first controller silicon and firmware completely designed in-house from start to finish using all of the OCZ technology development teams," said Ralph Schmitt, CEO for OCZ Technology. "These are the first SSD products delivered under the new OCZ and leverages cutting-edge controller technology to deliver a groundbreaking level of sustained performance and reliability for customers seeking a superior SSD for their high performance computing applications."
http://youtu.be/vFiFmM4oYik
The Vector SSD Series is available in 128GB, 256GB and 512GB capacities, and delivers read bandwidth of up to 550 MB/s, write bandwidth of up to 530 MB/s, random read performance of up to 100,000 IOPS. The Vector's ultra-slim, 7mm sleek alloy housing supports a wide spectrum of computers including the latest thin form factor notebooks, and each Vector SSD is also bundled with a 3.5-inch desktop adapter bracket and Acronis® True Image™ cloning software to enable quick and easy data transfer from legacy hard disk drive (HDD) storage to high performance Vector SSD storage.
Endurance was a major priority in the design of the Vector Series, and the highly intelligent Barefoot 3 controller includes an advanced suite of flash management tools that can analyze and dynamically adapt to increasing NAND vulnerabilities as flash cells wear or process geometries get smaller. In this way, the Barefoot 3 controller overcomes the shortcomings associated with MLC NAND flash memory and is specified to deliver 20GB host writes per day for 5 years. This 5-year warranty ensures that Vector SSDs can be reliably used in a wide range of high performance computing environments over an extended lifetime.
For more information on the Vector Series SSD, please visit the product page here