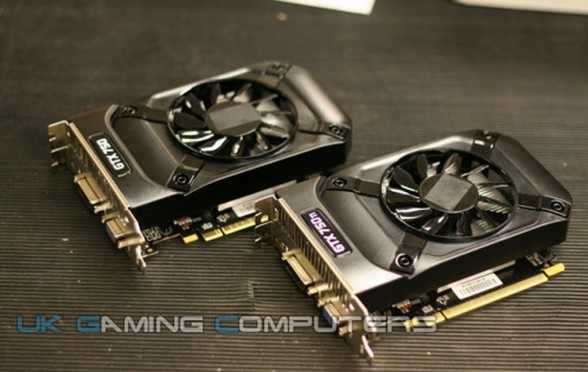 Over the past couple weeks, we've been hearing rumors about the possibility of a brand new mid-range Nvidia GPU based on the upcoming Maxwell architecture coming sometime this month, and according to some of the latest screenshots released by UK Gaming Computer, it seems like the rumors may not just be simple rumor after all.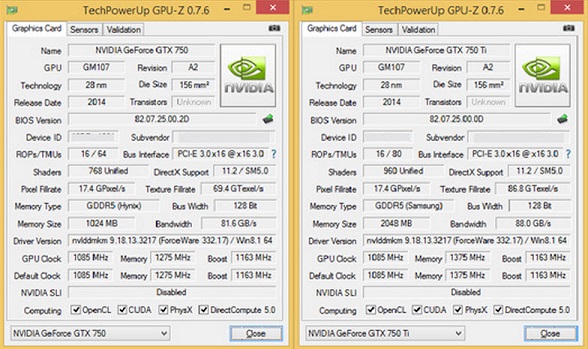 Above we have two GPU-Z screenshots of the rumored Nvidia GeForce GTX 750 and the GeForce GTX 750 Ti. According to the screenshots, both GPUs will be using the upcoming GM107 GPU core, which is expected to be based off the Maxwell architecture (hence the M in the GM107). Previously it was thought that Nvidia could be moving to the 20nm process with the GTX 750/GTX 750 Ti first since it would be easier to do so with a smaller die, but according to the leaked screenshots it seems like Nvidia may be sticking with the 28nm architecture at least for the time being.
As far as specs go, the GeForce GTX 750 will be rocking 768 CUDA cores, 64 TMUs, and 16 ROPs paired with 1GB of GDDR5 on a 128-bit memory interface. The bigger brother, the GeForce GTX 750 Ti on the other hand will be rocking 960 CUDA cores, 80 TMUs, and 16 ROPs paired with 2GB of GDDR5 on a 128-bit memory interface. Looking at these specs we're definitely dealing with low/mid-range hardware here especially with the 128-bit memory interface really keeping performance limited.
Additionally, both GPUs will not use any sort of external PCIe power so it'll be bus powered only. Given that the PCIe bus is only rated for a maximum of 75w, the upcoming GPUs will practically be sipping power. One of the major things Nvidia wanted to focus on with Maxwell is power efficiency and if Nvidia is able to improve the GTX 750/GTX 750 Ti's performance over its 600 series counterparts while using significantly lower power, that'd be a win especially as Nvidia begins further integrating their technologies into upcoming Logan and Parker Tegra architectures down the line.
In addition to the preliminary GPU-Z screenshots, a couple preliminary 3D Mark 11 benchmarks were leaked as well. The GeForce GTX 750 scored 5250 points in 3D Mark 11 using the performance preset and the GeForce GTX 750 Ti scored 5963 points using the performance preset. That said, both these cards are overclocked from the factory and they're using pre-release drivers so it's difficult to say what actual performance is going to look like once the cards actually ship. These are decent numbers for a PCIe bus only powered GPU, but they're not enthusiast class parts that's for sure.
Currently the rumored release dates for these cards is the 18th of this month and prices are currently unknown at this time. Given that it appears that the cards leaked were factory overclocked, it's likely that Nvidia partners will have custom GTX 750's and GTX 750 Ti's available out of the gate. More information as it becomes available.
Source: UK Gaming Computer via Videocardz.com