[section label="Introduction"]
Rock Solid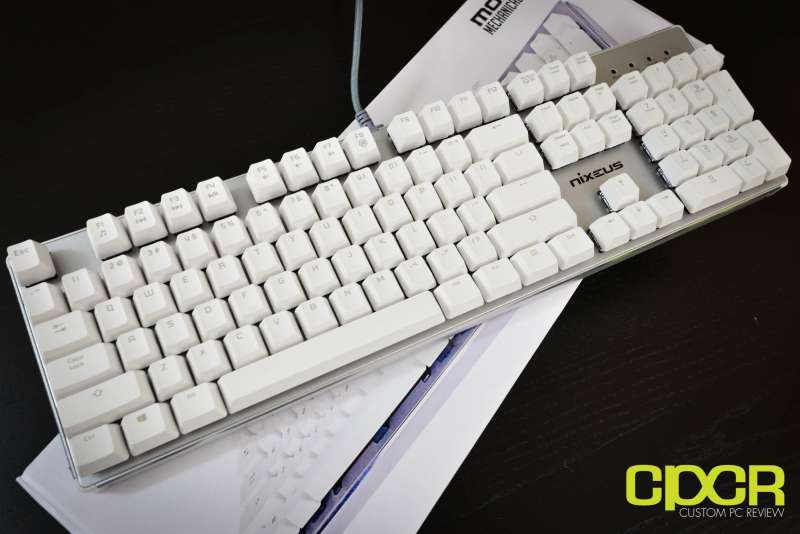 Not too long ago, we reviewed the HyperX Alloy FPS, an excellent mechanical gaming keyboard for those looking for simple, portable, heavy duty gaming keyboard for both at home and on the go. Unlike many of today's gaming keyboards, HyperX bucked the trend by going with a more back to basics design, which ultimately proved to be a winner.
Today, we'll be reviewing a similar mechanical keyboard, this time from Nixeus, a company most well known for its inexpensive yet well equipped monitors. Nixeus's offering, the Nixeus Moda Pro, is designed for a more general user those looking for a simple, durable mechanical keyboard that not only offers top notch quality and great aesthetics, but also that reasonable pricetag we've come to expect from Nixeus.
Does it achieve its goal? Let's find out!
Specifications
| | |
| --- | --- |
| Manufacturer | Nixeus |
| Model | Moda Pro |
| Layout | 104-Key US Layout |
| Switch Type | Gateron (Blue, Brown) |
| Polling Rate | 1000Hz |
| Anti-Ghosting | Yes |
| Key Rollover | 6-key / N-key |
| Backlight | N/A |
| Interface | USB 2.0 |
| Weight | 2lbs |
| Size | 17.125″ (Width) X 5.125″ (Height) X 1.25″ (Depth) |
| Warranty | 3 Years |
[section label="A Closer Look"]
A Closer Look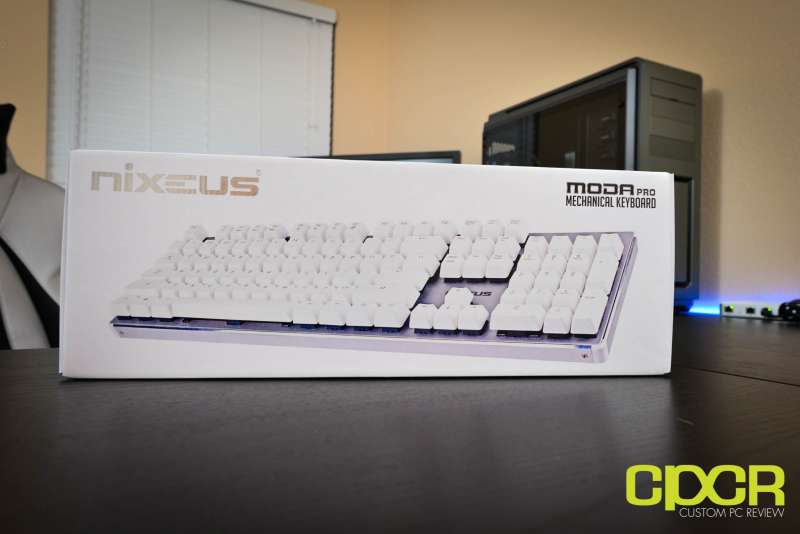 Here's a look at the packaging for the Nixeus Moda Pro.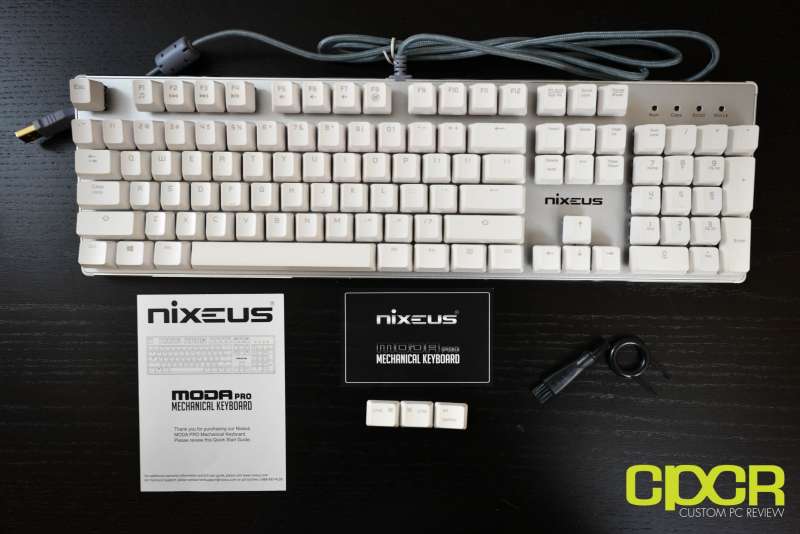 Included in the packaging is documentation, several Mac oriented keycaps (2x cmd and alt/option), a keycap puller, a keyboard brush, and the Nixeus Moda Pro.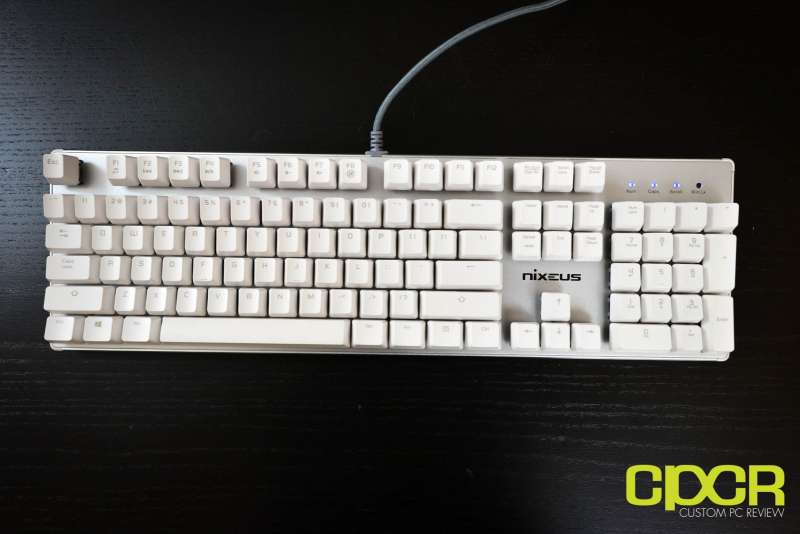 Here's a look at the Nixeus Moda Pro. The Nixeus Moda Pro is a very minimal, very basic keyboard making it an excellent choice for general purpose use. The silver and white color scheme makes it an ideal keyboard for those looking to pair it with something like a Mac Pro.
Aside from the color scheme, the biggest thing you'll notice about the keyboard is that it's extremely, extremely heavy duty. The keyboard features a caseless design built on top of a thick metal casing that can easily be used for personal defense in a pinch.
At the bottom of the keyboard is four rather large rubber feet in addition to two standoffs which help raise the keyboard.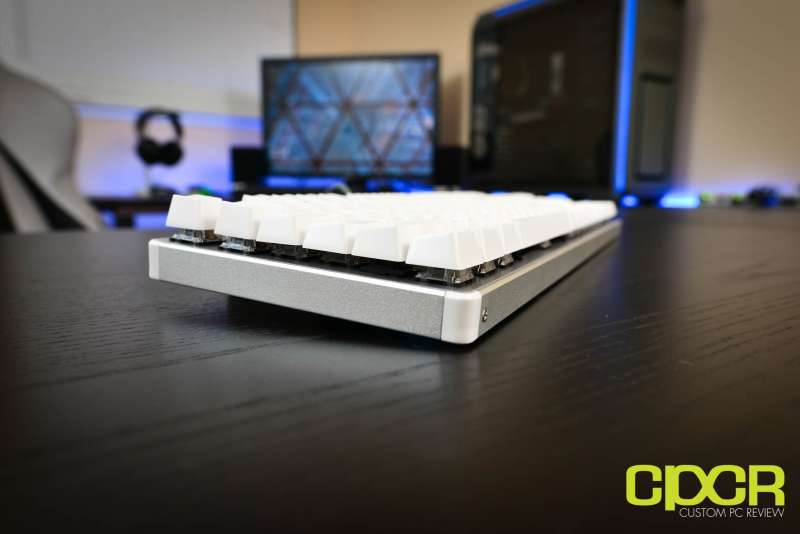 From the side, we can get a look at the caseless design of the Nixeus Moda Pro. As there's no casing around the keys, they look as if they were floating. We can also see the exposed screws on the Moda Pro which also help contribute to the industrial look of the keyboard.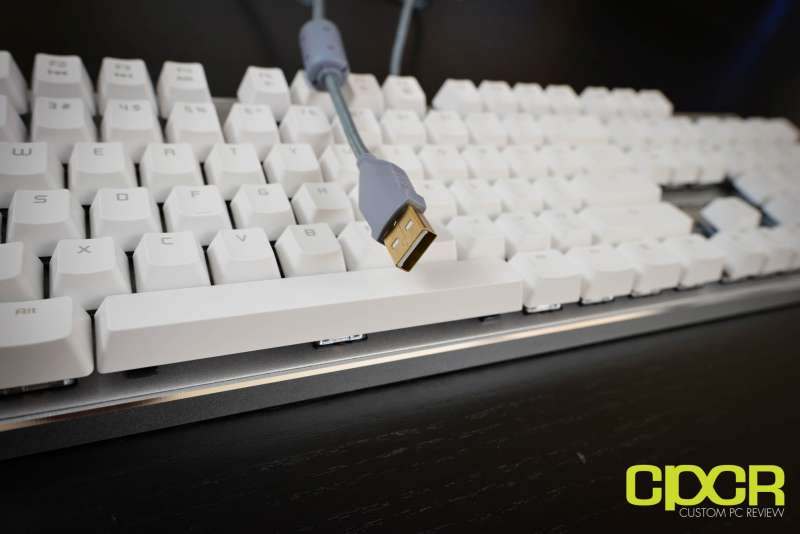 Connectivity is provided by a single USB 2.0 plug. The Nixeus Moda Pro does not feature any sort of USB pass-through functionality.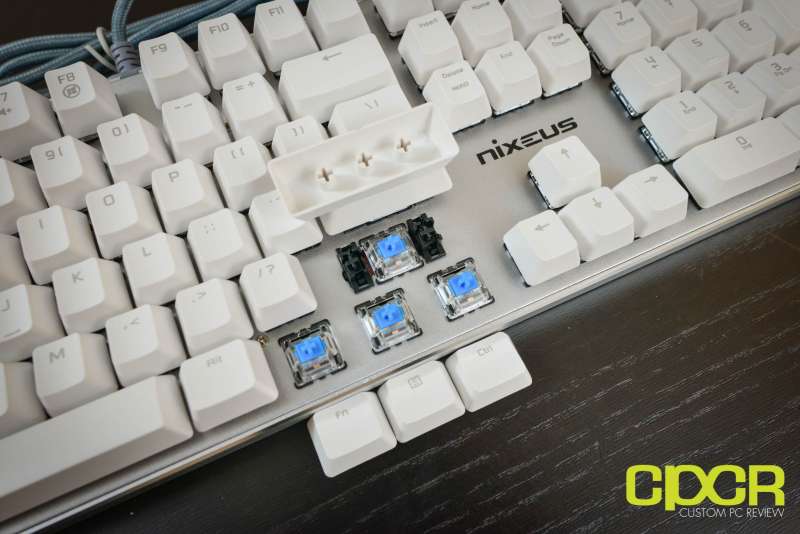 Removing some of the keycaps, we can see that our sample of the Nixeus Moda Pro utilizes the Gateron Blue switches. Gateron Blue switches are Chinese clones of the well known Cherry MX Blue switches. The Gateron Blue switches are clicky, tactile, and feature an actuation force of 60G.
Removing the keycaps for some of the longer keys, we can see that Nixeus has equipped the Moda Pro with Cherry MX style stabilizers. While we've preferred Costar style stabilizers over Cherry MX style stabilizers in the past due to Cherry MX stabilizers' inconsistent feel on the longer keys, this does not appear to be an issue in the Nixeus Moda Pro.
[section label="Performance"]
Performance
After spending some weeks with the Nixeus Moda Pro's Gateron Blue switches, I can say that it's a decent alternative to the Cherry MX Blue switches although it definitely feels somewhat subpar. Compared to the CoolerMaster QuickFire Rapid TKL, the switches on the Nixeus Moda Pro felt less smooth in actuation and the reset point is a bit higher than the Cherry MX Blues making it more difficult to spam keys during gaming. The Gateron Blue switches also exhibit a slightly less crisp and more dull sound than the Cherry MX Blue switch, which I found to be less preferable.
That said, the difference isn't a major dealbreaker by any means as the overall typing experience on the Nixeus Moda Pro is still very good. The Gateron Blues offer a loud and distinct click and the significant tactile feedback can be easily be felt so that there's no mistake as to whether a key is actuated or not.
NKRO/Anti-Ghosting Testing
To test the NKRO/anti-ghosting functionality of the Nixeus Moda Pro, I'll be using a web app developed by Microsoft's Applied Science Group. More information about the web app and the relationship between ghosting and NKRO can be found here.

We can see that the Nixeus Moda Pro's NKRO functionality works without issue. In order to enable NKRO, the Fn+Del key combo needs to be pressed. This ensures the keyboard works in older systems that may not support Nixeus's NKRO over USB functionality.
[section label="Conclusions"]
Conclusion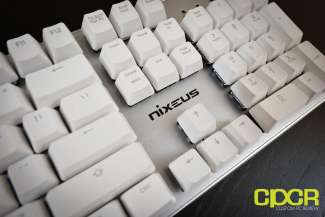 The Nixeus Moda Pro offers an attractive proposition to those looking for a basic yet high quality mechanical keyboard on a budget. By sacrificing backlighting and using Gateron's switches, Nixeus is able to lower the price to a fairly appealing price point.
On the topic of appealing, the Nixeus Moda Pro certainly looks good. Its white keycaps demand more attention than traditional black keycaps, and the tough aluminum body reliably backs the switches. The only thing missing is backlighting, but the sacrifice was probably needed to bring a metal cased mechanical keyboard to such a low price point.
While Nixeus nailed the design aspect, the key switch wasn't as impressive. The Gateron Blue switch's chalkier travel wasn't as good as what you'd find from a Cherry MX switch and the keys were a bit more difficult to actuate in rapid succession compared to a similar Cherry MX based keyboard. I'm not sure if this is a quality control issue or just bad luck, but it definitely won't be replacing my higher end Cherry MX Blue based keyboards anytime soon. As far as features, the Nixeus Moda Pro is quite possibly the definition of bare minimum. Besides the function row doubled up embedded media control keys, NKRO key, and the disable Windows key function, there isn't much to look at.
Currently, the Nixeus Moda Pro can be found line at $62.99, which is quite reasonable for a mechanical keyboard built with the type of materials used here. If you don't need any fancy features, backlighting, or you simply need a keyboard to look at home with your Macbook Pro, the Nixeus Moda Pro makes an excellent case for an entry mechanical keyboard or a backup board.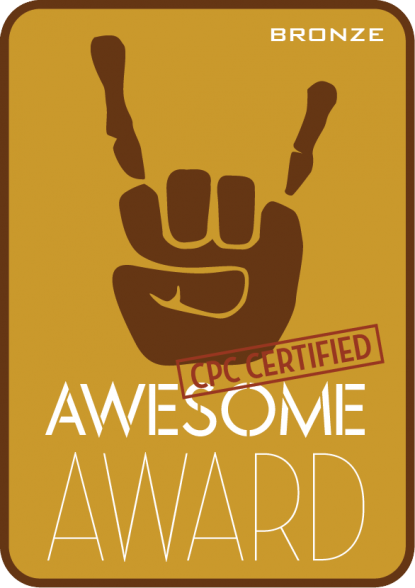 Sample provided by: Nixeus
Available at: Amazon