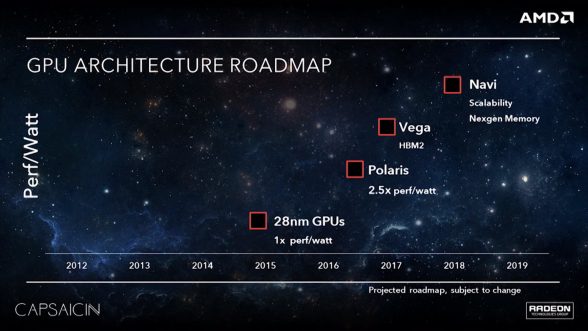 New rumors are emerging thanks to the guys over at Videocardz who claim to have gotten hold of some internal roadmaps from AMD servers. While the roadmaps themselves weren't published, some of the juicy information which spans the Vega lineup beyond 2017 as well as the upcoming Navi architecture were.
AMD Vega 10
AMD Vega 10 is AMD's upcoming flagship GPU which is expected sell alongside AMD's current Polaris 10, 11 based graphics cards (RX480, RX470, RX460). Although AMD had previously announced that it would be coming sometime in 1H2017, which usually means at the end of 2Q, new information suggests that it may release ahead of schedule in 1Q2017. According to the leak, Vega 10 will be based on 14nm GFX9 architecture. Considering Hawaii was GFX7 and Polaris was GFX8, GFX9 should be a completely new architecture. It'll also feature 16GB HBM2 which will provide up to 512GB/s bandwidth and 64 compute units for a total of 24 TeraFlops of 16-bit compute performance. TDP is expected at ~225W.
AMD may also have a dual Vega 10 GPU in the works coming 2Q2017 with a TDP of 300W.
AMD Vega 11
As for AMD's Vega 11, it's expected to be the replacement for Polaris 10 next year. Specs were not provided, but it should be produced at the same 14nm FinFET fabrication node as Vega 10 and if it's indeed a replacement for Polaris 10, it should be a lower performance version of Vega 10.
AMD Vega 20
AMD's Vega 20 GPU is the most interesting of the bunch as it's expected to be the first AMD GPU to utilize the 7nm GFX9 architecture. Vega 20 is also expected to feature a staggering 32GB of HBM2 which will provide up to 1TB of bandwidth. Like Vega 10, it'll feature 64 compute units although estimated compute performance has not been provided at this time. TDP is expected at ~150W and it'll support PCIe 4.0.
If these rumors about Vega 20 are true, Vega 20 will have an amazing level of power efficiency and provide similar performance to Vega 10 despite 33% lower power consumption.
Navi 10, 11
Finally there's also Navi 10 and 11 which is apparently now planned for a 2019 release. According to previous roadmaps, Navi was originally planned for a 2018 launch and if the new information is true, the launch has been pushed back a year. No additional information about Navi is available at this time.
Since these are unconfirmed rumors, definitely take this information with a grain of salt, but the information provided here is definitely believable based on what AMD has revealed in the past so I wouldn't discount it completely. As always, we'll be sure to update you when more is available.
Source: Videocardz