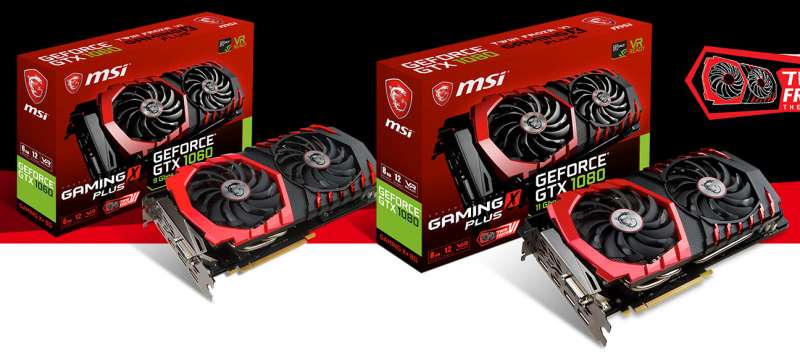 MSI recently announced a new lineup of souped-up NVIDIA GeForce GTX 1080 and GTX 1060 graphics cards under the Gaming X+ and Gaming+ moniker, adding to its ever-expanding catalog of custom gaming graphics cards.
Based on the MSI Gaming+ series design, the two new MSI GeForce graphics cards will feature NVIDIA's newer, faster GRDDR5 and GDDR5X memory modules. In addition, they also come with fairly heavy factory overclocks for the GPU clock itself. The new MSI GeForce GTX 1080 Gaming X+ cards also feature custom PCBs backed by an aluminum backplate.
As expected, cooling will be handled by the updated MSI Twin Frozr VI Cooler. The iconic cooler is now updated to use dual TORX Fan 2.0 fans which are equipped with double ball bearings to minimize noise. MSI boasts that the new fans can push 22% more air than the previous iteration.
Manufacturer
MSI
Model
GTX 1080 GAMING X+ 8G
GTX 1080 GAMING+ 8G
GTX 1060 GAMING X+ 6G
GTX 1060 GAMING+ 6G
GPU
GP104-400
GP104-400
GP106-400
GP106-400
Core Clock
1,911MHz Boost, 1,771MHz Base
1,771MHz Boost, 1,623MHz Base
1,809MHz Boost, 1,594MHz Base
1,746MHz Boost, 1,531MHz Base
Memory
8GB GDDR5X
8GB GDDR5X
6GB GDDR5X
6GB GDDR5X
Memory Clock
11Gbps
11Gbps
9Gbps
9Gbps
Connectivity
DisplayPort x 3 / HDMI / DL-DVI-D
The MSI Gaming X+ series also come installed with alluring RGB lights. The LEDs can be managed through the MSI Gaming App on your smartphone, which offers additional features such as switching between performance profiles and a VR mode to optimize your PC for VR gaming.