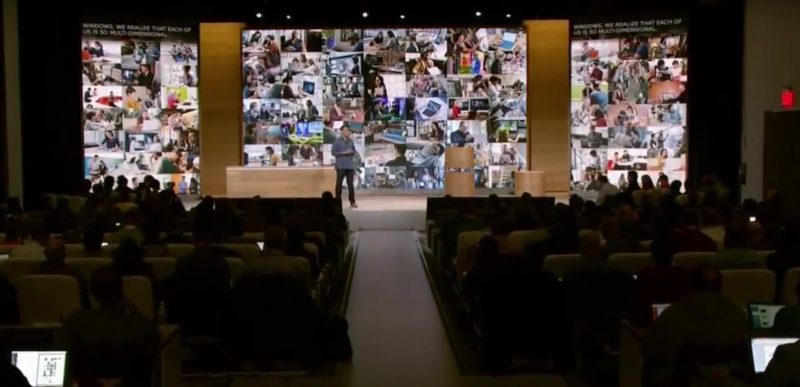 October 26 was an exciting day for Microsoft as they recently held their "Imagine What You'll Do" event where Microsoft shared plenty of development plans and new introductions in both software and hardware. For those who missed it, here's what you missed.
Windows 10 Creator's Update
Windows will be getting a significant features update in Q1 2017. Terry Myerson, VP of Windows and Devices group, detailed some of its key features.
The upcoming update will be dubbed the Windows 10 Creator's update. The feature-focused theme aligns with the rumors that spurred up after the Windows Anniversary update. The Creators update will bring VR and 3D experiences to the general consumers as well as create an easy-to-use platform for sharing ideas.
A feature that received a heavy overhaul is one that's been overlooked for too long. For years, Paint has had the same stale set of features that accomplished only the most rudimentary of editing functions. The Creator update will bring an improved version of Paint with support for editing 3D objects and better stylus integration. Users can easily import a 3D object into Paint, edit the object, and export it in its original format OR as a 3D printable format. Being able to edit in 3D also opens up the option of layering 2D object with 3D objects. The user can also create original 3D objects directly in Paint using the new doodle tool. A new publishing platform has been added as well to make sharing designs easier.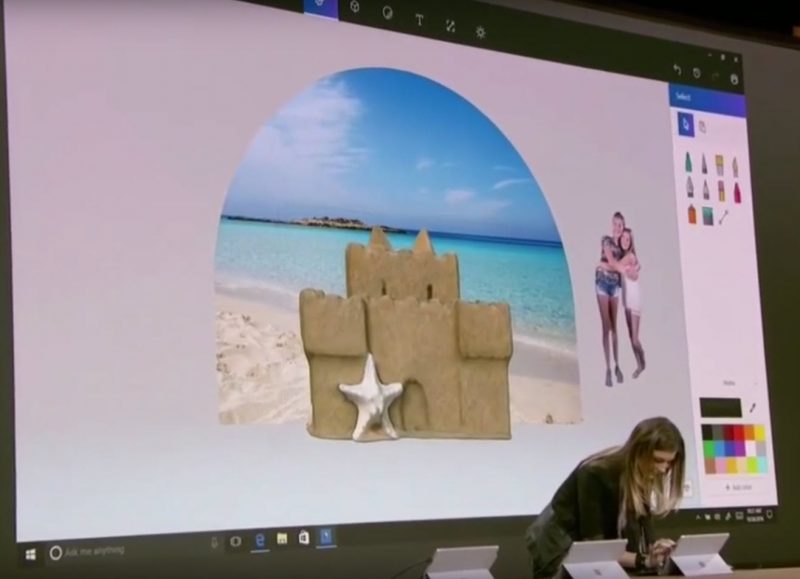 Microsoft is also looking to bring 3D capabilities to the mobile sector. One of the features demoed at the conference was 3D scanning using a mobile device. On stage, Megan Saunders, Microsoft's Experience Lead, scanned a sand castle using her Windows Phone. The model was recreated in seconds with details intact and sent to her windows PC. We're unsure if there's any camera requirements or device restrictions for this feature to function.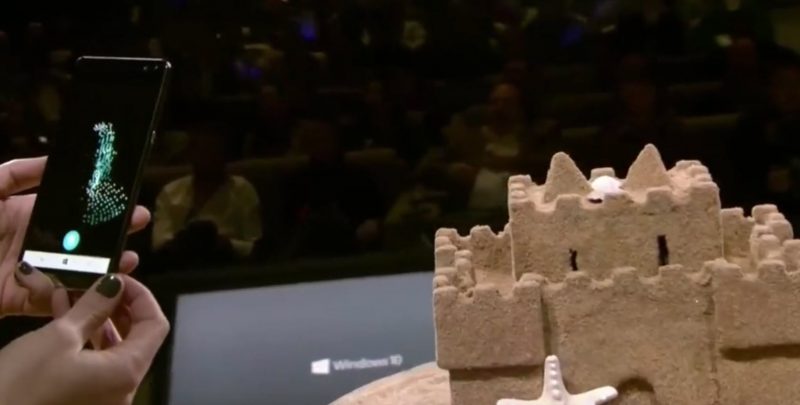 To aid the adoption of VR for the average consumer, Microsoft has also announced that partners including Dell, HP, ASUS, and Acer are all going to release their own versions of VR headsets. The headsets will start at $299, a price that's much more pleasing than the current batch of VR headsets.
On the gaming side, Jen McCoy announced custom tournaments through Arena on XBOX live. She showed some custom tournament settings with Street Fighter 4. The Xbox One S will also be getting Dolby Atmos support with the coming update as well as a host of new streaming features with Xbox Live.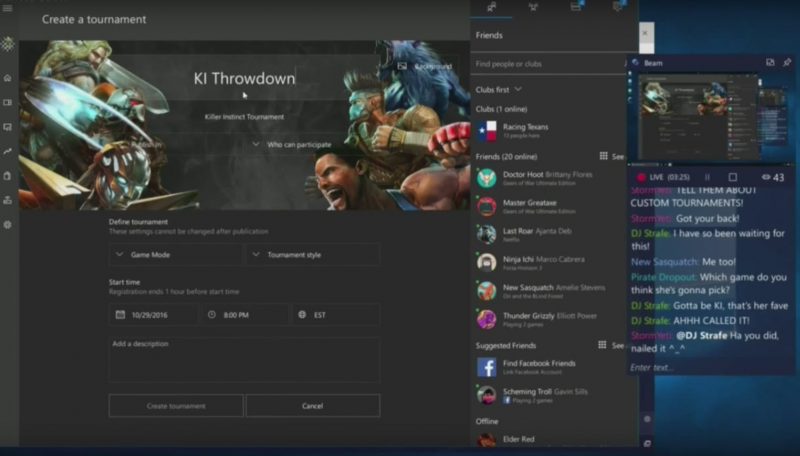 Lastly, Microsoft detailed its plans to reduce the complexity and clutter of multiple social media platforms by combining methods of communication directly into the desktop. According to Allison O'mahoney, most people have a close circle of friends they frequently talk to but they're often difficult to find in the huge pool of connections. In the Windows 10 Creator's Update, you'll be able to access and communicate with your friends from platforms such as LinkedIn and Skype from your desktop. To reduce the number of applications users have to track, Allison also announced that popular tools such as Windows Mail, XBOX Live, and Skype will all be interconnected with each other and accessed as a heterogeneous social environment. Windows 10 will also finally bring SMS relay for Windows and Android phones using Cortana.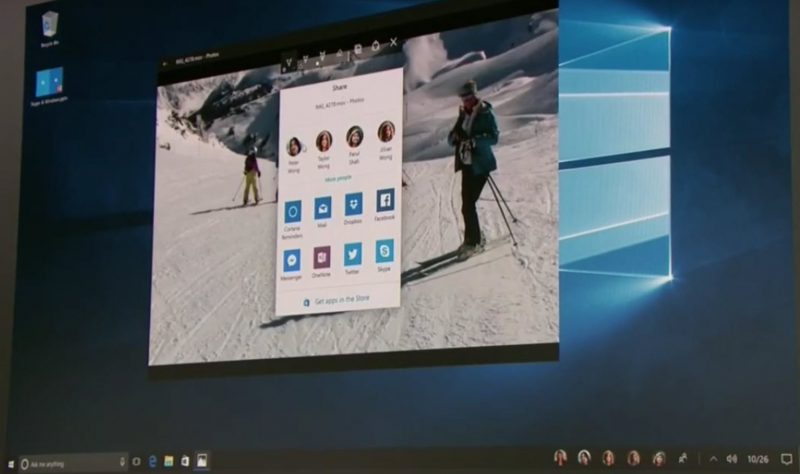 Surface Studio
https://www.youtube.com/watch?v=BzMLA8YIgG0
Panos Panay, Chief of Microsoft's Device team, brought more exciting news on the hardware front in the form of the Surface Studio. The Surface Studio is the desktop variant of its Surface line-up and is a direct competitor to the Apple iMac. The Studio is equipped with a 28″ touch screen display sporting a resolution of 4500x3000p (3:2 aspect ratio, 192 ppi). The sheer pixel density of the display trumps even the 5K Apple iMac. Microsoft has specifically addressed that every screen will be meticulously calibrated for both DCI-P3 AND Adobe sRGB color gamuts. The entire unit is powered by an integrated 270W power supply. Despite its top-heavy appearance, the screen is only 12.5mm thick and all the hardware is condensed into the base.

The core structures of the Surface Studio involve a quad-core Core i5 or Core i7 CPU, a Nvidia GTX 965M or GTX 980M, and up to 32GB of RAM. Storage is handled by either an 1 TB or 2TB SSHD. Microsoft didn't specify the exact model of the CPU, but since the graphics card is the mobile variant and the unit only has a 270W power supply, we can assume that the CPU is the mobile variant as well. The omission of a desktop-grade CPU could be explained due to Microsoft not wanting to increase the footprint of the device and keeping the machine silent. For a device that's supposed to be the ultimate companion for designers, this decision could potentially be a deal breaker.
| | |
| --- | --- |
| Manufacturer | Microsoft |
| Model | Surface Studio |
| CPU | Up to Intel 6th Gen i7 Quad Core |
| RAM | 8GB, 16GB, 32GB |
| Graphics | Nvidia GTX965M, Nvidia GTX980M |
| Display | 28″ 4500x3000p, 3:2 Aspect Ratio |
| Storage | 1TB/2TB SSHD with 64GB or 128GB SSD |
| Ports | 4xUSB 3.0, 1 x SD card reader, 1 x mini display port |
| Price | $2,999-$4,199 |
As expected a device of this caliber doesn't come cheap. The Surface Studio starts at $2,999. I'm sure much of the cost goes into the display.
There's more to the Studio than the spec. The Surface Studio–just like the Surface Book and the Surface Pro–comes with the Surface Pen. Not much has changed about the pen. It's still manufactured by N Trig and features 1024 points of touch sensitivity.
Complementing the included surface pen is the new Surface Dial–a tool that can be used for both on and off the screen. When placed on the screen of any Surface device–not just the Surface Studio–the dial can act as a tool that helps designers rotate graphics and cycle through settings. When taken off the screen, the Dial was shown to act as a scroll wheel, but I'm certain it can be programmed to perform various other functions as well.
Surface Book
Top-end SKUs of the Surface Book also received some new components. The new Surface Book i7s now has Intel's 6th generation Skylake i5 and i7 mobile CPUs. Battery life has been extended to 16 hours, (your mileage may vary), and the GPU has been boosted to a Nvidia GTX 965M from the slightly modified GTX 940M. A secondary fan and hyperbaric cooling fins have been added to control the thermals. The new Surface Book i7s are up for pre-order today but you'll need to wait until mid-November for them to ship.
https://www.youtube.com/watch?v=jurc3SxztGw
Source: Microsoft