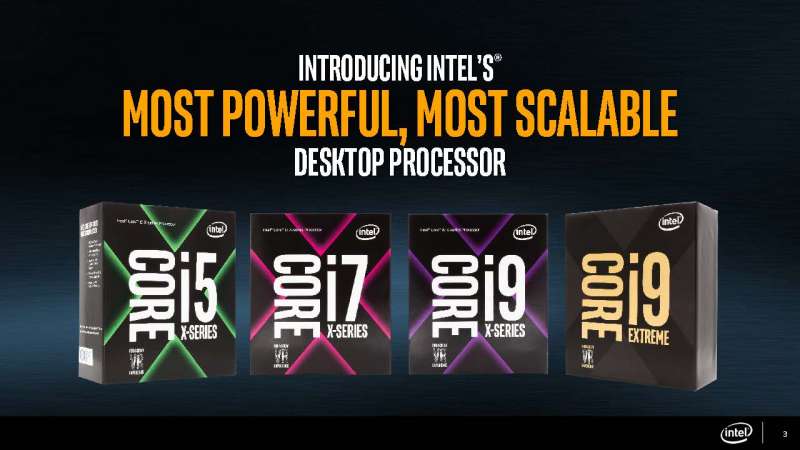 With Intel cancelling their IDF (Intel Developer Forum) event this year, Intel is making their big reveal at Computex, introducing their highly anticipated, high end Intel Core i7 and Core i9 X Series CPUs. The new Intel Core i7 and Core i9 X-Series CPUs are expected to be Intel's answer to AMD's upcoming Threadripper CPUs which feature up to 16-cores and 36-threads.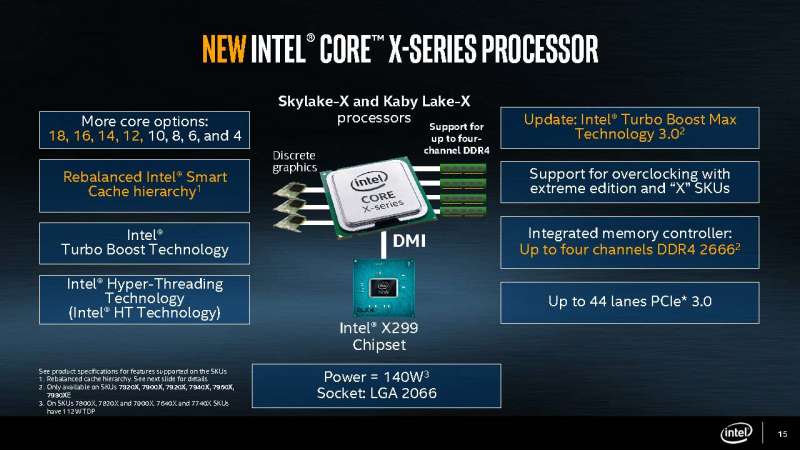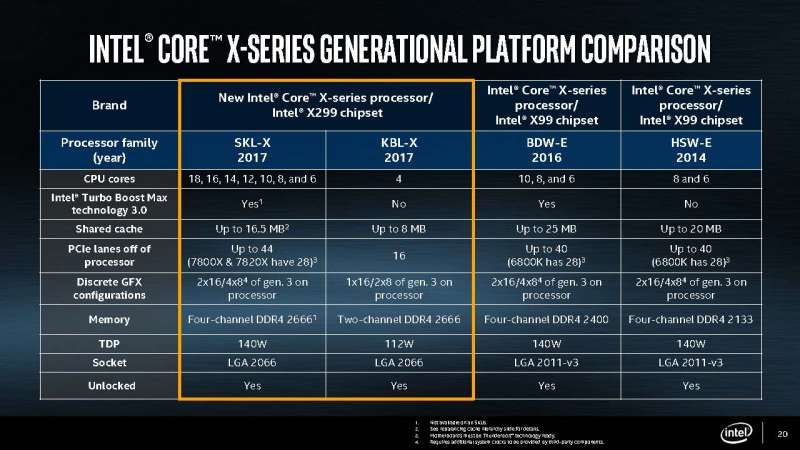 According to Intel, the new Intel X-Series CPUs will be designed for content creation, 4K gaming, streaming, and overclocking. The new processors will feature up to a 15% performance increase in single threaded workloads and a 10% performance increase in multi-threaded workloads compared to previous generation Intel HEDT processors.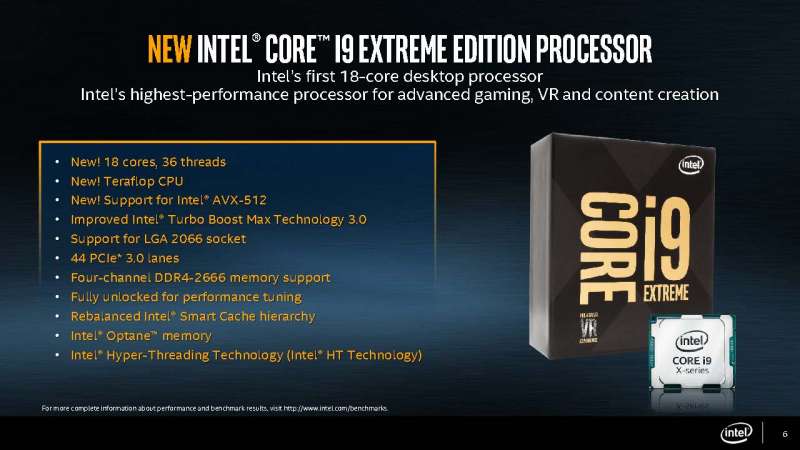 Spearheading their new X series processor is the flagship 18-core, 36-thread Intel Core i9-7980 Extreme Edition which will be the first consumer grade processor to offer the massive core/thread count. It'll also be the first consumer grade CPU to feature up to 1TFLOP of compute performance.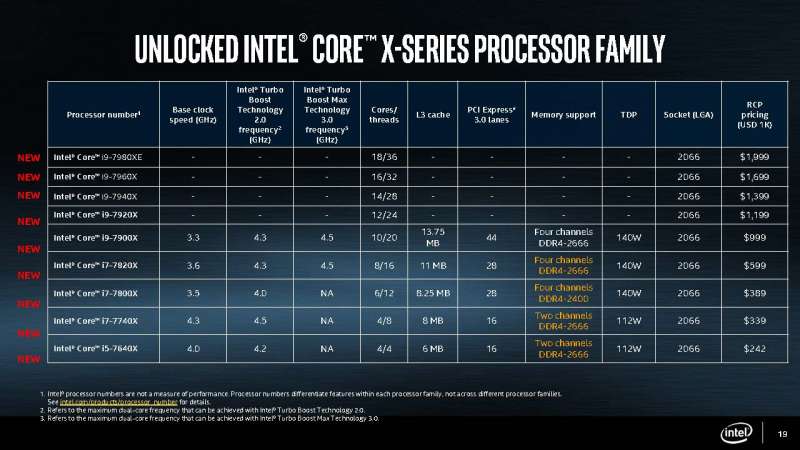 Processors in the X-Series lineup will range anywhere from the $1,999, 18-core/36-thread Intel Core i9-7980XE to the $242, 4-core/4-thread Intel Core i5-7640X.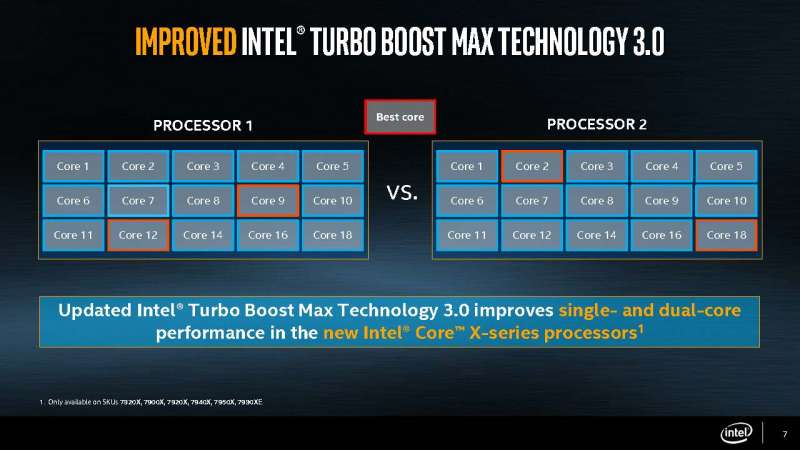 For select higher end X-Series processors, Intel has revamped their Turbo Boost technology to 3.0. Turbo Boost 3.0 will automatically identify and select the fastest cores and direct workloads to those cores. These cores are identified by the type of workload, number of active cores, estimated current consumption, estimated power consumption, processor temperature, drive support, and more.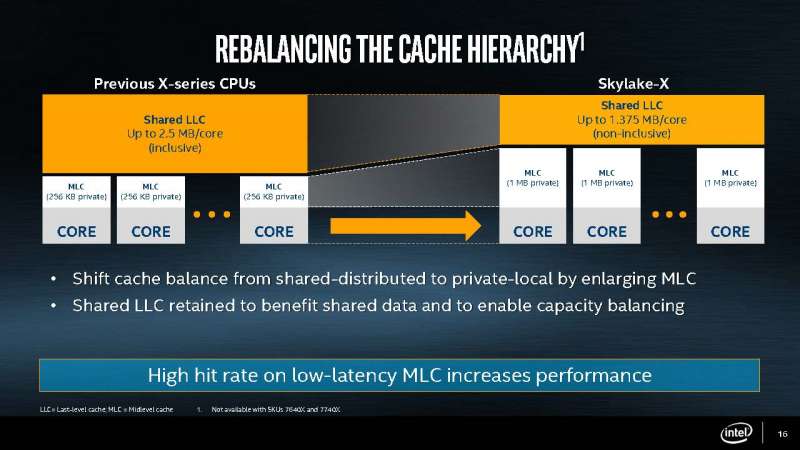 Intel is also increasing the L2 cache significantly from 256KB per core to 1MB per core and shrinking the L3 cache. The increase in the lower latency L2 cache should help yield better performance despite the reduction in L3.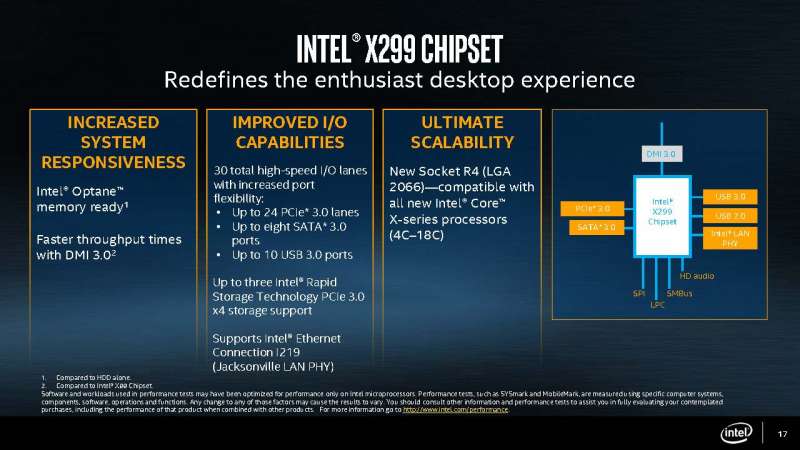 The new X-Series CPUs will run on the new Intel X299 chipset on the new LGA 2066 socket. Most of the new features of the Intel X299 chipset simply brings newer features (Intel Optane support, etc.) already introduced in the Intel Z270 chipset into the HEDT platform.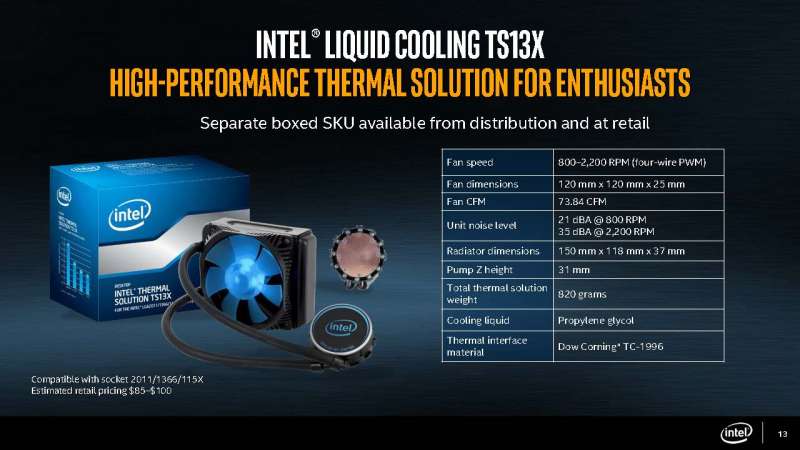 As Intel's HEDT CPUs don't come with coolers, those who want an Intel branded cooler to go with their new system can opt for Intel's new TS13X cooler.
Currently, information on when the new processors will be available for purchase is still unavailable at this time. According to previous rumors, Intel is likely to go with a tiered launch with some processors launching in June, some in August, and some more by the end of the year.
Source: Intel