For those looking to maximize their systems RAM, Kingstons HyperX has released their high capacity 16GB DIMMS on the Savage and Predator lines  allowing users to jump to 64GB on 4 slot boards to 128GB on 8 slot boards. For users who need or just plain want this much memory this is some pretty awesome news. Users on Intel's X99 or 100 series motherboards or those looking to upgrade soon should find this pretty interesting.
Both product lines cater to enthusiasts and gamers who want fast speeds and aggressive timings. HyperX Savage DDR4 is now available as a 2666MHz 128GB kit of eight with each DIMM containing a massive 16GB of RAM. It joins a family of other previously announced Savage DDR4 memory from 2133MHz to 3000MHz in various single modules and kits from 4GB to 64GB capacities. High-speed HyperX Savage DDR4 is perfect for gaming, video editing and 3D rendering.
The built-in XMP ready profiles are optimized for Intel® Core™ i5 and i7 processors, as well as Intel 100 Series and X99 chipsets, enabling users to easily overclock by selecting a memory profile without any adjustments in the BIOS.
HyperX Predator DDR4 memory is also now available in 16GB DIMMs as 32GB kits of two and 64GB kits of four at 3000MHz.  Specifically designed for the latest generation Intel 100 Series and X99 chipsets, HyperX Predator DDR4 combines high frequency and aggressive CAS latencies to provide users with one of the fastest solutions in the market. In addition to the new kits, HyperX Predator DDR4 ships in 16GB (2133MHz to 3000MHz) and 32GB (2133MHz to 3000MHz) kits of four, as well as a 64GB (2800MHz) kit of 8.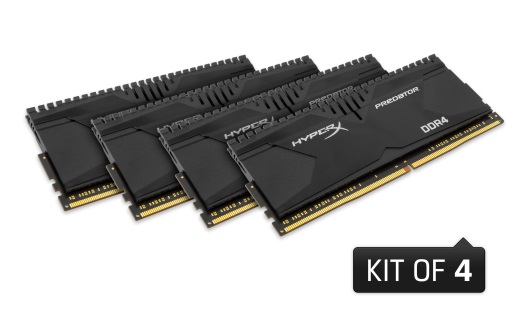 HyperX Savage DDR4 Features and Specifications:
Capacities: 4GB–8GB (single), 8GB–128GB (kits)
Frequency: 2133MHz, 2400MHz, 2666MHz, 2800MHz and 3000MHz
CAS Latency: 12–15
Voltage: 1.2V or 1.35V
Operating Temperature: 0°C to 85°C
Storage Temperature: -55°C to 100°C
Dimensions: 133.35mm x 34.57mm
Compatible with: X99, Z170, H110, H170 and B150
Reliable: 100% tested
Guaranteed: Lifetime warranty

HyperX Predator DDR4 Features and Specifications:
Capacities: 16GB–64GB kits
Frequency: 2133MHz, 2400MHz, 2666MHz, 2800MHz and 3000MHz
CAS Latency: CL12–16
Voltage: 1.2V–1.35V
Operating Temperature: 0°C to 85°C
Storage Temperature: -55°C to 100°C
Dimensions: 133.35mm x 55.05mm
Compatible with: X99, Z170, H110, H170 and B150
Reliable: 100% tested
Guaranteed: Lifetime warranty