The folks over at Videocardz have given us yet another look at a pair of soon to be released custom designed GeForce GTX 1080 graphics cards, this time from none other than EVGA. The cards shown are the EVGA GTX 1080 ACX3 FTW EVGA GTX 1080 ACX3 SC models. Both of which feature an all-new cooler and shroud design, which seems to be comprised of both metal and plastic materials.
EVGA GTX 1080 ACX3 FTW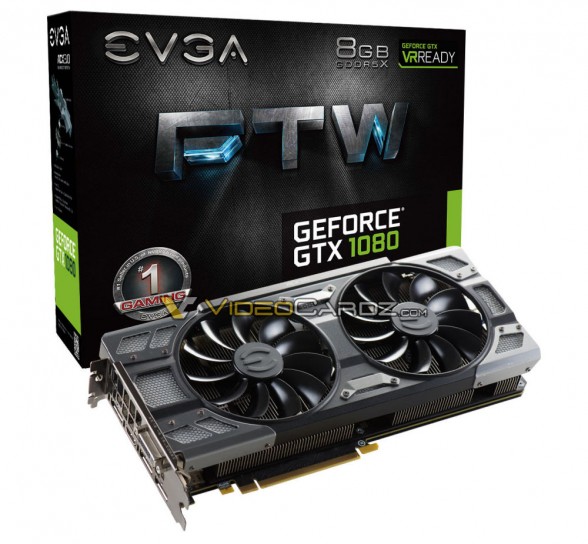 The FTW model, as usual is the higher-end of the two, and features dual 8-pin PCIe power connectors, for what we can only imagine will make for some excellent overclocking headroom. It also appears to be slightly wider than the standard SC model, which likely means it'll feature a completely custom PCB.
EVGA GTX 1080 ACX3 SC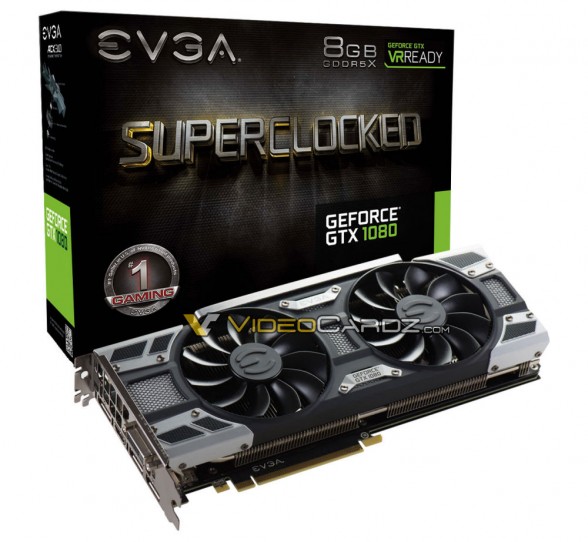 The SC or SuperClocked model features a single 8-pin PCIe connector just as the NVIDIA Founder's Edition, which tells us that this is more than likely a completely reference style PCB, which wouldn't break from the norm with SC models.
Both cards feature a very nice premium back plate which has vented cutouts, toward the top edge as well as a vented EVGA logo toward the bottom. The new all premium metal design is definitely a huge improvement over the previous generation ACX 2.0 design, which entirely made of plastic. No telling if these changes will affect the price of the cards, but we'd expect the SC model to be closer to the $599 MSRP than the FTW model, which will likely sit somewhere between the MSRP and the $699 Founder's Edition.
UPDATE: 05/27/2016 – 8:10 AM EST.
EVGA's official Twitter, recently tweeted this image which reveals that the cutouts on the cooler's shroud are actually RGB enabled lighting strips. This is definitely starting to look like a trend this year with all the GPU manufacturers new cards.
Less than one hour to go! Its the final countdown… Stay tuned to https://t.co/7guQ7MXHql pic.twitter.com/o1DLhoXvTD

— EVGA (@TEAMEVGA) May 27, 2016
No word of specifics in terms of release date or pricing, but we'll likely hear more soon in the coming days as Computex begins.
Source: Videocardz.com