EVGA has just announced its first "VR Ready" graphics card which comes out of the box with extra options specifically made for VR headsets. The GeForce GTX 980 Ti VR Edition includes a 5.25-inch/3.5-inch front-panel that gives you a front-facing HDMI 2.0 port, as well as a pair of USB 3.0/3.1 ports, which is connected via a standard USB 3.0 header on your motherboard. This allows for easier connection of VR headsets, as it eliminates the need to connect the headset to the back of your PC.
Aside from the front-mounted HDMI port located on the card itself, there doesn't seem to be anything significantly different about this GPU versus EVGA's other ACX 2.0 models. That being said, the added convenience of the HDMI passthrough options will likely make this GPU a highly considered option for users looking to get into VR gaming, and it comes just when the Oculus Rift starts pre-orders, which is obviously no coincidence.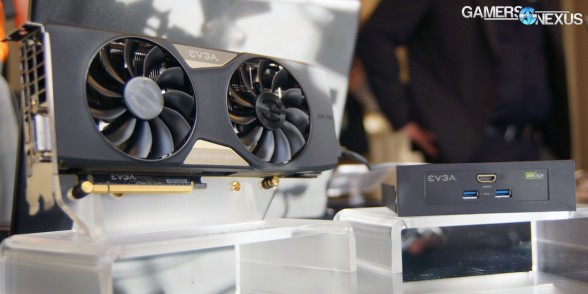 Image courtesy of GamersNexus.com
No word on pricing or availability as of yet, but we expect to hear more from EVGA soon.