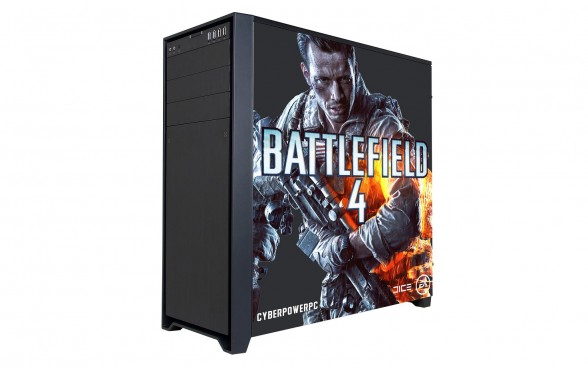 Press Release
CYBERPOWERPC Takes Pre-Orders for Radeon R9 290X-Infused PCs Bundled with Battlefield 4 Video Game
CyberPower Inc., www.cyberpowerpc.com a global manufacturer of custom gaming PCs, gaming laptops, and performance workstations, today announced the gaming bundle of the year, which features the next generation GPU from AMD and the highly anticipated Battlefield 4 first person shooter.
CYBERPOWERPC is taking pre-orders for the Radeon R9 290X next gen graphics card. This gaming bundle includes the blazing fast R9 290X video card paired with AMD's 8-core FX-8350, 9370, or 9590 CPUs. This powerful combination nets you a high-performance gaming PC ready for the next generation of games including Battlefield 4 from Electronic Arts; which you get as part of this spectacular bundle.
Customers can visit CYBERPOWERPC's Battlefield 4 bundle page here and start configuring their own gaming computer based on the AMD CPU/GPU pairing to receive their copy of Battlefield 4. Starting price of the bundle is $2169.
With AMD Radeon R9 infused gaming systems, CYBERPOWERPC has laid the foundation for the next generation of gaming. The R9 series features advanced new technologies from AMD such as Graphics Core Next, Mantle, and TrueAudio; all designed to enhance your gaming experience. Project Mantle, the new application programming interface (API) delivers significantly higher gaming performance at all platforms while TrueAudio is the new programmable  pipeline that enables advance audio effects without utilizing the PC's processor.
New CYBERPOWERPC systems based on the new R series are also engineered for Ultra Resolution Gaming at 4K resolutions and beyond. UltraHD/4K gaming has arrived and requires 4X the processing power of 1080p gaming. Loaded with up to 4GB memory, the AMD Radeon R9 Series GPUs are the graphics cards of choice for this new era in gaming.
All CYBERPOWERPC Battlefield 4 ready systems can be customized with a number of performance hardware and component upgrades such as Advance Hydro liquid cooling, solid state drives, performance gaming memory, peripherals and business software to enhance your productivity, and more at the company's website. All CYBERPOWERPC desktop systems include an industry best 3-year limited warranty.
For more information about the CyberPowerPC or the Battlefield 4 bundle, be sure to check out CyberPowerPC's website here.