GIGABYTE unveiled the latest in its line of BRIX mini PCs, which is aimed at living room gaming. The GIGABYTE BRIX UHD (BNi7HG4-950) features specifications aimed at both 1080p gaming, and 4K UHD video playback.
GIGABYTE Unveils BRIX UHD Mini Gaming PC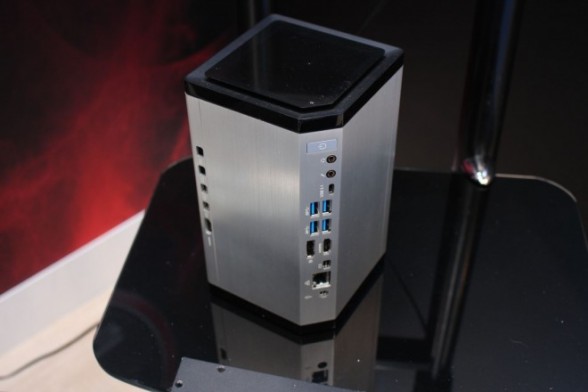 The barebones desktop PC (no storage or memory included) features a Skylake-U Core i7 processor paired with NVIDIA's GTX 950 graphics card. It features support for 2.5″ or M.2 SSDs, and up to two DDR4 DIMMs. The unit measures 220 mm x 110 mm x 110 mm (HxWxL), making it quite the console competitor. The design is also quite minimalist, featuring a black and silver, brushed aluminum chassis, which is mostly square and much taller than previous BRIX models.
It features a slew of connectivity options including:
1x HDMI
3x mini DisplayPort
3x USB 3.0
1x USB 3.1 Type C
1x USB 3.1 Type A
1x Gigabit Ethernet
Mic and headphone jacks
The company did not specify the version of HDMI and DisplayPort used, however given the name and UHD aspirations, we'd imagine it carries at least one HDMI 2.0 port and either DisplayPort 1.2 or 1.3.
No word on pricing or availability as of yet.