At this year's Computex, Colorful a company known for making graphics cards, had a very interesting concept on display. This custom motherboard featuring Intel's B150 chipset also features an integrated GTX 1070 desktop-class GPU on-board.
Colorful Displays B150-Gp104 Motherboard Concept
The motherboard itself does not seem to to comply with any ATX standards, as it features ports on both the front and rear edges of the board. This means that it is likely custom-designed for a console-like barebones PC of sorts. It features an Intel B150 chipset, which is compatible with mainstream desktop Skylake CPUs. As this is a B150 motherboard, it does feature a standard LGA 1151 CPU socket, along with a 6+2 phase VRM.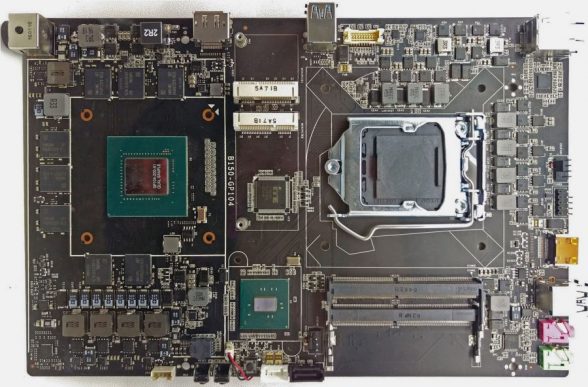 It also has two DDR3L SODIMM memory slots, which can support a maximum of 32GB (16GB per slot) of memory. While the GTX 1070 GPU seems to take up any space for PCIe slots, there are two mSATA or mini-PCIe slots (difficult to say which), which can potentially be used for storage or wireless networking expansion. In addition, we can also see I/O ports including several USB 2.0, USB 3.0, HDMI, DisplayPort, PS2 connectors, and a 2-channel audio jack. We can also spot a single SATA port for use with standard desktop drives.
The relatively small-form factor of this motherboard does make it very interesting. We can definitely envision a console-like form-factor packing the gaming power of a GTX 1070 and one of Intel's high-end Skylake processors, which would make this a great basis for a 4K gaming PC in the living room.
Source: VideoCardz