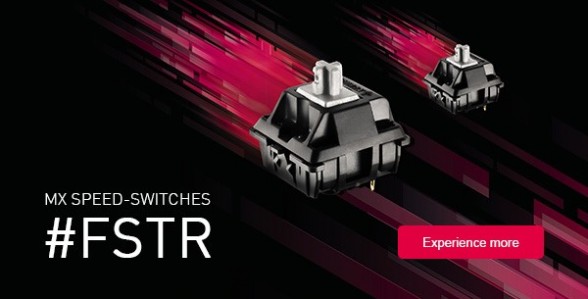 Many key switch manufacturers have jumped on the speed train and released their own versions of faster mechanical switches. Cherry, despite being the industry standard in mechanical keyboard switches, wasn't as quick to respond to the new trend.
But that's all history now. With the release of the Cherry MX SPEED, it now has something to compete with the rest of the market. The new linear Cherry MX SPEED has an actuation distance of just 1.2mm and a low actuation force of 45cn. In the press release, Cherry states that the switch will have "…extremely short travel", but we're unsure if they're describing the actuation distance or the overall travel.
Of course, the new switch carries Cherry's golden quality standard. They're guaranteed to last for 50 million keystrokes with constant pressure quality.
It's quite obvious that this switch aims to please gamers. Cherry also has a variant of the Cherry MX Speed that uses a transparent RGB cover and surface mount LED for extra fancy lighting effects.
At the time of press, Corsair is the first exclusive launch partner to utilize this new switch. The exclusive deal will end six months after the initial launch.