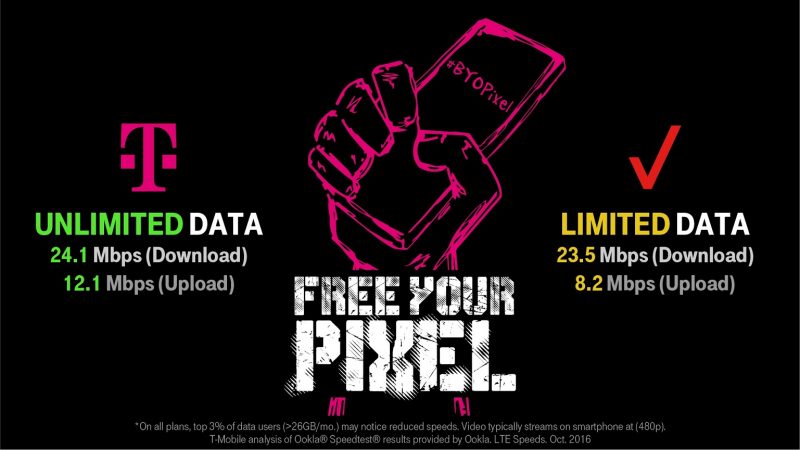 When Google announced their Pixel smartphones earlier this month, one of the miscommunications about the new smartphones was that it was exclusive to Verizon. Understandably, outspoken T-Mobile CEO, John Legere, wasn't too happy.
To right this wrong, T-Mobile has been spreading the news that the Google Pixel is actually available unlocked direct from Google and they also recently announced a new promotion where T-Mobile will refund you $325 in bill credits for any T-Mobile One customer who purchased a Google Pixel smartphone. Considering the Google Pixel 32GB is priced at $650, this is 50% off bringing the price to a very reasonable $325.
To take advantage of the offer, simply purchase an unlocked Google Pixel smartphone, be subscribed to a T-Mobile ONE plan, then submit proof here. After that, you'll receive a $13.55 bill credit every month for the next 24 months.
Those interested in picking up a Google Pixel or Pixel XL can head over to the Google Play store here. More information about the T-Mobile Google Pixel promotion is available here. Is anybody picking up a Google Pixel? Let us know in the comments below!
**Update 10/31/16**
T-Mobile Simple Choice Unlimited customers are now included in this promotion, so if you're still a Simple Choice Unlimited customer and have no plans to switch to T-Mobile One, you can also take advantage of this offer as of today!
Source: T-Mobile