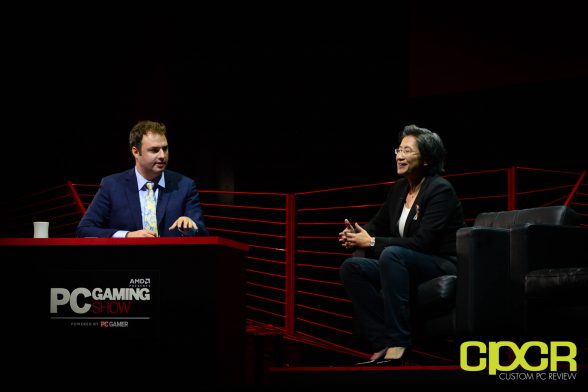 Ever since AMD showed off its Radeon RX 480 at Computex 2016, gamers have been eagerly waiting to see the rest of its lineup. And what better place to show off the whole family than the gaming event dedicated to PC gamers?
At the AMD sponsored PC Gaming show, AMD CEO Lisa Su unveiled some additional members of the RX 400 series graphics cards. Newly joining the RX 480 is the RX 470 and the RX 460.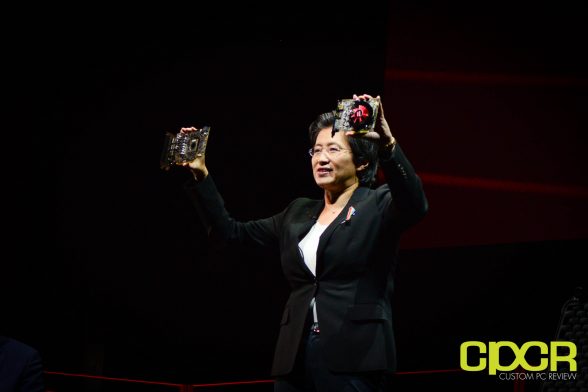 Nothing was said about the RX 470 besides that it would target 1080p gaming at 60Hz. Based on that bit of info alone, it's a good guess that it will be powered by the Polaris 10 GPU. Since the RX 460 was announced to carry a TDP of >75W, we can also speculate that its TDP will be somewhere between 100-130W. Memory configuration is a toss-up still, but a 2-4GB maximum seems sensible for modern 1080p gaming. The RX 470 was shown with only the PCB itself, implying that there may not be any reference models available. Lisa Su said "there will be many designs of this card coming from our add-in board partners" which would likely reaffirm this scenario.
The RX 460 was revealed to be AMD's low cost, low power solution directed towards competitive gaming scene. With a TDP of less than 75W, the RX 460 will still be more than capable of handling titles such as Counter Strike, DOTA, League of Legends, and Starcraft. The sample card Lisa held up had a single fan and seemed to lack any power connectors, so it will most likely be powered through the PCIe port with overclock-able variants being externally powered.
Specifications:
UPDATE: Specifications have been revised with more up-to-date information. 
Manufacturer
AMD
Model
RX 480
RX 470
RX 460
GPU
Polaris 10 XT
Polaris 10 Pro
Polaris 11
Stream Processors
2304
TBD
1024
Compute Performance
5.5 TFLOPs
~5 TFLOPs
~2 TFLOPs
GPU Clock
1266MHz
TBD
 TBD
Memory Clock
8 Gbps
7 Gbps
 TBD
Memory Buffer
4/8GB GDDR5
 4/8GB
2/4GB
Memory Interface
256-bit
256-bit
 128-bit
TDP
150W
 110
  >75W
Price
$199+
TBD
TBD
We were disappointed that Lisa didn't announce any concrete specs on any of the new cards showed off. As the June 29 launch date for Polaris nears, we were fully expecting demos, pricing, and full spec sheets.
A hotly debated topic is if there will be a Polaris-based card above the R9 480. From the looks of things, this isn't likely. Lisa Su mentioned that what she showcased today was the FULL Polaris family, and historically speaking AMD has never stretched a single GPU across three products at launch. Since the RX 470 is extremely likely to carry the Polaris 10 GPU, we can assume that the RX 480 is the highest performing Polaris card there will be.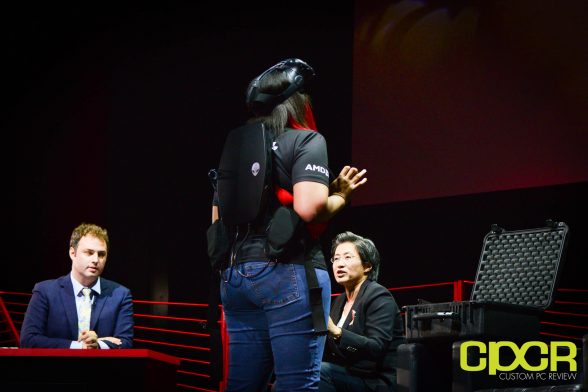 Since this round of cards are heavily focused on VR, AMD has also showcased a portable Alienware VR backpack system. Having the player carry the system removes the cable restriction of a desktop-bound laptop. We've seen similar products from companies such as Gigabyte and MSI at Computex.