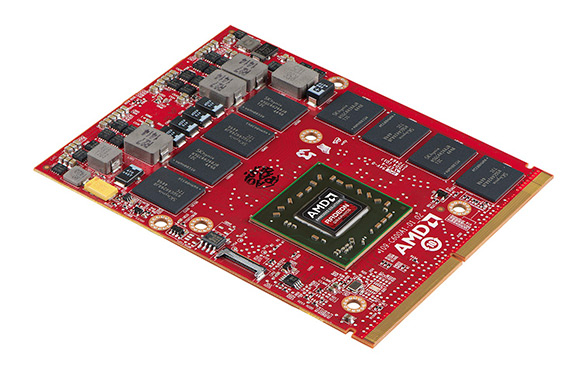 AMD has just announced a new line-up of graphics solutions to be used in embedded systems. Among them is the E8950 MXM based on the highly-anticipated Tonga XT GPU, giving us a taste of the desktop Tonga XT GPU that's surely to follow soon.
The E8950MXM is AMD's most powerful embedded graphics solution released to date. It features 32 Compute Units based on the GCN 1.2 architecture, 8GB of memory, 256 bit memory bus, and a maximum scalable TDP of 95W. AMD says that the E8950 can perform a peak of 3 TFLOPS (Tera Floating Operations Per Second) in single precision data .
Designed to be used for GPGPU compute and with embedded 4K applications, the E8950 comes with support for 4K hardware-accelerated decode/encode and can power up to six 4K displays. Its MXM (Mobile PCI Express Module) form factor is smaller than standard commercial GPUs, making it an idea choice when the highest performance is required in compact systems.
AMD has also released the E8870 and the E6465 embedded graphics solutions alongside the E8950 to cater to the different size and performance demands of the industry. Unfortunately, you won't be seeing these chips in gaming laptops, but rather in devices such as high-end arcade machines, medical imaging devices and digital signage installations.
Full details of AMD's new embedded graphics lineup, check out its press release here.