At the company's recent 2015 Q3 earnings teleconference, President of AMD Lisa Su confirmed the company's plan to update its entire graphics portfolio – both OEM and AIB – in the coming quarters. She also took the time to affirm that the company's commitment to the graphics market, disclosing that AMD has made good progress in growing market share in traditional graphics markets in Q3 2015 and has further plans to in continue to increase that growth over a number of quarters.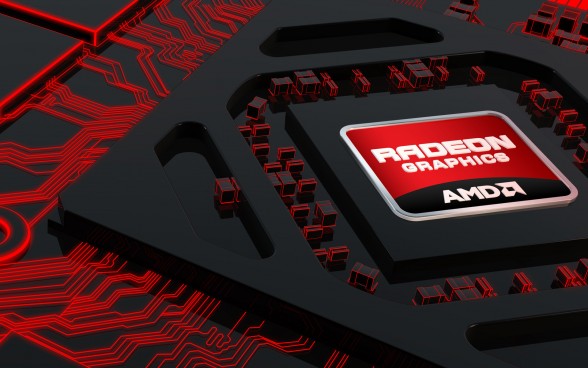 She also mentioned the recent formation of the Radeon Technologies Group, which is a vertical business unit within AMD that covers all things graphics related was created with the sole-purpose of increasing focus and accelerate growth in emerging markets.
Lisa Su – Advanced Micro Devices, Inc. – President, CEO
We successfully executed many of our near-term tactical priorities in the third quarter, while also taking several key steps as a part of our longer-term strategy to focus AMD on delivering great products, driving deeper customer relationships, and simplifying our business. Highlights include delivering strong double-digit sequential revenue growth in each of our business segments; expanding our product portfolio with the introduction of several new APUs and GPUs that improve our competitive positioning in key markets; forming the Radeon Technologies Group to bring a vertical focus to our graphics business and help strengthen our performance in traditional graphics markets, while simultaneously establishing leadership initiatives in emerging — immersive computing markets, like virtual and augmented reality.
When asked if AMD could regain the levels they were at a year go in the GPU market, Su confirmed AMD's plans to update its entire graphics portfolio in 2016. These new GPUs will feature significant architectural enhancements as well as the latest FinFET manufacturing processes to double the performance per watt when compared to AMD's current products.
Joe Moore – Morgan Stanley – Analyst
You have had a nice sequential quarter, but I still have your GPU business down quite a lot year over year. Now that you have products that are more competitive in the enthusiast segment, can you give us an upper bound of
what you might be able to achieve there? Is there supply constraints that are keeping this small and are you going to be able to regain the levels that you were at a year ago in GPU?
Lisa Su – Advanced Micro Devices, Inc. – President, CEO
Yes, so Joe, I think one quarter is good progress. Now you will have to watch us over a number of quarters regain that graphics momentum.
And when I think about it, relative to the Fury launch we did have some supply constraints in the third quarter. They were — they are largely solved in the fourth quarter, so I don't think there will be any supply constraints.
I think it's also fair to say that the graphics portfolio is quite broad, and so you will see us updating the entire portfolio over the coming quarters,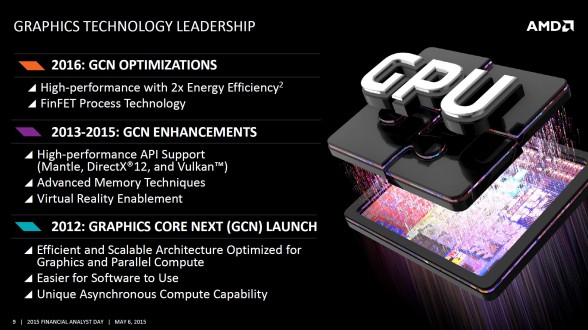 Lisa Su – Advanced Micro Devices, Inc. – President, CEO
We are also focused on delivering our next-generation GPUs in 2016 designed to improve performance per watt by 2X compared to our current offerings, based on design architectural enhancements, as well as advanced FinFET process technology. And in the third quarter, we also taped out multiple products in FinFET technologies across both of our foundry partners that are on track to enter production next year.
It is worth noting that AMD did not confirm which of its foundry partners it will be using for its upcoming products, but Su has stated that they've taped out designs for both which are on track to enter production next year. It is likely we will see  AMD's Zen based CPU and APU offerings being produced by either TSMC or GlobalFoundries , with their next-generation GPUs being produced by the other. This is to ensure that AMD can meet demand for both markets, without facing devastating supply constraints.