This week the motherboard and graphics card manufacturer Gigabyte unveiled two new high-end graphics cards, each from both major graphics companies. The first of the new cards is the all-new Radeon R9 Fury WindForce, which up until now has been delayed for quite some time due to supply constraints with AMD's Fury GPUs. AMD has recently announced that these constraints have been alleviated and Gigabyte's R9 Fury WindForce is the one of the first of what should be many new R9 Fury GPUs to be launched this quarter.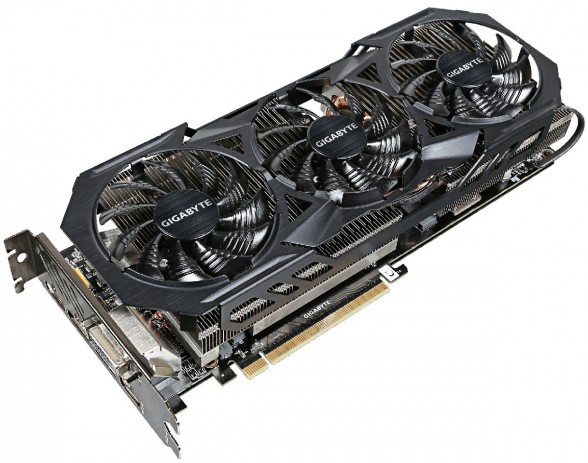 The R9 Fury WindForce features GIGABYTE's signature triple-fan WindForce cooler, which is similar if not identical to the solution found on the company's GTX 980 Ti WindForce. It also seems to feature a full-length custom PCB, rather than the shorter reference AMD PCB design that is found on some of the earlier launched Fury cards. In addition, the card's thicker heatsink protrudes past the standard dual-slot height, into three slot territory. Of course, this being a WindForce card, a premium backplate is also included.
GIGABYTE's Radeon R9 Fury WindForce comes with a slight factory-overclock of 1010 MHz core (compared to 1000 MHz reference), with the memory clock staying unchanged, at 500 MHz. The card is also powered by a  pair of 8-pin PCIe power connectors. Display outputs include one each of dual-link DVI, HDMI 1.4a, and three DisplayPort 1.2a connectors. No word on pricing or availability as of yet, but we wouldn't be surprised if GIGABYTE charges a small premium over the R9 Fury's MSRP of $550.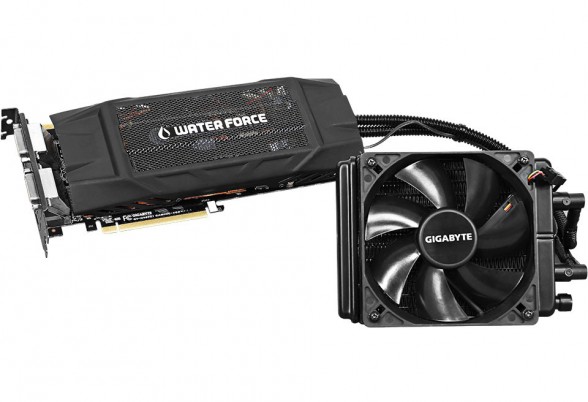 The second of the newly announced cards is the GTX 980 WaterForce, which as the name implies is GIGABYTE's own take on the AIO water-cooled graphics card. The new card is of course based on the GTX 980, and does not change much as the factory clock speed is only increased to a Base of 1253MHz and a Boost of 1354MHz when the card is "OC Mode" while it remains at reference speeds (1329 / 1228 MHz) while in "Gaming Mode."
The cooling solution consists of a 120mm radiator, paired with what GIGABYTE claims is a "silent fan and low noise pump." They also claim that the full-coverage design of their water-block not only provides cooling for the GPU, but also the the VRAM and MOSFET, which allows for no additional fans on the card itself. The card and radiator are connected via a pair of corrugated SFF tubes, which are not usually my first choice, as they are not as aesthetically pleasing as other options. GIGABYTE has also included technology to provide dual-link DVI support in addition to the 3 DisplayPort(s) and 1 HDMI 2.0 found on the reference GTX 980. The card also features an illuminated LED GIGABYTE logo, and includes a microfiber gaming mouse pad in the package.
No word on pricing for this one either, but we'd expect it to be inline with other AIO cooled GTX 980s currently available.