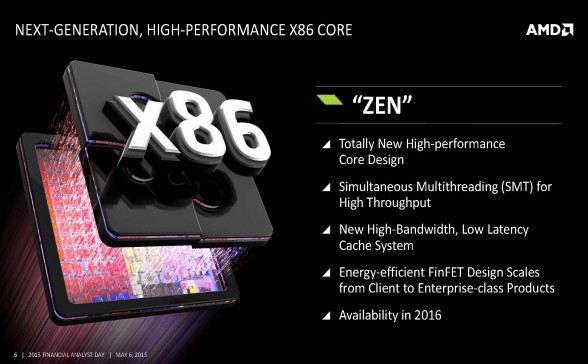 AMD recently dropped some huge announcements today at their Financial Analyst Day in New York and confirmed previous rumors that a new desktop CPU based on completely new architecture is expected to be released in 2016.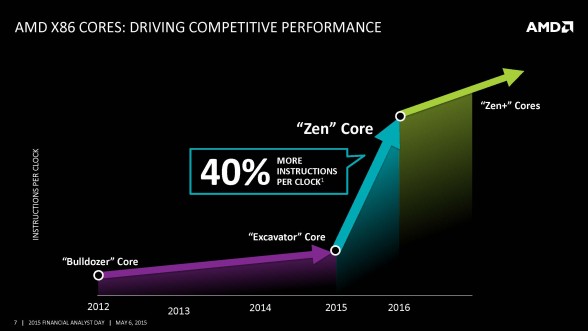 As expected, the AMD's new CPU micro-architecture will in fact be called Zen and according to AMD, the new CPU micro-architecture is expected to provide up to 40% more IPC (Instructions Per Clock) performance compared to AMD's current Excavator micro-architecture. Following the introduction of Zen, AMD has a Zen+ micro-architecture in the works as well which will further improve IPC performance, but no additional information on Zen+ has been provided.
One of the biggest architecture improvements to be introduced with Zen is that AMD will be utilizing SMT, or Simultaneous Multi-Threading, technology which allows a single core to execute multiple threads. This sounds similar to Intel's Hyper-Thread Technology, except we're not quite sure what the specifics are just yet. AMD is also introducing a brand new high bandwidth low latency cache system which will improve single thread IPC performance.
Furthermore, AMD's Zen micro-architecture based CPUs will also be quite a bit more power efficient as it'll be built on GlobalFoundries upcoming 14nm FinFET process. (AMD doesn't specifically mention 14nm, but we all know that it is…) This will be a huge jump from AMD's current desktop CPUs which are built on the 28nm process.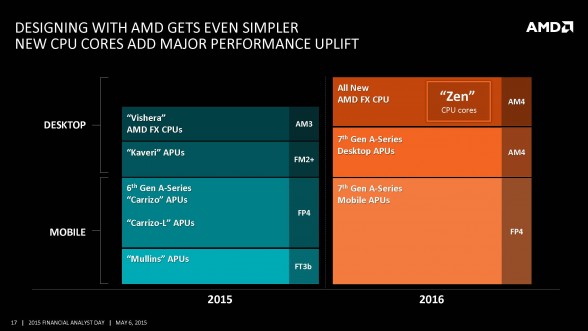 Of course, AMD's new Zen based CPUs will be released with the new AM4 socket. No details have been released on any upcoming chipsets that will support the new socket.
Source: AMD