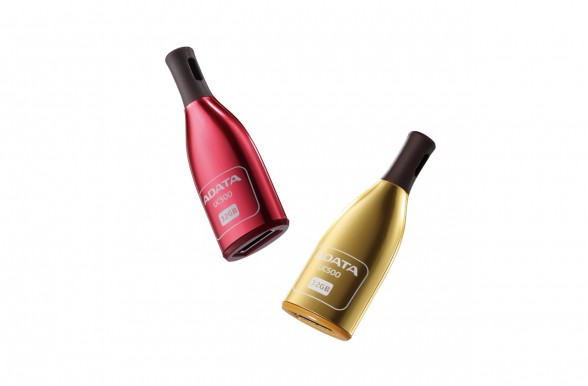 Press Release
                  ADATA Adds Stylish Wine Bottle USB Flash Drive – UC500 – to DashDrive Lineup
Store Your Digital Memories in a Beautiful Bottle Shape
ADATA Technology Co., Ltd. today announces the launch of the DashDrive™ Choice UC500 USB flash drive. This latest USB 2.0 interface entry offers a distinctive design as well as striking colors, once again, demonstrating ADATA's determination and ability in bringing style and flair to the realm of digital storage.
The 50 x 19 x 11 mm (LxWxH) DashDrive Choice UC500 sports an attractive curved bottle shape, with color choices of golden champagne and sparkling red. The glossy metal exterior adds durability to the eye-catching design allowing users to carry their 'memories in a bottle' with confidence and pride. The UC500 is small and is easy to carry with an integrated strap hole for use with a keychain or lanyard. The sliding type USB connector eliminates the need for a cap. Capacities of 8, 16, and 32 Gigabytes ensure ample storage space for treasured personal data.
After announcing the company's new product family in June, ADATA has moved quickly to release products that embody speed and portability signified by the DashDrive name. Products in the DashDrive Choice group showcases the industry's most elegant designs, and are targeted towards fashion-conscious users who see the purchasing of digital accessories as an opportunity to make a personal style statement.
Availability
The DashDrive Choice UC500 will be available at Newegg and TigerDirect, at a MSRP of $10.99 (8GB); $15.99 (16GB); $26.99 (32GB).
For more information, visit the company's website
here
.