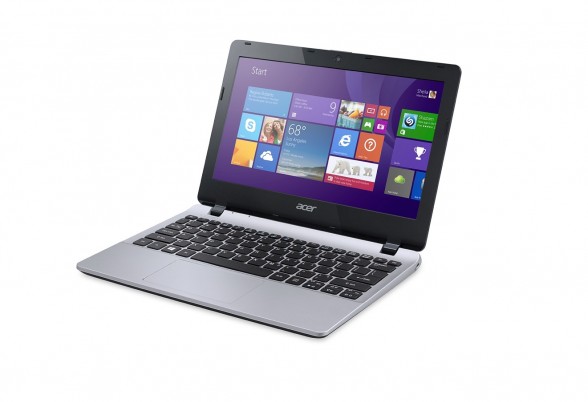 According to a recent press release, Acer recently unveiled two new 11.6″ inch notebooks today – the Aspire V 11 (Touch) and the Apire E 11, both featuring Acer's new FlowCurve design. Acer's new FlowCurve design is unique as it takes the rear of the notebook and curves it inside, creating a more seamless and stylish appearance while also allowing the laptop to stay comfortably cool and whisper-quiet despite being completely fanless.
The Aspire V 11 (Touch) will pack an Intel Pentium Quad Core while the Aspire E 11 comes with an Intel Celeron CPU.  Both models have up to 8GB of onboard DDR3, a 1366 x 768 HD display, Gigabit Ethernet, HDMI, 2x USB2.0 ports, 1x USB3.0 port, SD card slot, onboard speakers, a Precision TouchPad designed for Windows 8.1, and up to 1TB of hard drive space
The Acer Aspire V 11 will come in two color options: pink and silver while the Acer Aspire E 11 is expected to come in 4 color options: Cool Silver, Rhodonite Pink, Tiger's Eye Brown, and Quartz Blue. The Aspire V 11 (Touch) weighs in at a mere 3 lbs with up to 7 hours of battery life while the Aspire E 11 weighs in 2.84 lbs, measures at 0.8 inches thin, and can last up to 5 hours on battery.
The Acer Aspire V11 and E11 will be available sometime in June in North America with prices starting at $369.99 and $269.99 respectively.
Source: Acer