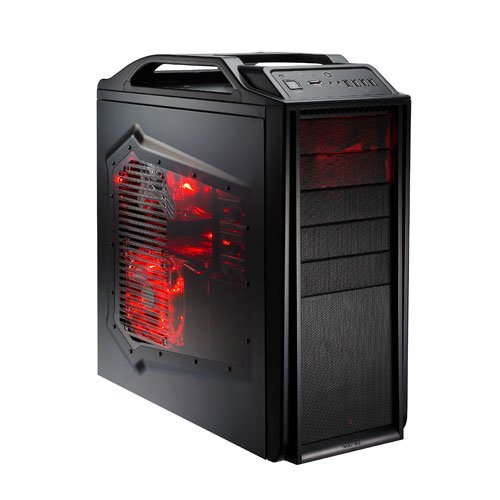 Since it's been a couple weeks since our last best gaming build, I'm going to do the most requested build, which is a gaming build around the $1,000 to $1,200. It seems like a lot of you are interested in custom gaming builds, so here it is. The concept of this gaming build is pretty much to be able to play most games on the market at high to ultra settings at 4x, 2x or lower AA. This means games like Battlefield 3, Skyrim, Crysis, Call of Duty, and of course Mass Effect 3 which was just launched today.
If you'd like to give some input on what I type of computer build you'd like to see in the future, or just request a PC build for yourself on something you want to build today or in the near future, please feel free to head over to our forums. Either myself or the very friendly, very helpful community here at Custom PC Review will help you out!
Enough of that, let's get started!
Budget: $1,000 – $1,200
CPU – Intel Core i5 2500K
If you've been following my builds lately, you probably saw this one coming so it isn't even a surprise anymore.  If you haven't, well the Intel Core i5 2500K is probably the best processor in terms of price to performance out there these days. The processor is capable of some very serious overclocking and will handle any game you throw at it just fine.
Q. Why not the Intel Core i7 2600K? 
A. Watch this video. It will explain everything you need to know. Also, take a look at these benchmarks. There really isn't the necessity to spend the extra money.
Motherboard – MSI Z68A-GD55 (G3)
Now typically I'd recommend the MSI Z68A-GD65 (G3), but lately that board's price has gone through the roof, so today we're going to go with the MSI Z68A-GD55 (G3). Honestly, there isn't much of a difference between the two boards. The only difference is really the amount of SATA 3 6Gb/s ports. Whereas the GD65 has 4, the GD55 only has 2. Of course, unless you're planning to drop in more than 2 SATA 3 6Gb/s SSDs, you'll be fine since the GD55 still has another 4 SATA 2 ports for your hard drives.
Otherwise, the board is an excellent board with plenty of expandability. It features the G3 stepping which means you'll be getting MSI's new ClickBios II and you will also be getting PCIe 3.0 ports as well. Additionally, the board is also rock solid featuring MSI's Military Class components and will overclock very well. Feel free to browse the ClickBios II overclocking tutorial if you're interested. What's really great about this board is that it currently has a $30 rebate attached, which means you'll be getting this board for a measly $134.99 making it one helluva good deal.
Memory – 8GB Corsair Vengeance 1600MHz DDR3 Low Profile 1.5v Memory
As usual I'm going to recommend the 8GB of Corsair Vengeance Memory for this build. It's very excellent very stable memory that I currently use in my personal system. The recommended memory is also low profile, which means you won't have any issues with the larger CPU coolers either. If you are planning on purchasing memory other than the one I recommended, please make sure it's 1.5v or lower. 1.65v memory isn't officially compatible with Sandy Bridge processors and may damage them.
Video Card – MSI GTX 560 Ti 448 Core Twin Frozr III
Granted the crazy fast, next generation AMD Radeon HD7950 and 7970 is already out, there currently isn't a next generation mid range card out there which is quite unfortunate. That being said, if you can't afford a HD 7950 at nearly $500, it might be a good idea to just purchase a last generation GTX 560 Ti 448 Core. This card can still run all of today's games at high to ultra settings at 1080p and will still last you for some time to come. Additionally, this specific card is based of MSI's Twin Frozr III design, which means it'll run cool, quiet, and will come from the factory overclocked. The icing on the cake here is that the card currently also carries a rebate of $30 which brings the price down to $279.99 making it an excellent deal as well.
Boot Drive – Crucial m4 128GB SSD
Lately it seems like Crucial is giving everyone a run for their money with the speedy m4 going for cheap. Current price on Amazon is only $162.14 possibly making this the cheapest SSD with ultra fast synchronous NAND. If you're interested, you can take a look at our full review of the Crucial m4 128GB SSD. In short, we loved it!
Now, I didn't recommend a boot drive because I really wanted to fit into a budget of $1,200, but if you'd like to have a bit more storage, feel free to add a Seagate Barracuda 7200RPM 1TB Hard Drive or any drive of your choosing.
Optical Drive – OEM DVD Drive or OEM Blu Ray Drive (Any Manufacturer)
If you watch Blu-Rays, grab the Blu Ray drive. Otherwise, the DVD drive will be fine. Or… even better just don't buy one at all and borrow a friend's!
PSU – Corsair TX650 V2
As usual, I'm going to recommend the TX650. It's unbeatable when it comes to price and quality. If you want a little extra for that future SLI setup of yours, step up to a Corsair AX850. I typically just recommend Corsair PSUs these days since they're so reliable and come with industry leading warranties.
Case – Cooler Master Storm Scout
You know, this was such a cool case when it came out. It was priced right, and it was the perfect size for those interested in carrying the case around. I'm going to opt for this one. Once a classic, always a classic.
If you got a couple more bucks, a CM Storm Trooper is pretty nice as well. It's also $30 off in celebration of Cooler Master's 20 years. Oh and feel free to grab some Corsair cases as well. Personally, I love the Graphite 600T. It's expensive, but trust me… it's worth it.
CPU Cooler – Cooler Master Hyper 212 Plus
Just can't stop putting this CPU cooler in builds. It's just so awesome. Affordable, and a great performer. It's not that I don't want to recommend anything else, I just can't think of anything else to recommend at this price point. Please suggest something in the comments below!
Operating System – Windows 7 64 bit
Total price on Amazon (For most people free shipping + no tax) for this build is $1,216 – $60 rebates, so it'll be around $1156 or so.  If you don't need an operating system, you can always drop it to drop the price another $100.
Finally, remember that if you have any questions, need some help, or need to fit the build into your budget feel free to visit the forums at http://forums.custompcreview.com. Myself, or the community here will be more than happy to help you out with your own custom build or answer any computer questions you may have. If this build doesn't fit your needs, feel free to drop by our Computer Builds section to find more computer builds.
Also, be sure to join us on Facebook, Twitter, Google Plus, or YouTube. Be updated on the latest news, reviews, tutorials, custom computer builds, and more!