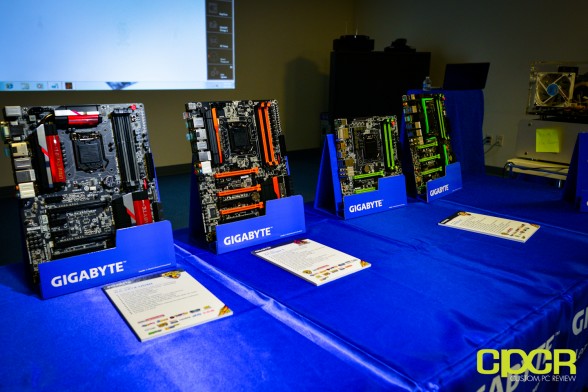 As Intel slowly readies their 4th generation Intel Core processor (Haswell) for launch, motherboard manufacturers are also busy preparing their next generation offerings based off the new Intel 8 series chipset (Z87). Gigabyte recently held a motherboard event in their offices in Industry, California giving us an early sneak peek at their brand new lineup of Z87 Motherboards.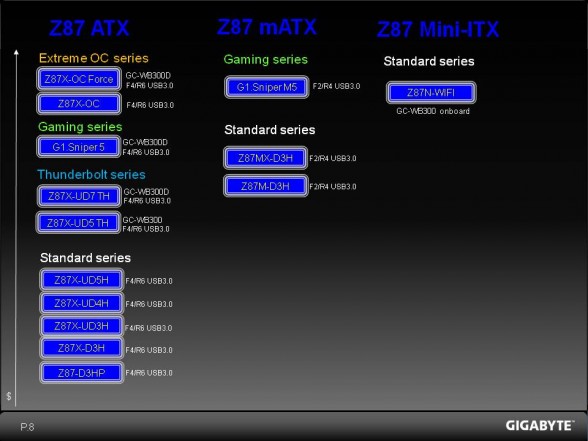 Before we dive into the motherboards, here's a quick look at the product roadmap here to see what Gigabyte is coming out with.
Gigabyte G1 Killer 8 Series Motherboards
G1.Sniper 5, G1.Sniper M5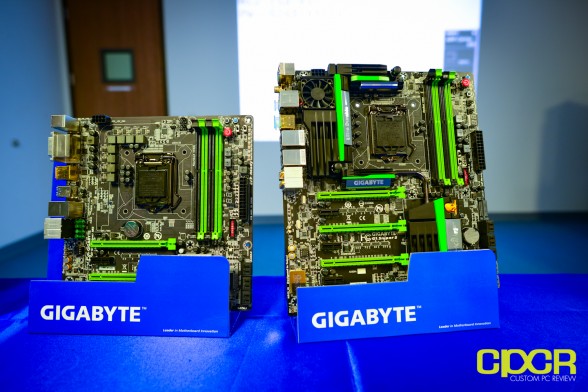 Kicking off, Gigabyte gave us a sneak peek into their G1.Killer series motherboards, which are Gigabyte's gaming/enthusiast oriented motherboards. For the Z87 chipset, Gigabyte will be launching both the G1.Sniper 5 and the mATX formfactor G1.Sniper M5.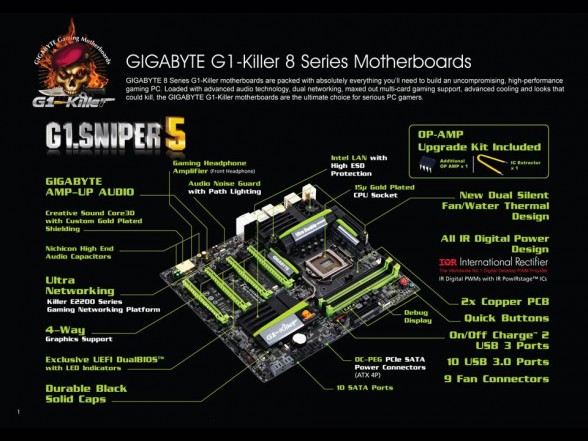 As expected, Gigabyte is doing some pretty cool things with the G1.Sniper 5. The main features include an all digital IR power delivery system, a newly redesigned UEFI BIOS, Gigabyte AMP-UP audio (more on that below), black solid capacitors (Nippon Chemi Con, 10K), 4 way SLI/CF graphics card support, dual LAN (Intel/Killer E2200), and more…
The G1.Sniper M5 is overall quite similar to the G1.Sniper 5 with the exception of fewer SATA ports, fewer PCIe slots, fewer I/O ports, fewer USB ports, fewer fan connectors, etc. Core features such as AMP-UP audio, redesigned UEFI BIOS, IR digital power delivery system, AMP-UP audio, etc. will be present.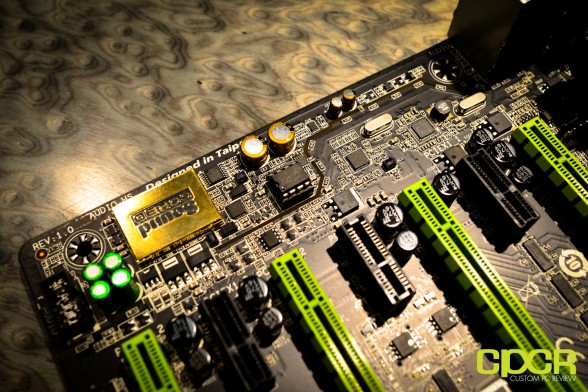 One of the biggest features for these two boards is what Gigabyte is calling AMP-UP audio. This is simply an upgrade to the premium onboard audio solution carried over from the G1.Killer 7 series motherboards. The centerpiece of AMP-Up audio is still the Creative Sound Core 3D chip that was included with the 7 series G1.Killer motherboards, but with the 8 Series G1.Killer boards, Gigabyte is further improving audio by shielding the Sound Core 3D chip with gold plating, gold plating audio jacks, integrating Nichicon Muse ES and MW series audio capacitors, and including a user replaceable OP Amp socket.
By default, Gigabyte is including the Burr Brown OPA2134 OP Amp with the motherboard, but upgrade kits with additional OP Amps will be available as well. That said, it's a standard OP Amp socket, so any audio OP Amp should drop right in.
Z87X-OC Force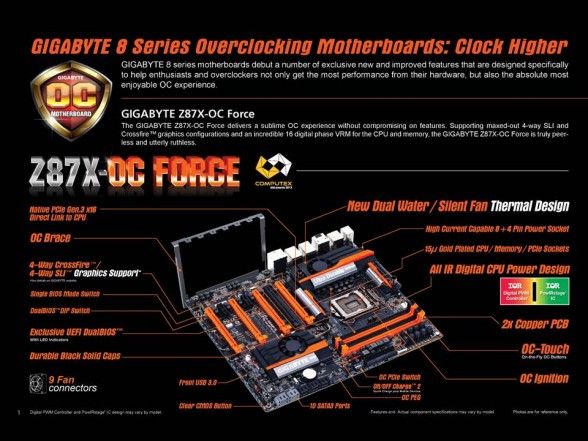 Gigabyte was also very fond of one of their niche boards, the Gigabyte Z87X-OC Force. As you'd expect from the board's name, this board is geared towards extreme overclockers as it has a number of unique features designed for easily overclocking the system right from the board itself.
This board features a whopping 16 phase digital VRM for the CPU and memory along with other overclocker oriented features such as dip switches that shuts off PCIe slots, and full overclocking capability right from the OC Touch buttons on the motherboard.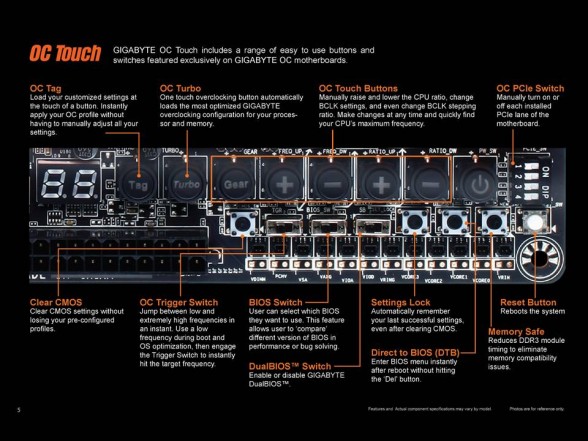 Here's a look at the OC Touch panel. You've pretty much got everything here such as tag profiles, frequency up/down buttons, ratio buttons, voltage check points, PCIe on/off dip switches, BIOS switches, etc.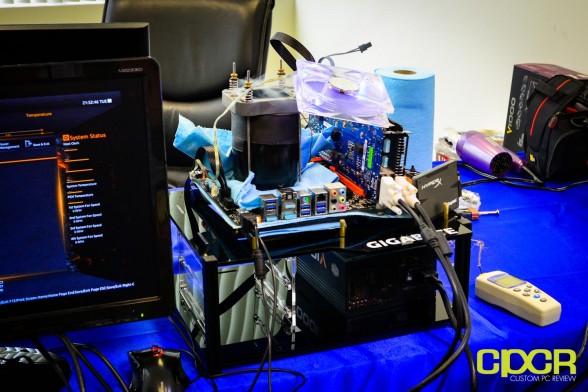 To demonstrate the capabilities of the Z87-OC-Force, Gigabyte also did some LN2 overclocking and yielded very, very impressive results. More importantly, Gigabyte was able to demonstrate their newly redesigned UEFI BIOS here, which is fast and smooth, making it a much better experience overall. More on this later.
Additional Z87 Motherboards
In addition to the G1.Killer series and the OC series motherboards, Gigabyte also had their main general consumer range of Z87 series motherboards as well, including the Z87X-UD3H, Z87X-UD4H, and the Z87X-UD5H.
While these boards don't have anything too special going on, they're definitely rock solid entry, mid, and top tier motherbaords with all of the core features on the flagship specialty boards. Core features such as the fully digital IR power delivery system, the Ultra Durable 5 technology, the 10K black solid capacitors, Intel LAN, etc are all present, which should make these boards quite a compelling buy especially if they come in at the same pricepoint as their 7 series predecessors. Definitely doesn't hurt that Gigabyte's 8 series boards look quite nice across the board as well.
Gigabyte also showed off a very early sample of a mITX motherboard that they're planning to come out with, the Gigabyte Z87N-Wifi. This pretty much looks like the Z87 version of the Z77N-Wifi.
Finally, Gigabyte also showed off a very early sample of probably the classiest looking motherboard in the entire Gigabyte Z87 lineup, the Gigabyte Z87X-UD5 TH. As its name implies, it's a Thunderbolt equipped motherboard.
Redesigned UEFI and Software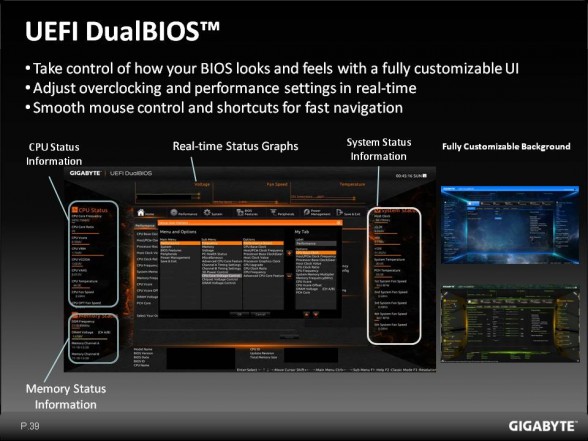 Here's a look at the newly designed UEFI BIOS, which Gigabyte is calling UEFI DualBIOS. The new UEFI puts system information right at the left and right sidebars, which makes it very easy to see information about the CPU and memory as well as the status of any overclocks as well. Overclocking in the UEFI is now as real time as possible with most overclocking settings now instantly applying rather than having to go through a restart. As mentioned earlier, the entire interface is a lot snappier as well.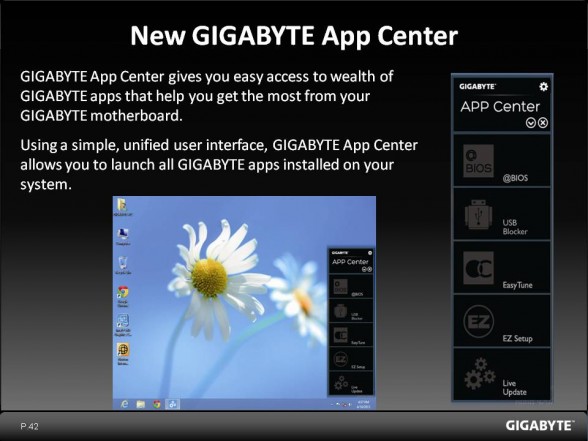 In addition to the overhauled UEFI BIOS, Gigabyte is also overhauling their software suite as well, giving it that modern look that was definitely needed. While not much is new here as all the software Gigabyte includes already exists, Gigabyte is integrating all of the software under a single app called the app center.
Conclusions
Overall, my impressions of Gigabyte's 8 series offerings are very good as it's apparent that Gigabyte is listening to customer feedback and implementing a lot of key changes based off the feedback. Completely gone are the days of bad motherboard color schemes as these new motherboards are probably the best looking boards I've seen from Gigabyte to date. The UEFI BIOS and the software is also finally getting the refinement that was lacking for a while as well. Most importantly however, Gigabyte has also implemented a ton of new features under the hood such as the IR digital power delivery system, 10K hour lifespan Japanese solid black capacitors, and a whole lot more.
Definitely looking forward to checking out some of Gigabyte's offerings in the days to come so stay tuned for more…