The Best Gaming Mouse of 2017
CPCR's Gaming Mouse Buyer's Guide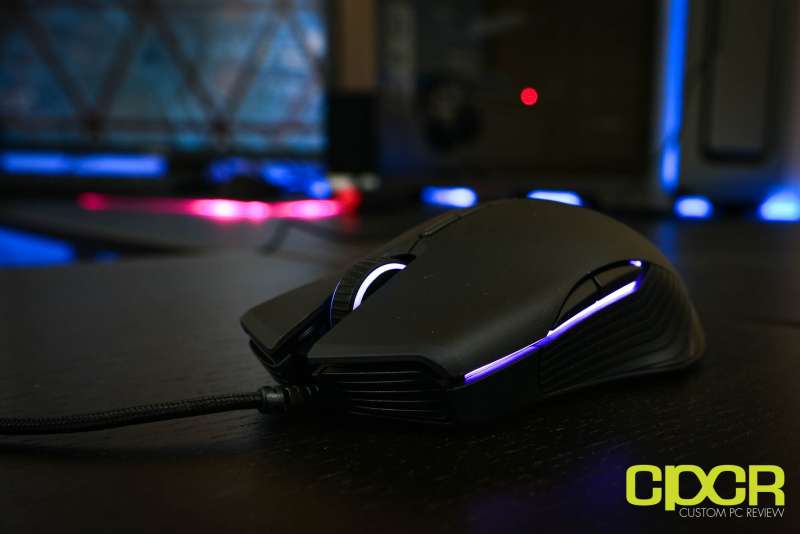 You can have the beefiest rig, the fastest internet connection, and the most bleeding edge monitors, but your gaming experience will still suffer without the right gaming mouse.
In this guide, we'll be providing you information on the best gaming mice on the market today. Our gaming mouse guide includes what we believe are the best gaming mice for budget gamers, MMO/MOBA gamers, FPS gamers, and more!
With that said, finding the perfect mouse can be challenging. With so many options, you can easily research all day without reaching a decision. We've compiled a list of our favorite gaming mice to hopefully save you some time.
The Best High-end Gaming Mouse
Logitech G900 Chaos Spectrum
The Logitech Chaos G900 represents the best of the best of Logitech. Bar none, only the highest-grade components went into this mouse.

A good sensor is the foundation of any best gaming mouse. Logitech outfitted the G900 Chaos Spectrum with the Pixart PMW-3366 optical sensor which is one of the best sensors on the market. Its highlights include zero filtering, smoothing, and zero acceleration across its entire 12,000DPI range.

Unlike most other mice, the Logitech G900 Chaos Spectrum does not have its button covers attached to the shell of the mouse. Instead, they're mounted on mechanical pivots supported by springs. This improves durability, keeps the weight of the click consistent throughout the mouse's lifetime, and reduces the pre-travel distance between the buttons and the switches.

Besides having 11 programmable buttons, the side buttons on the G900 Chaos Spectrum is also swappable to accommodate right handed gamers. Being a top-end mouse, it of course has programmable RGB backlighting to maximize its presence.

Most gamers prefer the reliability of a wired connection, but some just can't live with the hassle of managing wires. The Logitech G900 Chaos Spectrum makes that decision a little easier with support for both wired and wireless modes. Plug your mouse in when gaming and go wireless when you're browsing the web.

If you've bought anything ever, you'd know that high-end stuff usually needs high-end dollars. Surprisingly, the Logitech G900 Chaos Spectrum is reasonably priced at well under $150. For what you're getting, that's a bargain and a half.
Best Performance Gaming Mouse
Logitech Proteus G502 Proteus Spectrum
Compared to the Logitech G900 Chaos Spectrum, the G502 Proteus Spectrum sacrifices some features to bring the price down a notch, but even with that in mind, it's still one of our favorites. Here's why.

Though it lacks wireless capabilities and misses out on swappable buttons, the Logitech G502 Proteus Spectrum doesn't compromise on performance. It uses the Pixart PMW-3366 sensor which is the same one featured on the higher-end Logitech G900 Chaos Spectrum.

What's special about the Logitech G502 Proteus Spectrum is its jigsaw design is not only easy on the eyes, but it's also amazing for your hand. Its shape perfectly caters to any grip style. A thumb rest reduces friction by preventing your thumb from grinding against the mouse pad and there are 11 buttons onboard for you to program to your heart's content. You can also change the weight of the mouse by attaching the included weight pieces to the base for that perfect weight ratio.

At under $80, the Logitech Proteus G502 Proteus Spectrum is absolutely a steal. With its keen focus on the fundamentals, the Logitech G502 Proteus Spectrum condenses all that's good with a performance gaming mouse into a package that you will not regret picking up.
Razer DeathAdder Elite
With so many great gaming mice on the market, it's impossible to just select one which is why for our latest revision of the buyer's guide, we're going with two best performance gaming mice.

The Razer DeathAdder which was originally released in 2006 is one of the most successful gaming mice ever produced thanks to its extremely comfortable design and its top notch sensor. The Razer DeathAdder Elite continues on the tradition set by the original DeathAdder and adds some needed modern touches including better materials, a significantly improved sensor, more durable switches, and RGB lighting.

By far the best thing about the Razer DeathAdder Elite is its time tested, ultra-comfortable shape, which will feel perfect for any right handed, palm grip gamer.

Of course, a great gaming mouse needs a great sensor and the Razer DeathAdder Elite definitely delivers on this front. Packed within the mouse is Razer's exclusive 5G Optical (Pixart PMW-3389) which supports up to 16,000 DPI.

At under $70, the Razer DeathAdder Elite is also well priced. For palm grip gamers looking for a great gaming mouse to take you to the next level, the DeathAdder Elite is one you don't want to miss.
Best Budget Gaming Mouse
Steelseries Rival 100
The Steelseries Rival 100 is dirt cheap, but its price doesn't reflect its performance. While it lacks some of the bells and whistles of the higher end gaming mice, it has a solid sensor and respectable value making it the best gaming mouse for those on a budget.

The Steelseries Rival 100 uses the SteelSeries SDNS-3059-SS optical sensor. It only runs up to 2,000 DPI, but it's a very stable, flawless sensor with no jitter or acceleration. SteelSeries allows you to push that to 4,000DPI by applying a simulated 2x multiplier, but it's not recommended as it will introduce jitter and should be avoided at all costs.

At under $30, the Steelseries Rival is bare on features. Despite that, it still does have side buttons, a DPI selector, RGB lighting, and textured grips applied to either side. Having fewer features also means a lighter mouse which helps to make movement a little quicker, but its light weight may not be so good for gamers who like to vent their frustration on their gaming gear. While it's not poorly made by any means, it doesn't feel like it can withstand a beating, either.
Best MOBA/MMO Gaming Mouse
Razer Naga Hex V2
We were big fans of the original Razer Naga when it was first introduced back in 2009. Its 12 side button setup was uniquely impressive at the time and it instantly made it the go-to mouse for MMO.

However, as MMO popularity has died down giving way to MOBA, having 12 buttons cluttered on one side not only made it difficult to find the buttons that mattered, it also introduced a steep learning curve. This gave way to the Razer Naga Hex which introduced the circular six-button setup which makes the buttons feel more natural to access. With the Naga Hex V2, Razer has added another button to its side (for a total of seven), polished its looks, and updated its sensor to the Razer 5G laser sensor capable of up to 16,000DPI.

The spine of the Razer Naga Hex is arched high to make room for the side buttons. It still does fine with finger or claw grip users, but it's most suitable for the palm grip. A matte finish adds traction and helps to keep your hands on the mouse.

Because of its somewhat specialized nature, the Razer Naga Hex V2 comes in at just over $100. Those who have bought it or will buy it can rest assured that they have one of the best MOBA/MMO gaming mice available today.
Final Thoughts
Question about why we chose X and not Y? Ask us in our community forums! All you have to do is visit our forums, register, and post in the appropriate section! If you'd like more immediate help, feel free to swing by our community Discord channel.
Also don't forget to join us on Facebook, Twitter, Google Plus, or YouTube to be updated on the latest news, reviews, tutorials, custom computer builds, and more!