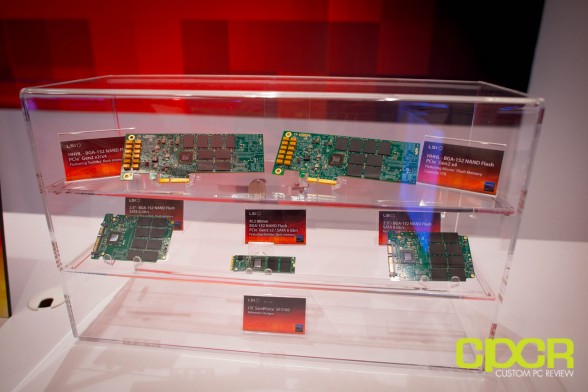 Along with SandForce's launch of the SF3700 series controllers earlier this week, SandForce had a number of working reference SSDs to display on the AIS 2013 showfloor.
The new SF3700 series controllers have the capability to work in both PCIe and SATA configurations, so first we have your typical 2.5″ formfactor SSD. The unit on display is using Toshiba 19nm MLC flash bundled with the SandForce SF373975A controller.
Following the SATA based SSD, we also get the M.2 (NGFF) formfactor SSDs as well. This specific model is a PCIe Gen 2 x2 SSD although PCIe x4 should be available down the line as well. Again, we get the SF373975A controller paired with Toshiba 19nm MLC NAND.
Finally, SandForce also displayed a number of working full size PCIe x4 SSDs. The SSDs were displayed using both 19nm Toshiba MLC flash and 20nm Micron MLC flash. An IOmeter demo run on the system showed the SSD capable of 128k reads up to 1,808.09MB/s.