SilverStone Redline RL01 Review
Posted August 3, 2012 by Tyler Phelps in
Reviews
Navigation:
SilverStone's Entry Level Enthusiast/Gaming PC Case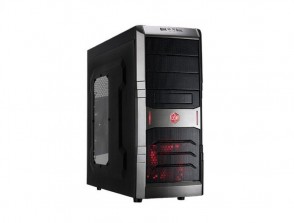 Similar to Lian Li, SilverStone typically specializes in conservative, but functional high-end cases.  However, with SilverStone's Redline series cases, SilverStone is taking a step out of their conservative case design philosophy and giving the cases a more modern, gamer-centric appeal.  With a glowing logo and HDD activity lights as well as a red 120mm front fan, the SilverStone Redline RL01 looks tough and ready for action.
You can probably guess then that today we'll be doing a review on the SilverStone Redline RL01 mid tower case. For our review, we received the USB 3.0, windowed model of the Redline RL01, but several editions such as the non windowed or USB 2.0 editions exist as well.  My first impressions of the case were quite good.  The styling on the front of the case caught my eye, as well as the raised areas on the side panels.  The window seemed to be just the right size and despite this being a lower end budget oriented PC case, it still features SilverStone's high quality dust filters.  The weight seemed perfect as well.  At only 5.1kg (just over 11lbs), the Redline RL01 was especially light and can be easily transported, even after installation.
SilverStone markets the Redline RL01 as an affordable enthusiast case.  The looks certainly fit, but will it perform as well?
Redline RL01 Specifications
Model No.

SST-RL01B-USB 2.0
SST-RL01B-W-USB 2.0
SST-RL01B-USB 3.0
SST-RL01B-W-USB 3.0

Material

High-strength plastic and meshed front panel

Motherboard

ATX, Micro-ATX

Drive Bay

External
5.25″ x 3
3.5″ x 1
Internal
3.5″ x 5, 2.5" x1

Cooling System

Front
1 x 120mm red LED intake fan
Rear
1 x 120mm fan slot
Side
–
Top
2 x 120mm or 1 x 120mm and 1 x 140mm fan slots
Bottom
1 x 120mm fan slot
Internal
–

Expansion Slot

7

Front I/O Port

USB 2.0 x 2 (SST-RL01B-USB 2.0+SST-RL01B-W-USB 2.0 only) USB 3.0 x 2 (SST-RL01B-USB 3.0+SST-RL01B-W-USB 3.0 only) Audio x 1  MIC x 1

Power Supply

1 x optional standard PS2(ATX)

Expansion Card

Compatible with expansion cards up to 11"

Net Weight

5.1kg

Dimension

192.5mm (W) x 440.3mm (H) x 485mm (D), 42.0 liters