[section label="Introduction"]
Bringing DSM to the Router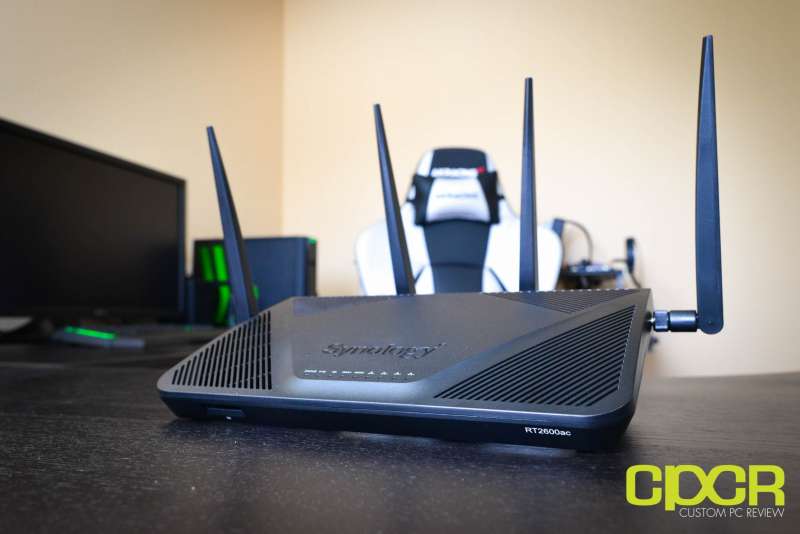 Synology is a company well known for their excellent, easy to use NAS systems, and several years ago they decided to enter the router market with the Synology Router RT1900ac which combined their expertise in producing quality, intuitive, easy to use operating systems with a high performance router solution. While we didn't get a chance to review the RT1900ac at the time, it was very well received by customers and press, which is why when Synology announced the Router RT2600ac, we absolutely had to check it out.
Specifications
| | |
| --- | --- |
| Manufacturer | Synology |
| Model | RT2600ac |
| Processor | Qualcomm IPQ 8065 Dual Core 1.7GHz |
| Memory | 512MB DDR3 |
| Wi-Fi Bands | IEEE 802.11 a/b/g/n/ac/ac wave 2 (up to 2.53Gbps), MU-MIMO, Beamforming |
| Antenna | 4×4 MIMO Omni-directional high-gain dipole (2.4GHz / 5GHz) |
| Ethernet Ports | Five 10/100/1000 Mbps Gigabit Ethernet (One WAN, Four LAN or Two WAN, Three LAN), Link Aggregation/Load Balancing |
| Additional Ports | One USB 3.0, One USB 2.0, SD Card Slot |
| Security | WEP, WPA/WPA2-Personal, WPA/WPA2-Enterprise |
| Additional Features | VPN, QoS, Traffic Control, Parental Control, Wake on LAN |
| Operating System | Synology Router Manager |
| Dimensions | 77 mm x 280 mm x 169 mm (without antenna) |
| Warranty | Two years |
| Check Pricing | Amazon |
The Synology Router RT2600ac packs pretty much everything you'd want in a new high performance router.
Under the hood the RT2600ac features a Qualcomm IPQ8065 dual core processor combined with 512MB RAM which should be able to power its onboard firewall, QoS, and file serving capabilities without much trouble. The router also features a 4×4 802.11ac wave 2 dual band Wi-Fi capability which will allow it to reach a maximum performance of 2.53Gbps when multiple clients simultaneously transfer data across the wireless network.
[section label="A Closer Look"]
A Closer Look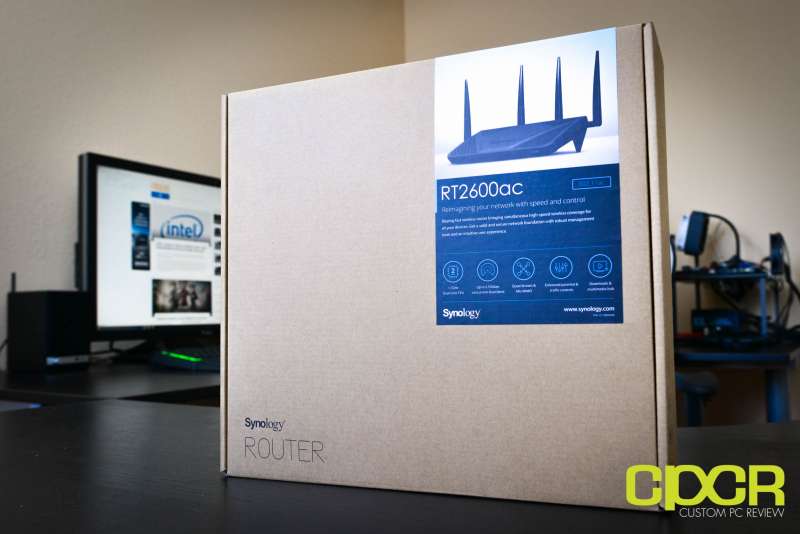 Here's a look at the Synology Router RT2600ac.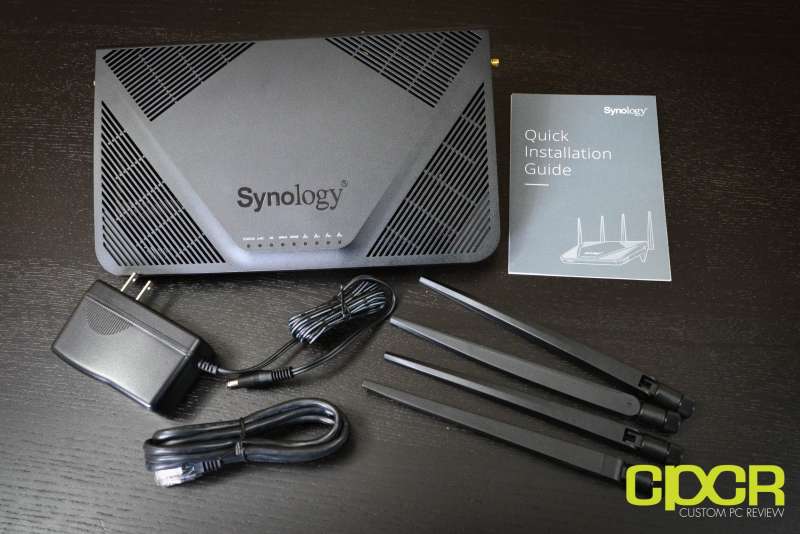 Included in the packaging is some documentation, the Synology Router RT2600ac, four antennas, an Ethernet cable, and a power adapter.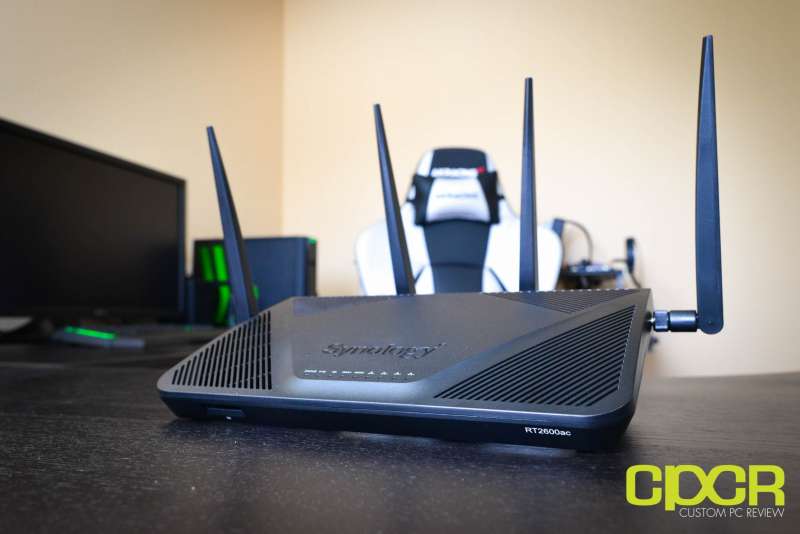 Here's a look at the RT2600ac. Aesthetically, it's a fairly boring looking router, but sometimes, it's what's inside that counts.
Looking at the front of the RT2600ac, we can see that it features a SD card slot which can be used for additional storage. The router also has a 4×4 dual band (2.4GHz, 5GHz) antenna array which allows for its MU-MIMO and beamforming functionality. Unfortunately the RT2600ac does not support 60GHz 802.11ad.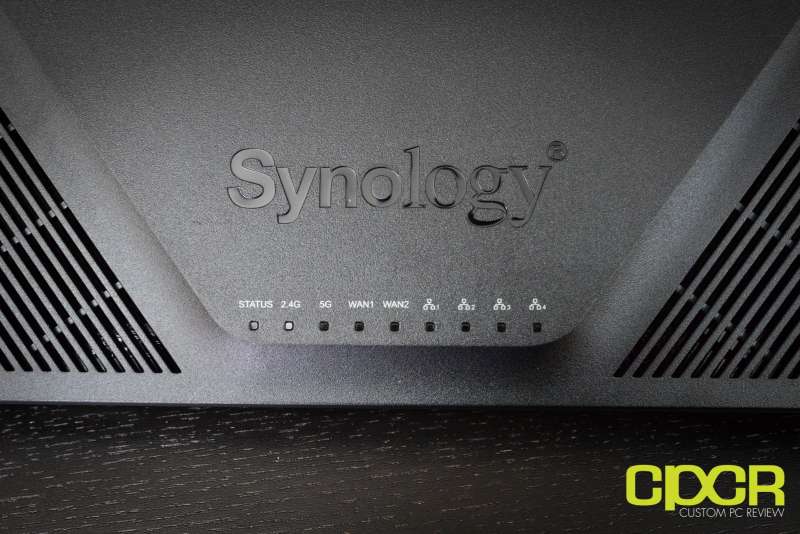 At the top of the RT2600ac is a big Synology logo with an array of status indicator LEDs.
On the sides we get several buttons such as the WPS, Wi-Fi On/Off, and USB/SD eject. There's also a USB 3.0 port as well for those who want to add some basic networked storage with an external hard drive.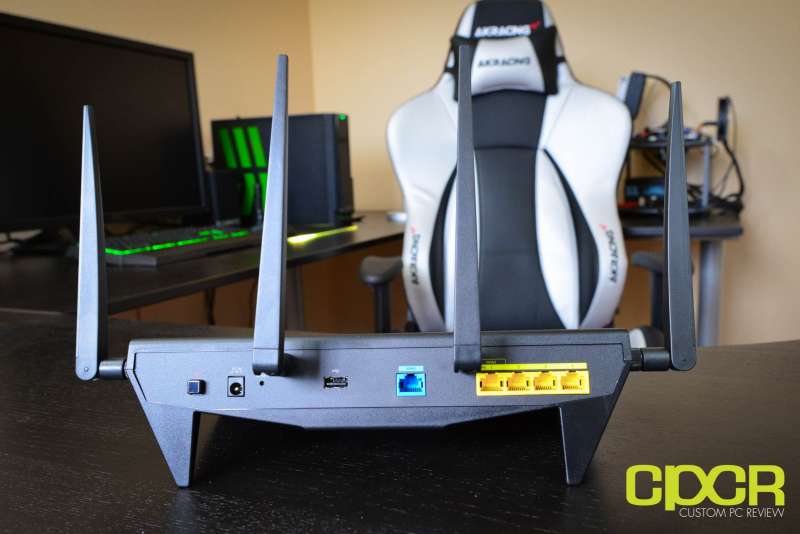 At the rear of the unit is a power switch, DC power in, reset button, USB 2.0 port, and five gigabit Ethernet ports with one dedicated to WAN. The first LAN port may also be used as a WAN port as well for those who want to take advantage of the dual WAN functionality of the router.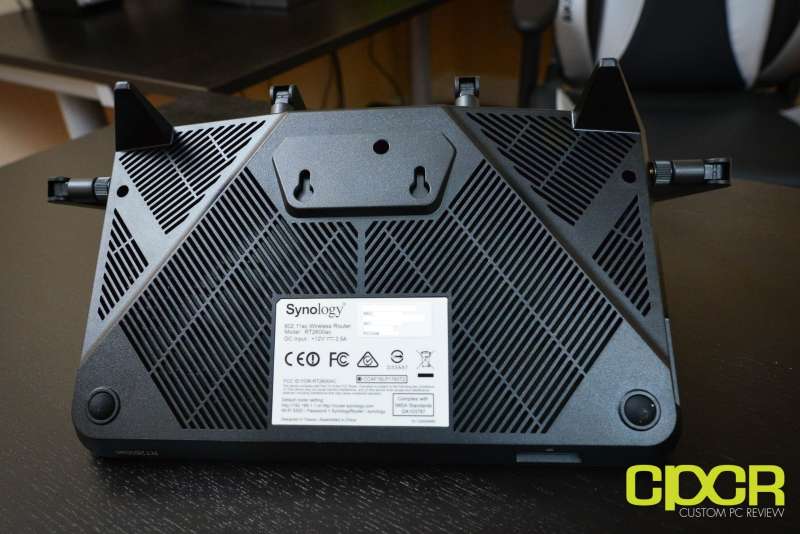 At the bottom of the RT2600ac is an array of vents, a sticker with key information about the router, a few rubber feet, and holes for wallmounting.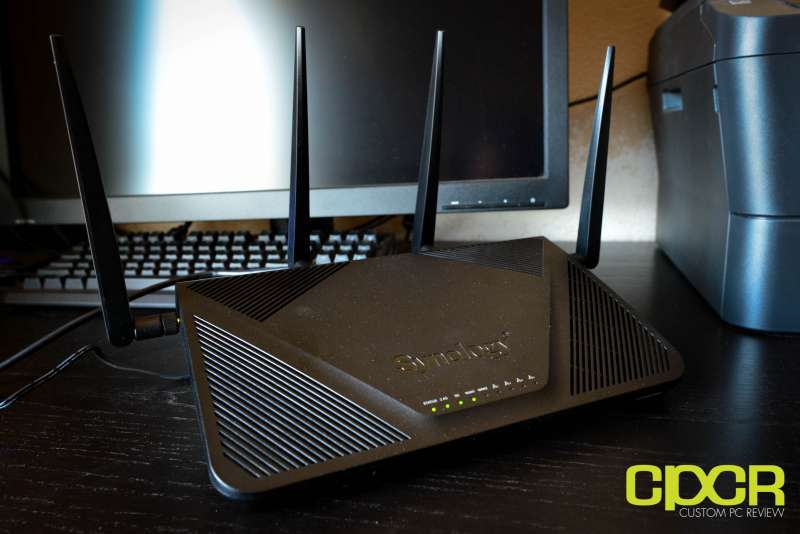 Here's a look at the Synology Router RT2600ac in operation. For those in a office or business environment, the router should fit right in.
[section label="Software"]
SRM 1.1
The biggest differentiating factor in Synology's routers is their software. Synology's SRM (Synology Router Manager) software is inspired by Synology's intuitive and adaptable DSM (DiskStation Manager) software, giving the routers a polished and easy to use interface that's as pretty and easy to use as it's powerful. While we'll be providing a quick look at the software in this review, be sure to watch out for a more in-depth look into the software down the road.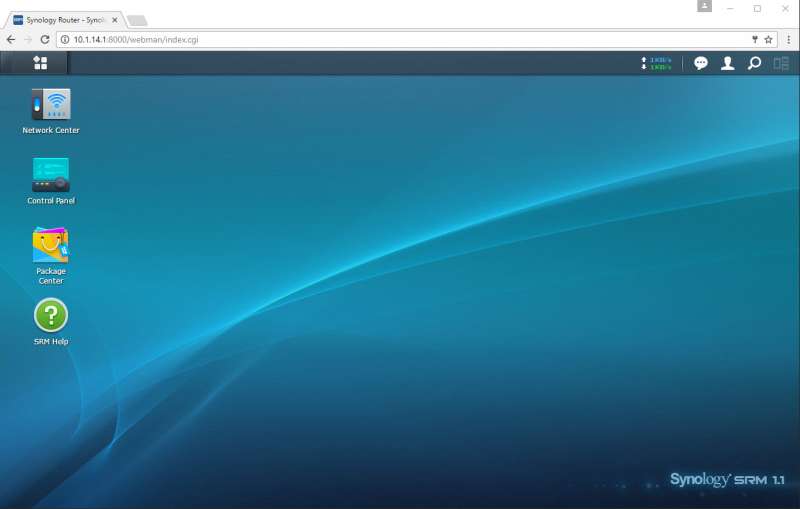 Once logged into the Synology SRM software, it looks more like your typical operating system desktop rather than an overcomplicated and messy router configuration page.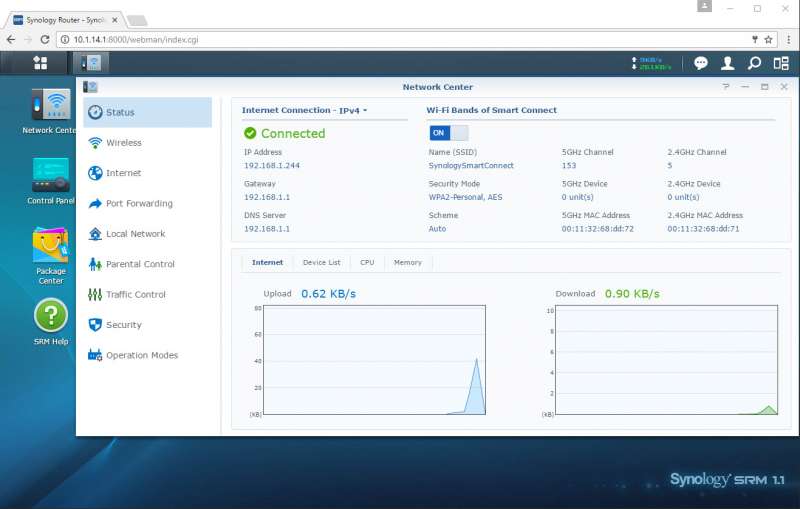 In the software, the network can easily be monitored with a very informative, very intuitive interface.
Within the interface, many different settings can be configured such as QoS, security settings, parental controls, file sharing, and more.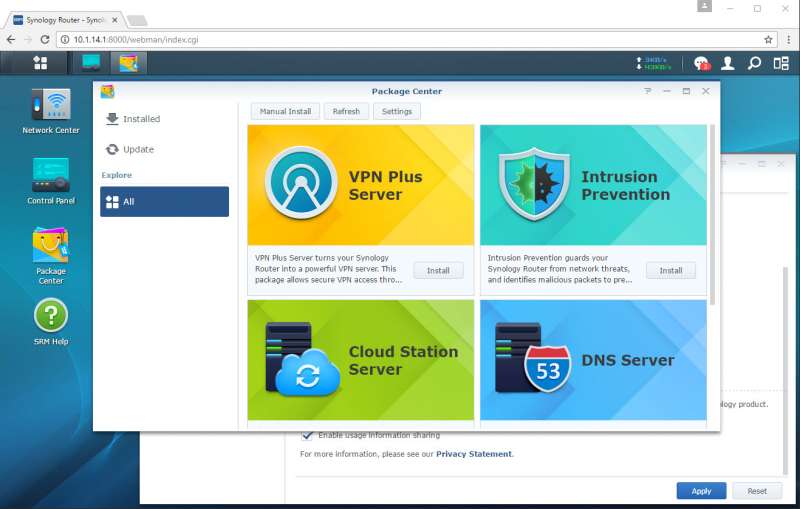 What sets Synology's SRM software apart however, is its package center which hosts additional software that can help extend the functionality of the router. While there aren't a ton of software currently available to choose from, the software that is available is very useful such as Cloud Station, VPN Plus, Intrusion Prevention (IDS/IPS), Media Server and more.
Some of this software such as VPN Plus and IDS/IPS functionality is only available on expensive business routers.
USB Support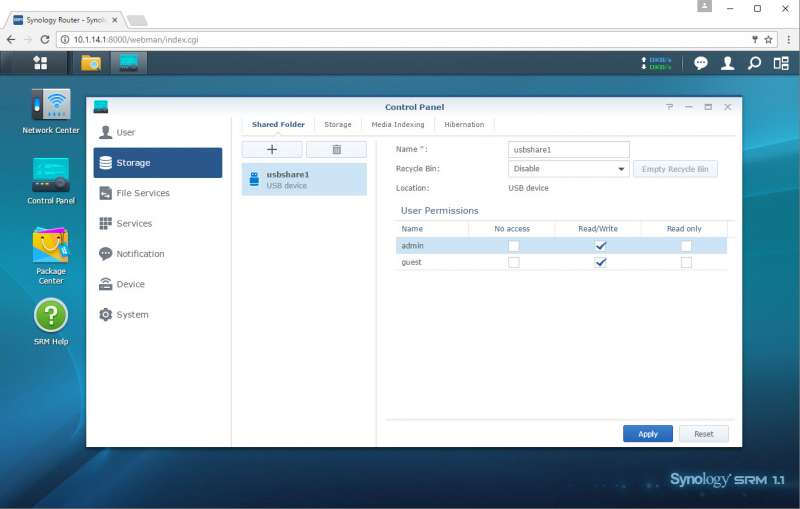 The Synology Router RT2600ac also features a USB 2.0 and USB 3.0 which can be used to add network shared storage, connected printer functionality and more. In our testing, networked drives were super easy to setup and the drives were immediately recognized and can be accessed as soon as they're plugged into the router.
DS Router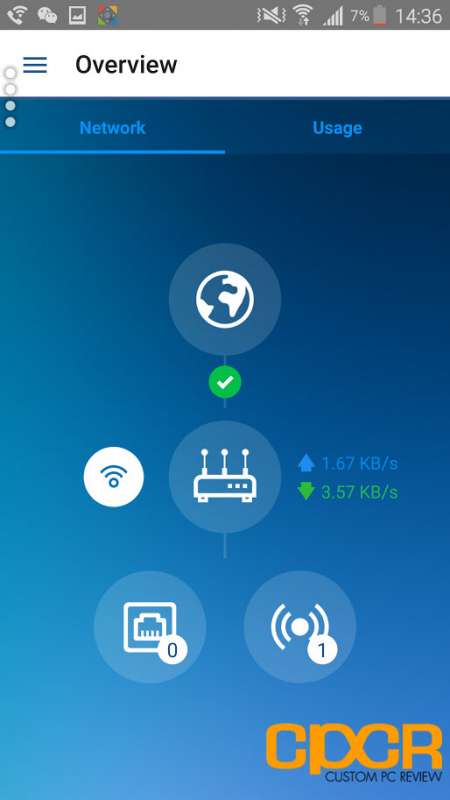 The Synology RT2600ac can also be monitored and configured through their DS Router app, available for iOS and Android.
The app allows quickly and easily monitoring network traffic, modifying parental controls, managing the firewall, making basic QoS setting changes, and more.
[section label="Performance"]
Performance
Wired Performance
Wired performance is tested by connecting two systems, one server (Realtek 8111GR) and one client (Killer E2400), via their Gigabit LAN ports to the gigabit LAN Ethernet ports on the router. Transfer speeds between the two systems is then tested using iPerf 3.1.3.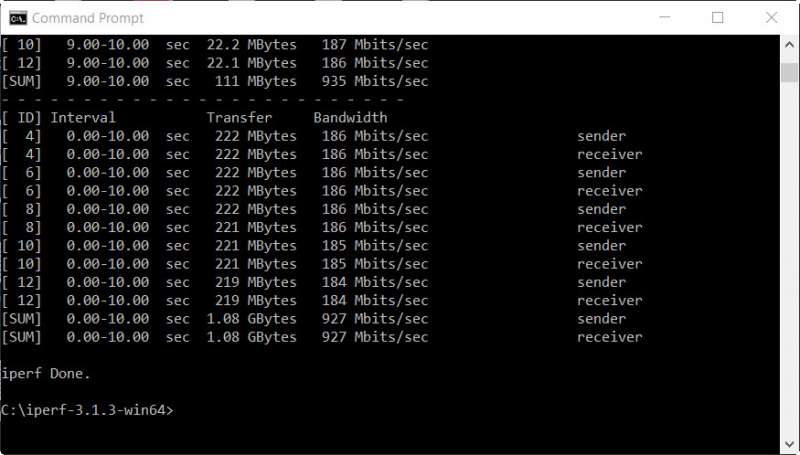 Performance Analysis
Wired performance was very good, reaching close to the theoretical Gigabit speed limit.
Wireless Performance
Wireless performance is tested by connecting two systems, one server (Realtek 8111GR) and one client (Killer 1525). The server is connected via Gigabit LAN and the client is connected via Wi-Fi. Transfer speeds between the two systems is then tested using iPerf 3.1.3. Wireless interference is minimized as much as possible however, there are still quite a few neighboring Wi-Fi signals from other residences around the area.
Location 1
Location 1 is in the same room as the router with direct line of sight. Total distance between router and client is approximately 5 feet. Results of performance testing in the 2.4GHz band (left) and the 5GHz band (right) are shown below.
Location 2
Location 2 is in the far end of a 1,500 sq ft two story, rectangular shaped house with the router placed in one corner of the second floor and the client placed in one corner of the first floor. Total distance between the router and client is approximately 40 feet with walls in-between. Results of performance testing in the 2.4GHz band (left) and the 5GHz band (right) are shown below.
Performance Analysis
Wireless performance was overall fairly good in both locations with 5GHz performance in Location 1 reaching a maximum of 542Mbps. At Location 2, there is a significant performance drop bringing maximum performance to just 133Mbps on the 5GHz band.
Update 02/27/2017
On 02/27/2017, we retested the Synology RT2600ac using a Late 2016 Touchbar Apple MacBook Pro which yielded significantly better performance due to the MacBook Pro's superior wireless chip compared to the Killer 1525 wireless chip used in the MSI GS40 6QE. In the updated testing, the Apple MacBook Pro connected via the Synology RT2600ac was able to reach nearly Gigabit speeds over the 5GHz band Wi-Fi which is a significant improvement over the 542Mbps we saw in the original testing.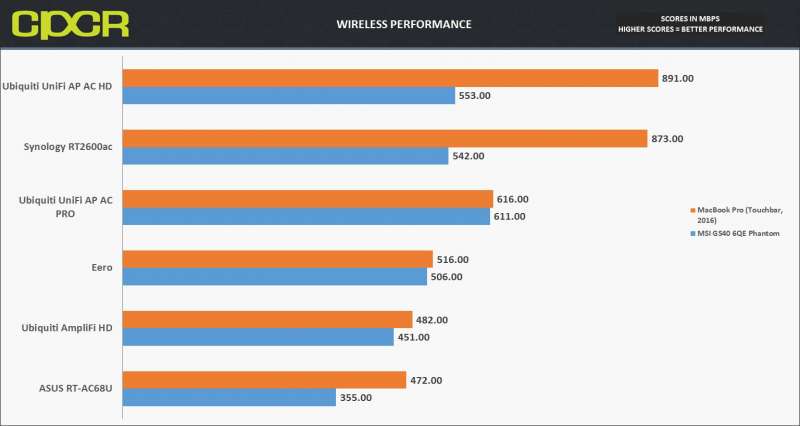 In light of the new test results, we re-affirm our recommendation for the Synology RT2600ac.
[section label="Conclusion"]
Conclusions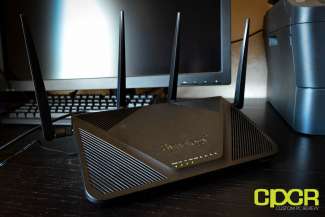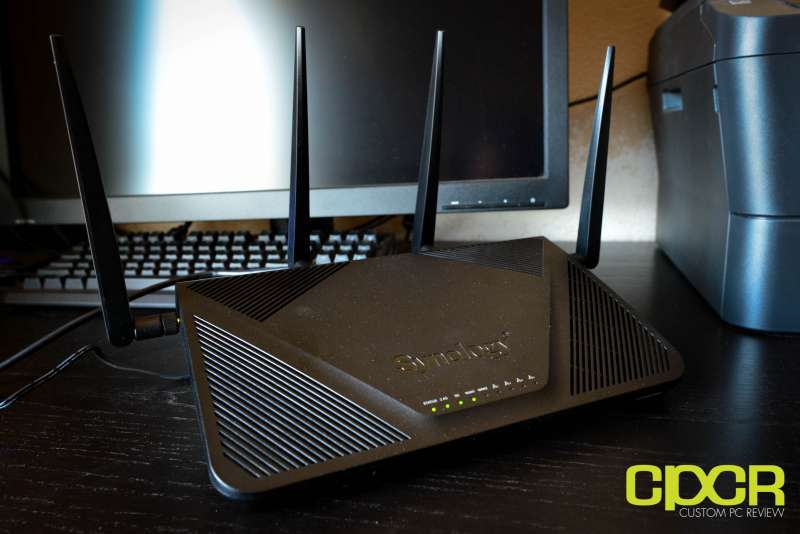 Overall the Synology Router RT2600ac is an excellent product that does justice to the Synology name. While the product isn't the prettiest nor is it the absolute fastest, most cutting edge with next generation stuff like tri-band connectivity, it's a solid product with lots of performance for most home/small business users, and it features a software package that significantly outpaces the competition. There's simply no other router on the market with software able to do stuff like VPN Plus, IDS/IPS, QoS, traffic monitoring, parental controls, media server, and more all in a beautiful, intuitive, easy to use interface.
That said, what really sets the Synology Router apart is Synology's track record on software updates. Whereas most routers get one or two updates over the course of its existence, Synology's router software is treated like the DSM software for Synology's DiskStation NASs, which means a new SRM software update to their newest routers will more than likely also be rolled out to older models. Further, if new application packages are available, it could easily extend the functionality of older routers beyond the features that are available at the time of purchase. VPN Plus is a good example of that as VPN Plus wasn't a feature advertised by the older Synology Router RT1900ac however, it'll still get the feature years after its initial launch.
The Synology Router RT2600ac can be found online for $229.99, which is slightly on the high side for a premium AC-2600 dual band router. However, the Synology Router RT2600ac makes a compelling case with great performance and ease of use for home users while providing small businesses with many of its business oriented functionality such as VPN, QoS and IDS/IPS functionality. For those looking for a rock solid router with a top notch software package the Synology Router RT2600ac is highly recommended.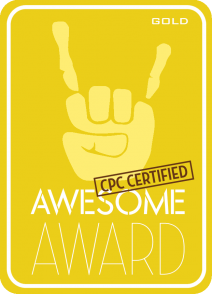 Sample provided by: Synology
Available at: Amazon