Leetgion Hellion Gaming Mouse Review
Posted July 25, 2012 by Tom Li in
Reviews
Navigation:
Ready to Raise Some Hell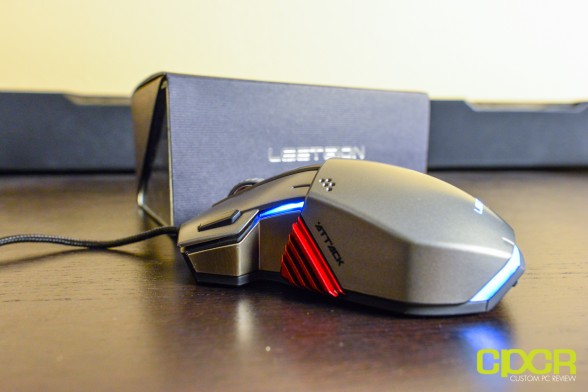 As a product reviewer, I get the opportunity to test a lot of products so when companies go out of the norm, and produce something unique, I do my best to get my hands on it. This is why today we'll be checking out one of those new and unique products from a relatively new company in the gaming peripherals market, Leetgion. Make no mistake however, Leetgion isn't exactly new to the computer industry as their parent company is the well-known computer cooling specialist, Thermalright.
In terms of design, Leetgion really gave the Hellion a design unlike any other as they've included a Cherry MX Blue mechanical switch onto the mouse itself. While Cherry MX mechanical switches are quite popular with mechanical gaming keyboards, I must say this is probably the first gaming mouse to ever incorporate the switch. Additionally, the Hellion also comes with awesome lighting as required for night gaming (of course) as well as some unique Starcraft features that help justify the Hellion name. After all, if you didn't already realize, the Hellion is a Starcraft 2 vehicle unit armed with a flame thrower.
Specifications