Kingston SSDNow V+200 120GB Upgrade Bundle Kit Review
Navigation:
Kingston's Business Ready SSD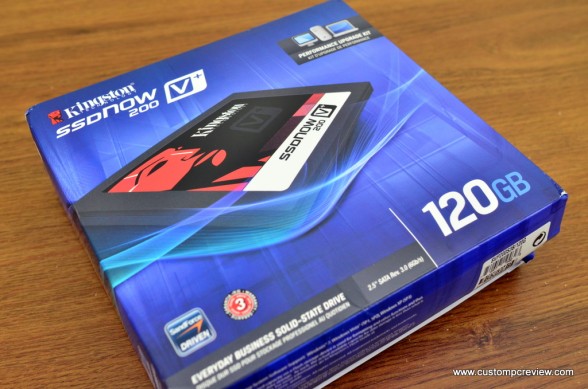 A few years ago, SSDs typically existed for the hardcore enthusiast market only. Prices were high, capacities were small and reliability was questionable. But, like many great things in history, it has evolved, and is continuing to do so at an incredible rate. This evolution in technology has drastically decreased the manufacturing costs of SSDs and boosted performance exponentially. Today, the SSD dominates traditional hard disk drives in terms of performance, and with lowering costs and improvements in reliability, it is becoming a commodity more and more users are putting into their new systems.
Today we'll be taking a look at the SSDnow V+200 120GB SSD Upgrade Bundle Kit from Kingston. The SSDnow line was originally designed to provide consumers with more affordable SSDs at the cost of a performance hit, but over the years, Kingston has improved many aspects of SSDnow and added oodles of features, such as DuraClass Technology data integrity protection, RAISE advanced date reliability, and DuraWrite write cycle optimization. Today we'll be taking a look at the 120GB SSDNow V+200, which boasts a sequential read  speed of 535MB/s and a sequential write speed of 480MB/s, Sustained Random 4k Read/Write: 20,000/44,000 IOPS, and Max Random 4k Read/Write: 85,000/55,000 IOPS.
Not bad from the perspective of the spec sheet.  But as always, will it perform as advertised? Let's find out!
Specifications
Interface: SATA Rev. 3.0 (6Gb/s) — with backwards compatibility to SATA Rev. 2.0
Form factor: 2.5″
Vibration operating: 2.17G Peak (7–800 Hz)
Vibration non-operating: 20G Peak (10–2000 Hz)
Life expectancy: 1 million hours MTBF
Sequential Reads:
128GB — 300 MB/s
Sequential Writes:
64GB —100MB/s
128GB — 190MB/s
256GB — 230MB/s
Sustained Random 4k Read/Write:
128GB — up to 36K/ up to 2.5K IOPS
Power Consumption: 0.491 W (TYP) Idle / 1.87 W (TYP) Write
Storage temperatures: -40 to 85°C
Operating temperatures: 0 to 70°C
Dimensions:
69.8mm x 100.1mm x 7mm
Weight:
88g