Two 2 Bay NAS Review: Synology DiskStation DS213+ and QNAP TS-269 Pro
Two Bay NAS Juggernauts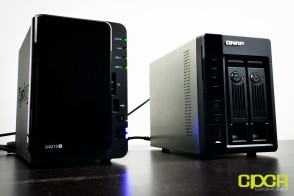 Nearly a year ago, I reviewed the Synology DiskStation DS212 and at the time I wasn't very familiar with just how far NAS units have come these days in terms of software and features. Unlike NAS units of the past, NAS units of today are filled to the brim with features and are better considered as servers rather than what their name, Network Attached Storage, implies.
Today, we'll be reviewing both the Synology DiskStation DS213+ and the QNAP TS-269 Pro 2 bay NAS units. These are small business oriented NAS units, which means they'll be right at home running web servers and database servers, but they'll still do the typical NAS activities such as sharing files, and backing up your PC just fine.
Let's take a look at the hardware for the two units.
Specifications
Brand
QNAP
Synology
Model
TS-269 Pro
DiskStation DS213+
CPU
Intel Atom D2700 2.13GHz Dual Core x86 Processor
Freescale QorlQ P1022 1.067 GHz Dual Core PPC Processor
Memory
1GB DDR3 (Expandable up to 3GB)
512MB DDR3
Storage
2x 2.5″ or 3.5″ SATA
2x 2.5″ or 3.5″ SATA
External Storage Interface
2x USB 3.0, 3x USB 2.0, 1x eSATA
2x USB 3.0, 1x USB 2.0, 1x eSATA, 1x SD Card
Networking
2x Gigabit LAN
1x Gigabit LAN
Additional Interfaces
HDMI
N/A
Size
8.5″ x 5.91″ x 4.02″
9.18″ x 6.5″ x 4.25″
Weight
3.84 lbs
2.76 lbs.
Noise Level
33.7 dB Idle, 34.2 dB Load
19.9 dB
Power Consumption
16W Idle, 25W Load
10.08W Idle,
22.2W Load
Warranty
1 Year
2 Years
Check Pricing
Click Here
Click Here
As we see here, the QNAP TS-269 Pro has significantly more powerful hardware as it's rocking the Intel Atom D2700 processor while Synology is using a more unique FreeScale P1022 Power PC based processor for its DS213+. The QNAP TS-269 Pro also sports a whopping upgradeable 1GB DDR3 while the DiskStation DS213+ only sports 512MB of DDR3. Both NAS units are aimed at the business and small business audience.
For additional details on the two units, be sure to visit the QNAP TS-269 Pro product page here and the Synology DiskStation DS213+ product page here.