Warning
: Undefined array key "width" in
/var/www/vhosts/custompcreview.com/public_html/wp-includes/media.php
on line
1381
Warning
: Undefined array key "width" in
/var/www/vhosts/custompcreview.com/public_html/wp-includes/media.php
on line
1386
Warning
: Undefined array key "height" in
/var/www/vhosts/custompcreview.com/public_html/wp-includes/media.php
on line
1386
Warning
: Undefined array key "width" in
/var/www/vhosts/custompcreview.com/public_html/wp-includes/media.php
on line
1381
Warning
: Undefined array key "width" in
/var/www/vhosts/custompcreview.com/public_html/wp-includes/media.php
on line
1386
Warning
: Undefined array key "height" in
/var/www/vhosts/custompcreview.com/public_html/wp-includes/media.php
on line
1386
Warning
: Undefined array key "width" in
/var/www/vhosts/custompcreview.com/public_html/wp-includes/media.php
on line
1381
Warning
: Undefined array key "width" in
/var/www/vhosts/custompcreview.com/public_html/wp-includes/media.php
on line
1386
Warning
: Undefined array key "height" in
/var/www/vhosts/custompcreview.com/public_html/wp-includes/media.php
on line
1386
Warning
: Undefined array key "width" in
/var/www/vhosts/custompcreview.com/public_html/wp-includes/media.php
on line
1381
Warning
: Undefined array key "width" in
/var/www/vhosts/custompcreview.com/public_html/wp-includes/media.php
on line
1386
Warning
: Undefined array key "height" in
/var/www/vhosts/custompcreview.com/public_html/wp-includes/media.php
on line
1386
[section label=1. Introduction]
Back to Basics
Lately, it seems like mechanical keyboards have become increasingly popular among gamers and power users alike due to the excellent feel when pressing keys and of course their more durable design. With many companies now producing mechanical keyboards, it's no wonder that SteelSeries has hopped into the mix with their own offering.
SteelSeries has always focused on bringing quality products that are minimalistic in appearance but are infinitely functional, and the 6GV2 Mechanical Gaming Keyboard is no exception. So if this is your first encounter with a SteelSeries keyboard, you may find its design to be simple, plain, and maybe even unattractive. But what this plank lacks in fanciness it makes up in practicality and performance.
SteelSeries 6Gv2 Specifications
Keyboard Interface: USB or PS/2
Keyboard type: Mechanical
Keyboard switch type: Cherry MX Black
Keyboard Type: Wired
Manufacturer Warranty: 1 Year Limited
[section label=2. Features Overview]
SteelSeries 6Gv2 Features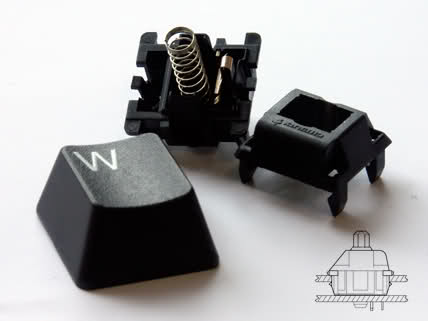 Since the 6GV2 is a mechanical gaming keyboard, it's only natural for it to come equipped with gold plated Cherry™ MX Black switches. These are among the toughest keyboard switches available on the market with a life cycle of over 50 million presses per key. In addition to the tough keyswitches, SteelSeries has also included a metal back plate under every switch to further improve keyboard durability.
The keyswitches are not only durable, but they are also a pleasure to use as well. With only a 2mm registering distance, the keys only needs to be pressed half way for the input to be detected. The shorter travel distance reduces the chance of missing keystrokes and 70g of actuation force gives the keys a good tactile feeling.
Of course, with the mechanical switches you also get full N-Key rollover which removes the barrier on how many keys the user can press simultaneously without the computer missing a press. Unfortunately in order to use this feature, the keyboard must be connected via a USB to PS/2 adapter – an item SteelSeries™ has kindly included in the box. If you don't have a PS/2 port or prefer must use USB, you will have access to 6-key rollover, which is still more than enough for most typing and gaming situations.
Advertised as "punch worthy" and "rage proof", the 6GV2 is truly built like a tank. Aside from having extremely durable key switches, the SteelSeries 6Gv2 also includes a no gloss chassis as well as highly durable keycaps. All designed to ensure the keyboard's survival during even the most intense gamer rage sessions.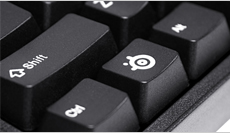 The right side windows key has been replaced by the SteelSeries key that's used in conjunction with F1 to F6 for media controls. This prevents the user from accidentally hitting the windows key and suddenly popping out of a game onto the desktop.
With all these high quality components packed into this keyboard, it's no surprise that the 6GV2 weighs a ton. This is quite beneficial however, since the user won't have to worry about the keyboard sliding around on the table during intense use.Unfortunately the keyboard doesn't have any adjustable feet, but it is pre-tilted from the factory to improve ergonomics.
Despite the many outstanding qualities, the 6Gv2 is not perfect. Being a premium grade gaming peripheral, this keyboard will set you back $99.99 and the simplistic design of the keyboard is also missing USB passthroughs and independent media control keys.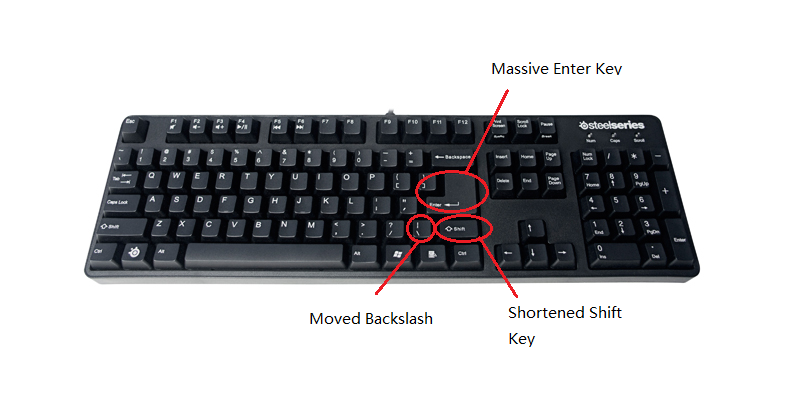 For some, the keyboard's layout may be a bit frustrating as well. The 6GV2, for some reason, has an exorbitantly-sized enter key. To make room for the enter key, SteelSeries™ has decided to reposition the backslash key next to the forward slash key. And finally, in order to accommodate the extra key in the fourth row, the right shift key has been reduced in size which may cause people who regularly use the right shift key to accidentally hit the backslash key. \ Oops!
[section label=3. A Closer Look]
A Closer Look at the SteelSeries 6GV2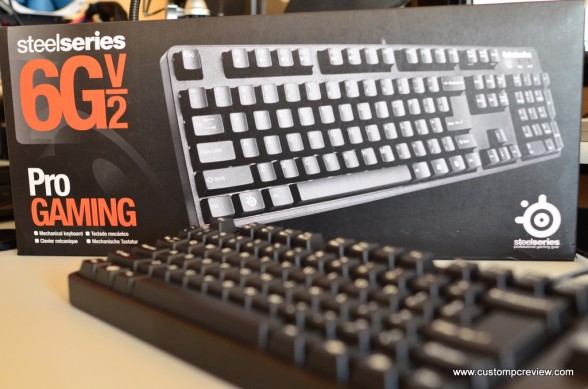 The box. Simple and straight to the point.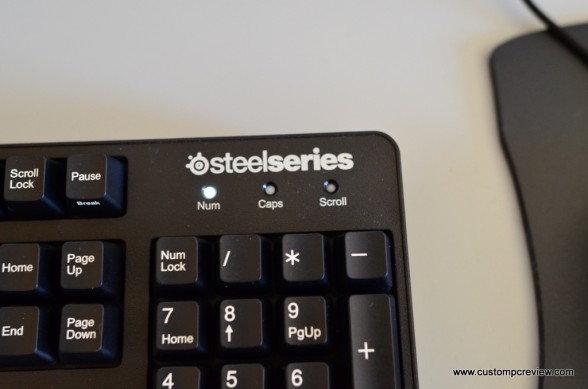 Classic SteelSeries logo along with the bright white LEDs that indicate the status of numlock, capslock and scroll lock.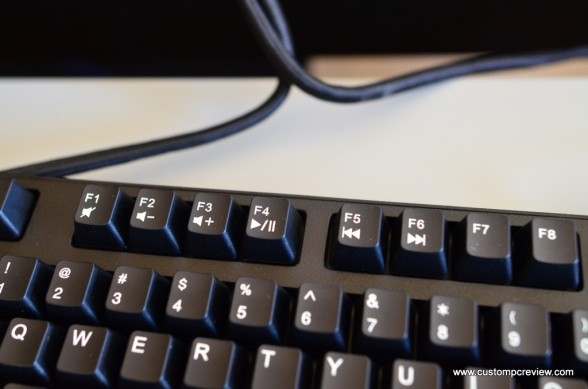 F1 through F6, when pressed in conjunction with the SteelSeries Key provide media controls. Unfortunately, dedicated keys are not present.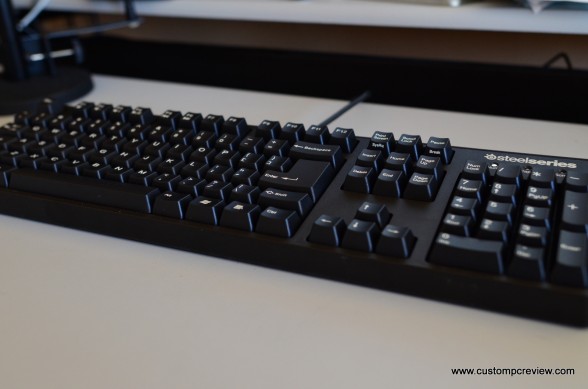 Full frontal view of the keyboard. The matte finish is constructed from high quality plastic and the finish is completely fingerprint resistant.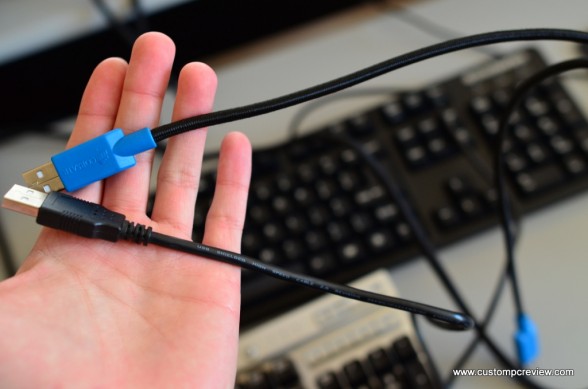 No braided cord in this day and age? [SteelSeries 6Gv2 on bottom with the black USB plug, Corsair K60 on top with the blue USB plug]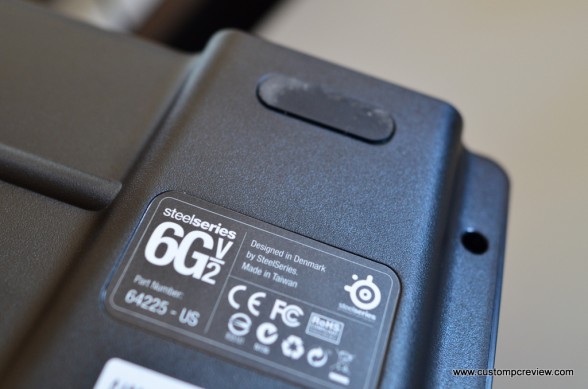 Large rubber feet are included to keep the keyboard in place. The keyboard is designed in Denmark and made in Taiwan. Everything is made in Taiwan these days.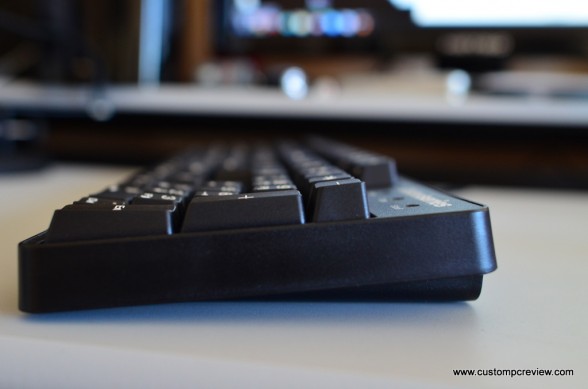 Unfortunately, no feet are included to optionally raise the keyboard. Fortunately, the keyboard is pre-raised from the factory.
Ewww… a short shift key, an enlarged enter key and a backslash key in the wrong location.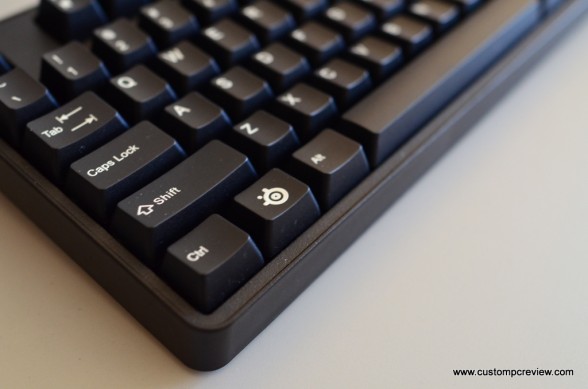 The famous SteelSeries key which replaces the Windows key.
[section label=4. Performance and Conclusion]
Performance and Conclusion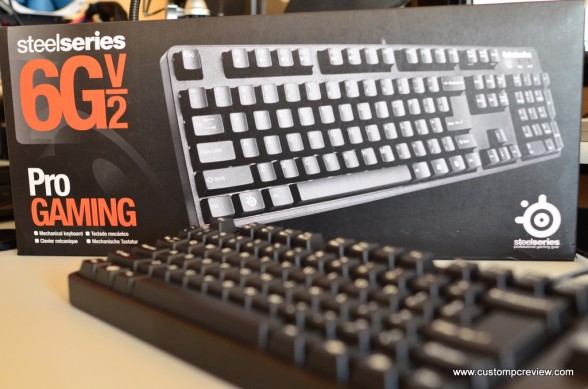 Test 1: 700 word Essay
I personally found typing on the 6GV2 to be a blissful experience: the keys are tactile and responsive, and are also pretty quiet for a mechanical keyboard. Unfortunately, nearing the end of the essay my fingers did feel a bit sore.
Test 2: Battlefield 3
Here is where the keyboard really shines. It registered every one of my keystrokes during gameplay and did not miss a beat even when multiple keys were held down at the same time. ("W" "A" "Shift" and "Q")
Test 3: Starcraft 2
Having an APM of 100 ain't easy, and while pressing as many keys as possible to gain the highest APM possible, I found that my hand began to tire out much faster than even typing the 700 word essay. During the end of my gaming session, I had to constantly rest and stretch my hands in order to suppress the soreness that developed within my fingers.
For those interested in this keyboard, I do recommend you try out Cherry MX Black switches prior to purchasing the keyboard. While I enjoyed using these keyswitches, it may not be for everyone due to the heavier actuation force of the Cherry MX Blacks.
Bottom Line
Otherwise, the SteelSeries 6GV2 is an outstanding keyboard for FPS gamers looking for something functional and don't mind missing out on features such as back lighting and USB passthroughs. Its indestructible construction along with its highly balanced mechanical keys definitely makes this a product worth checking out.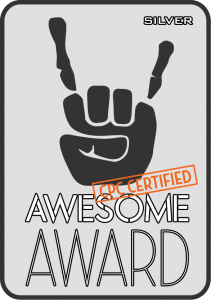 The SteelSeries 6Gv2 is currently available on Amazon.