Warning
: Undefined array key "width" in
/var/www/vhosts/custompcreview.com/public_html/wp-includes/media.php
on line
1381
Warning
: Undefined array key "width" in
/var/www/vhosts/custompcreview.com/public_html/wp-includes/media.php
on line
1386
Warning
: Undefined array key "height" in
/var/www/vhosts/custompcreview.com/public_html/wp-includes/media.php
on line
1386
Warning
: Undefined array key "width" in
/var/www/vhosts/custompcreview.com/public_html/wp-includes/media.php
on line
1381
Warning
: Undefined array key "width" in
/var/www/vhosts/custompcreview.com/public_html/wp-includes/media.php
on line
1386
Warning
: Undefined array key "height" in
/var/www/vhosts/custompcreview.com/public_html/wp-includes/media.php
on line
1386
Warning
: Undefined array key "width" in
/var/www/vhosts/custompcreview.com/public_html/wp-includes/media.php
on line
1381
Warning
: Undefined array key "width" in
/var/www/vhosts/custompcreview.com/public_html/wp-includes/media.php
on line
1386
Warning
: Undefined array key "height" in
/var/www/vhosts/custompcreview.com/public_html/wp-includes/media.php
on line
1386
Warning
: Undefined array key "width" in
/var/www/vhosts/custompcreview.com/public_html/wp-includes/media.php
on line
1381
Warning
: Undefined array key "width" in
/var/www/vhosts/custompcreview.com/public_html/wp-includes/media.php
on line
1386
Warning
: Undefined array key "height" in
/var/www/vhosts/custompcreview.com/public_html/wp-includes/media.php
on line
1386
Warning
: Undefined array key "width" in
/var/www/vhosts/custompcreview.com/public_html/wp-includes/media.php
on line
1381
Warning
: Undefined array key "width" in
/var/www/vhosts/custompcreview.com/public_html/wp-includes/media.php
on line
1386
Warning
: Undefined array key "height" in
/var/www/vhosts/custompcreview.com/public_html/wp-includes/media.php
on line
1386
Warning
: Undefined array key "width" in
/var/www/vhosts/custompcreview.com/public_html/wp-includes/media.php
on line
1381
Warning
: Undefined array key "width" in
/var/www/vhosts/custompcreview.com/public_html/wp-includes/media.php
on line
1386
Warning
: Undefined array key "height" in
/var/www/vhosts/custompcreview.com/public_html/wp-includes/media.php
on line
1386
Warning
: Undefined array key "width" in
/var/www/vhosts/custompcreview.com/public_html/wp-includes/media.php
on line
1381
Warning
: Undefined array key "width" in
/var/www/vhosts/custompcreview.com/public_html/wp-includes/media.php
on line
1386
Warning
: Undefined array key "height" in
/var/www/vhosts/custompcreview.com/public_html/wp-includes/media.php
on line
1386
[section label=1. Introduction]
The Keyboard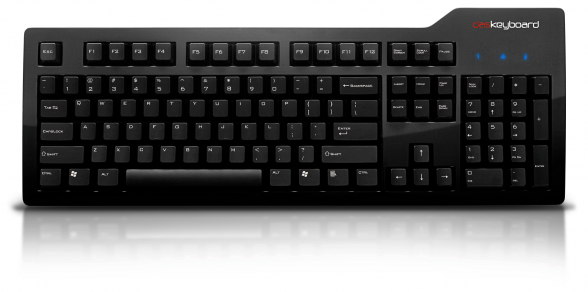 Das Keyboard began as a pretty interesting idea. In 2005, the founder, Daniel Guermeur decided to make a totally blank keyboard in order to improve his typing speed and accuracy. To his surprise, this idea worked and Daniel began seeing his typing speed and accuracy improve. As many of his friends and colleagues noticed the keyboard, they became interested in getting such a keyboard and pretty soon the money making potential of this keyboard was obvious. As such, the the Das Keyboard was born.
Fast forward to today and Metadot Corporation, the company behind the Das Keyboard, has produced numerous revisions of their Das Keyboard such as the Model S Ultimate, Model S Professional, Model S Professional Silent, and Model S Ultimate Silent. Each of these keyboards have their own unique features but are based on the central idea of building the best typing keyboard in the world. Today, we will be reviewing the Das Keyboard Model S Professional Silent. Unlike the Das Keyboard Model S Professional which uses Cherry MX Blue clicky keyswitches, the Das Keyboard Model S Professional silent uses Cherry MX Brown keyswitches, which still retains the tactile bump of the Cherry MX Blue keyswitches, but doesn't make the clicky sound upon actuation.
Specifications
Key Information
Cherry MX brown mechanical key switches with gold contacts (soft tactile)
Laser-etched key cap inscriptions to prevent fading
Full n-key rollover with a PS2 adapter, and 6 keys with USB
Enhanced 104-key layout
Two Windows keys
Technical Information
Glossy black upper enclosure with matching black USB cable – Darth Vader approved
Two-port USB hub 1.1 and 2.0 compatible
Blue LEDs
Extra long two-meter (6.6-foot) USB cable
Even More Information
Dimensions: 18in x 6.5in x 1in (thickest portion, feet not extended, 1.5in w/ extended feet)
Weight: 1.36 kg (3 lbs)
Compatible with PS/2 and USB KVM switches.
System Requirements
PC or Mac, Windows, Linux, or Mac OS X
2 USB ports or 1 USB port + 1 PS/2 port – USB to PS/2 adapter (included)
No driver required
Mac users can swap the command/control/options keys to match the Mac keyboard layout using the Mac OS X keyboard control panel
[section label=2. A Closer Look]
A Closer Look at the Model S Professional Silent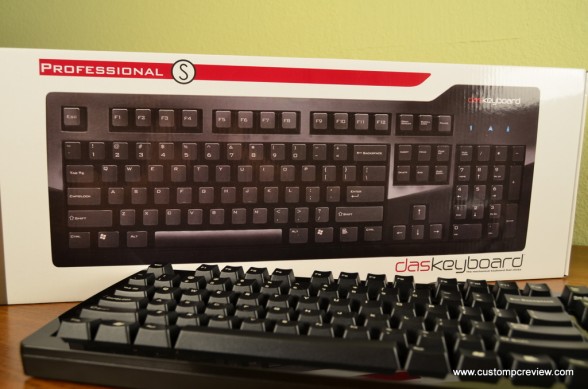 Simple, no frills box. Nothing flashy, just a picture of the keyboard in front.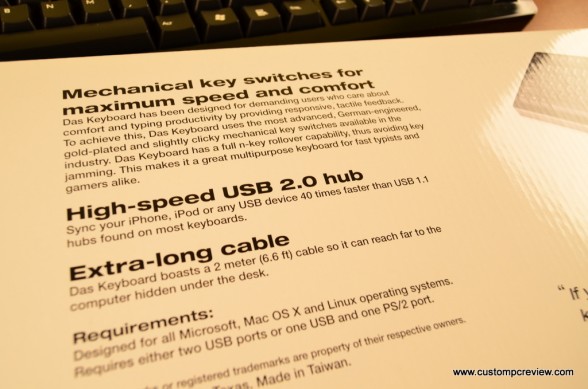 A couple features, most notably the Cherry MX Brown keyswitches which feature tactile feedback, but no clicky sound. Made in Taiwan, where everything's made these days…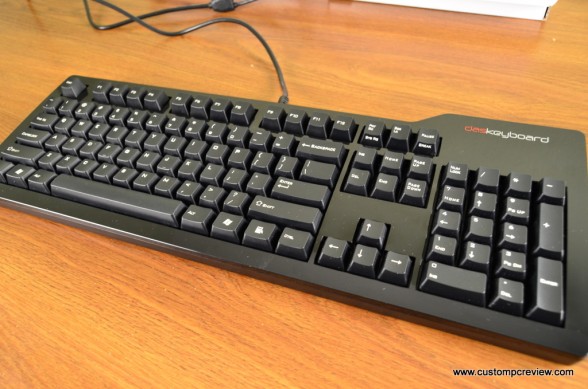 Frontal view of the keyboard. Very standard layout. No macros, no media keys, no loads of useless functions. No Windows key disabling function either, which is fine considering this isn't a gaming keyboard.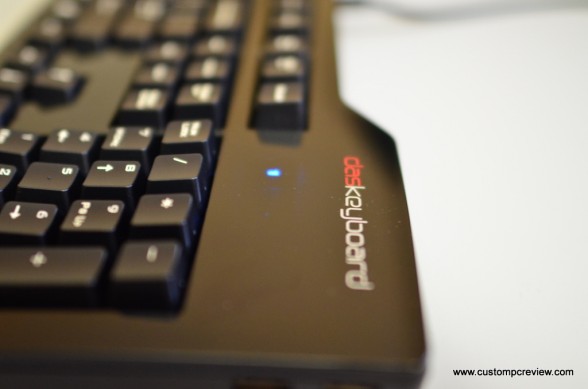 Very classy looking Das Keyboard logo on the top right accompanied by bright blue numlock, capslock, and scroll lock LED indicators. The keyboard also sports a classy glossy finish which looks nice at first, but does become victim to fingerprints and dust.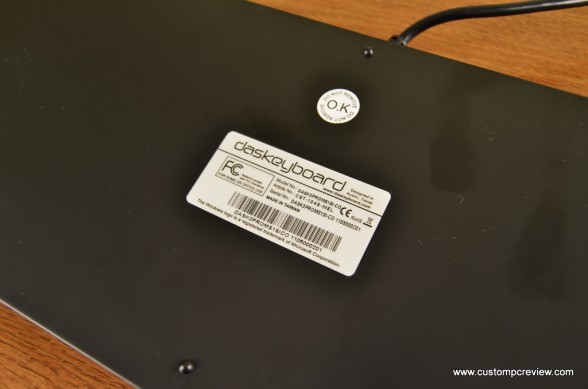 Das Keyboard, designed in Austin, Texas.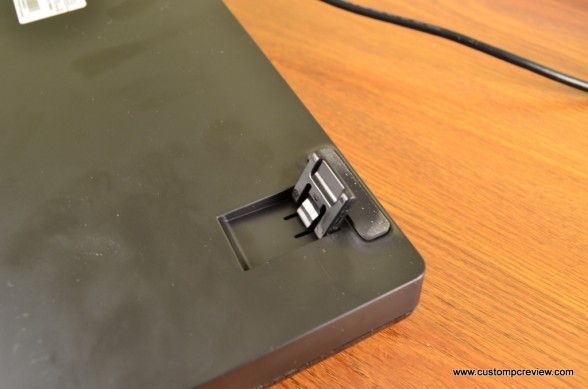 The bottom of the keyboard features a very solid plastic construction along with two plastic feet giving you the option of raising the keyboard. Additionally, 4 large rubber feet keep the keyboard in place during hardcore typing sessions.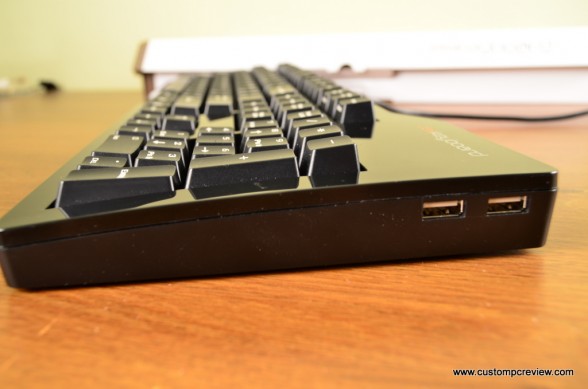 A full speed USB 2.0 hub is included in this keyboard giving you the convenience of full speed USB 2.0 transfers without having to reach around the back of your computer.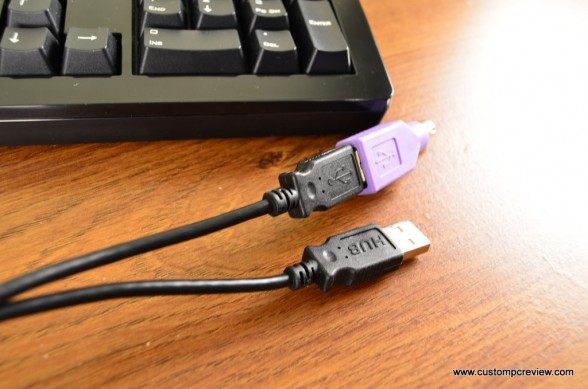 The keyboard comes with a 6.6 ft (2 meter) usb cable and 2 USB plugs, one for the keyboard connection, the other for the USB hub. For full N-key rollover, a USB to PS/2 adapter is included as well. No braided cord? Awwww…
[section label=3. Performance]
Model S Professional Silent Performance
Test 1 Typing: 1,000 Word Review
As you know, I type a lot of reviews and articles for Custom PC Review and being able to do so comfortably is my number one concern when testing out a new keyboard. For this keyboard, I found the strong suit to be typing. Each of the keys felt very good to the fingertips and the travel distance of each key felt very natural. Additionally, the excellent tactile feedback on the Cherry MX Brown switches allowed me to precisely feel each and every keypress which in turn helped raise both typing accuracy and speed.
Test 2 Gaming: Battlefield 3
In my second test, I played a couple games of Battlefield 3 to test the capabilities of the keyboard in a gaming scenario. Throughout the testing, the Das Keyboard Model S Professional Silent did very well and did not exhibit any ghosting whatsoever using both USB and PS/2 interfaces. As a limitation of USB, the keyboard can only achieve 6-key rollover while using the USB interface however an included USB to PS/2 adapter is included which allows you to achieve full N-key rollover using the PS2 interface.
[section label=4. Conclusion]
Model S Professional Silent Conclusions
This keyboard was designed for typing and it excels in that area. After a couple weeks of use I found my typing speed and accuracy noticeably improving. While people moving from cheap membrane keyswitches to the Model S Professional Silent's Cherry MX Browns may need some time to get to used to the different feeling of the keyboard, once you do you'll be left wondering why you haven't made the switch earlier.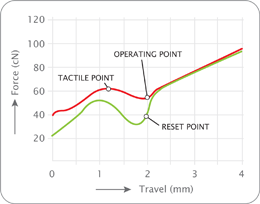 There's very little we don't like, but it would be nice to see some additional features such as dedicated media keys or backlighting especially considering the $135 price tag. Speaking of the high price tag, it would also be nice to see this keyboard be priced a bit more competitively especially considering the new crop of mechanical keyboards from the likes of Corsair, Rosewill, Cooler Master, Thermaltake, etc.
For those of you who type a lot and are looking to invest in a high quality mechanical keyboard, this is definitely one of the best I've tested so far. Of course, this isn't surprising as this keyboard is targeted at typists and Das Keyboard has done a great job of optimizing every aspect of the keyboard for that purpose. If you're on the fence about this one, Das Keyboard offers a generous 30 day return policy giving you the opportunity to test out the keyboard to find out if it's right for you. Das Keyboard also offers other keyboard models to choose from such as the Das Keyboard Model S Professional which uses the Cherry MX Blue keyswitches which produce that iconic "clicky" sound as well as the Das Keyboard Model S Ultimate/Ultimate Silent which are fully blank keyboards for those of you looking to really maximize your typing speed. (And earn mad geek cred)
Gamers out there looking for a new mechanical keyboard, I'd recommend you look elsewhere. There are plenty of choices from the likes of Corsair, SteelSeries, Cooler Master, Thermaltake, etc. who make more affordable keyboards that include gaming specific features such as macros, backlighting, or a Windows key disable function that allow for a better overall gaming experience.
Bottom Line
If you spend a lot of time typing and you're serious about getting a tool that will help make you more productive, the Das Keyboard Model S Professional Silent is exactly what you're looking for.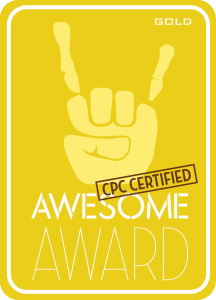 Special thanks to Das Keyboard for making this review possible.
The Das Keyboard Model S Professional Silent is currently available for purchase on Amazon.