Roundup: Six USB 3.0 Flash Drives Reviewed
Battle of the Best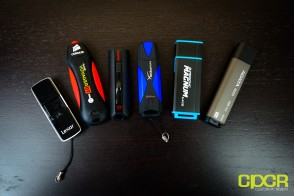 With the introduction of the Panther Point chipset along with Ivy Bridge CPUs, USB 3.0 has become more mainstream than ever before, which means those purchasing a new system nowadays can take full advantage of the additional bandwidth offered by USB 3.0. For those unfamiliar with the benefits of the USB 3.0 specification, USB 3.0 is theoretically capable of hitting up to 5.0 Gb/s, which is over 10x faster than the USB 2.0 specification of 480 Mb/s. To put this in perspective, the SATA 3 specification has a maximum theoretical bandwidth of 6 Gb/s, so in theory a USB 3.0 flash drive is capable of achieving "SSD-like" transfer rates.
With back to school season in full swing and many of you taking advantage of the many back to school computer deals these days, today we'll be doing a roundup review of the top six fastest USB 3.0 flash drives on the market from six very well-known manufacturers – SanDisk, Kingston, Corsair, ADATA, Lexar, and Patriot.
Want to know which of these flash drives to pick up along with that brand new laptop you've just ordered? Let's find out!
Specifications
ADATA N005 Pro
Corsair Voyager GT
Kingston HyperX
Lexar Jumpdrive Triton
Patriot Supersonic Magnum
Sandisk Extreme
Capacity
16GB/32GB/
64GB
16GB/32GB/
64GB/128GB
64GB/128GB/
256GB
16GB/32GB/
64GB
64GB/128GB
16GB/32GB/
64GB
Interface
USB 3.0
USB 3.0
USB 3.0
USB 3.0
USB 3.0
USB 3.0
Maximum Seq Read (64GB)
180MB/s
220MB/s
225MB/s
155MB/s
200MB/s
190MB/s
Maximum Seq Write (64GB)
90MB/s
110MB/s
135MB/s
150MB/s
120MB/s
170MB/s
Warranty
Lifetime
5 Years
5 Years
Lifetime
5 Years
Lifetime
Purchase Link
Click Here
Click Here
Click Here
Click Here
Click Here
Click Here
Taking a look at the specifications here, it's quite clear that theoretically the fastest drive in this roundup should be the Kingston HyperX with advertised speeds of up to 225MB/s sequential reads and 135MB/s sequential writes. Additionally also notice that not all of these drives offer capacities of under 64GB, so today's roundup will be focused on the 64GB edition of all the drives listed above.