ROCCAT Kave 5.1 Surround Sound Gaming Headset Review
Real 5.1 Surround Sound Gaming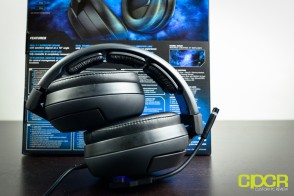 Fact: having a full 5.1 surround sound system will enhance your multimedia experience – this is something that even your grandma would probably agree on. Not only does directional sound allow you to track your enemies better (shooter fans, you know what I'm talking about), it also makes bad movies just a little easier to bear with when the sound is just that good. While full on 5.1 surround sound systems are quite common in living rooms, the same isn't necessarily true in a bedroom or office, which is where we generally place our computers. Although many companies sell 5.1 or even 7.1 surround sound computer speakers, it's generally more hassle than it's worth to setup a system like that for the computer. Thankfully, surround sound headsets exist, so you don't have to choose between a complicated 5.1 speaker setup with tons of wires running everywhere and having true surround sound.
One such product is the ROCCAT Kave 5.1 Surround Sound gaming headset. Being a true 5.1 surround sound headset, it has 3 x 40mm drivers + 1 x 30mm subwoofer driver in each earcup to deliver real positional audio. ROCCAT claims that they've also paid great attention to comfort by adding in super thick earpads, open back circumural earcups, and an innovative headrest designed from the ground up. Additionally, it also features a removable noise cancelling, omni-directional microphone and an in-line volume control dongle that doubles as a USB amplifier.
The ROCCAT Kave certainly looks like an interesting product on paper, but you probably didn't come here to stare at its spec sheet, so let's move on to the review!
ROCCAT Kave Specifications
| | |
| --- | --- |
| Manufacturer | ROCCAT |
| Model | Kave 5.1 |
| Center/Front/Rear Driver Units | Frequency response: 20~20,000HzMax. SPL at 1KHz: 114±3dBMax. input power: 100mW (30mW)Drive diameter front: 40mmDrive diameter rear: 40mm |
| Vibration Driver Units | Frequency response: 20~100HzMax. input power: 1000mWDrive diameter: 30mm |
| Microphone | Frequency response: 20~18,000HzSensitivity at 1KHz: -36dBDirectivity: omni-directionalDiameter: 4×1.5mm |
| System | Connection: 4 X 3.5mm jack plugImpedance: 32 OhmCable length: 3,4m total (2,0m Remote > PC)Between ear cups and remote: 140cmBetween remote and splitter: 180cmBetween splitter and PC: 20cm |