Razer Naga Hex, Goliathus League of Legends Gaming Peripherals Review
Ace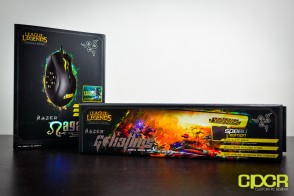 While I'm not a hardcore gamer by any means, one of the games I've found myself playing quite often over the past year or so is League of Legends (aka LoL). It's a fast paced, team based game based on the popular Defense of the Ancients (DoTA) map from Warcraft III and lately it's become extremely popular.
How popular you may ask? Over the past couple years, LoL has seen so much growth that a number of LoL tournaments have had multi-million dollar prize pools, the highest ever seen for competitive gaming to date. Being popular of course also means that there's lots of money to be made in licensed gaming products and when it comes to licensed gaming products, you can pretty much count on either Razer or SteelSeries to be the ones to provide them.
Luckily for Razer, it seems like they've been blessed as the official gaming peripherals partner for LoL, so today we'll be reviewing the Razer Naga Hex and the Razer Goliathus LoL gaming peripherals. Now usually I don't like doing branded product reviews. They're generally just paint jobs on products that already exist (and usually stuff I've already reviewed), so it's quite pointless for me to review them all over again. However, since I've never had a chance to review the original Naga Hex or the Goliathus, and myself being a fan of the League of Legends (LoL) franchise, I just had to get my hands on Razer's latest introductions.
Are Razer's latest LoL peripherals really worthy of the LoL brand? Or is this just another money making scheme preying on loyal fans? Let's find out!
Specifications
Razer Naga Hex League of Legends Edition
6 MOBA/action-RPG optimized mechanical thumb buttons
11 total programmable buttons
Special switches in buttons for 250 clicks-per-minute
10 million click life cycle
Ergonomic curved design
Razer Synapse 2.0
5600dpi Razer Precision 3.5G Laser Sensor
1000Hz Ultrapolling/1ms response time
Approximate size : 116 mm / 4.57 in. (l) x 78 mm / 3.07 in. (w) x 42 mm / 1.65 in. (h)
Approximate weight: 134 g / 0.30 lbs.
Razer Goliathus League of Legends Edition
Slick cloth weave for unbridled speed
Anti-fraying stitched frame extends mat durability
Pixel-precise targeting and tracking
Rubber base for a secure grip on smooth surfaces
Approximate size : 355 mm / 13.98 in. (l) x 254 mm / 10 in. (w) x 3mm / 0.12 in. (h)
Approximate weight: 188 g / 0.41 lbs