Razer DeathAdder 2013 (4G) Gaming Mouse Review
Upgrading a Classic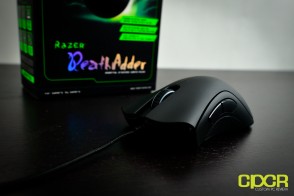 When I first used the original Razer DeathAdder many moons ago, I admit it was a purchase solely made because of how cool it looked in the store. At the time I didn't know anything about sensors or microswitches or acceleration. It was only until I switched over to the first generation Razer Imperator with its host of problems did I realize what a godsend the DeathAdder really was.
Fast forward to today and we now get the Razer DeathAdder 2013 aka Razer DeathAdder 4G, whichever you prefer. The DeathAdder 2013 is now the 3rd generation of the Razer DeathAdder succeeding the Razer DeathAdder 3.5G with a number of small improvements, but still keeping the same design that has made the original DeathAdder the iconic mouse that it is today.
Among the improvements, we get Razer's all new, never before seen 4G optical sensor which features 6400 DPI sensitivity, 200 IPS and 50G of acceleration. Additionally, we also get several small improvements such as an all matte styled body as well as rubber side grips that have been carried over from some of Razer's latest and greatest.
Did Razer's improvements ruin a classic? Or have they made it better than ever? Flip the page to find out!
Razer DeathAdder 2013 Specifications
6400dpi 4G Optical Sensor
Ergonomic right-handed design with textured rubber side grips
Five independently programmable Hyperesponse buttons
Razer Synapse 2.0 enabled
1000Hz Ultrapolling/1ms response
On-The-Fly Sensitivity adjustment
Always-On mode
200 inches per second and 50g of acceleration
Zero-acoustic Ultraslick mouse feet
Gold-plated USB connector
Seven-foot, lightweight, braided fiber cable
Approximate size: 5.00"/127mm (Length) x 2.76" / 70mm (Width) x 1.73" / 44mm (Height)
Approximate weight : 0.23lbs / 105g