Razer Blackwidow Tournament Edition Mechanical Gaming Keyboard Review
Razer Blackwidow to Go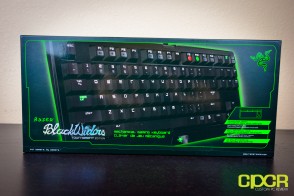 Razer's BlackWidow line of mechanical gaming keyboards have become quite well known with the PC enthusiast community as of late especially with the popularity of mechanical keyboards gaining traction lately, but one problem with most mechanical keyboards is that they're large and heavy. This is why those looking to take their mechanical keyboards on the go will find that it's quite difficult to do so, which is what brings us to the tenkeyless keyboard – a smaller, more compact keyboard designed for those on the go or for those who simply don't have the desk space for something larger. While companies such as Filco or Cooler Master have previously introduced tenkeyless designs, Razer on the other hand is still quite new to this form factor.
Our review then for today will be the all new Razer BlackWidow Tournament Edition tenkeyless mechanical gaming keyboard. As suggested by the name, the Razer BlackWidow Tournament Edition (which I'll refer to as the Blackwidow TE from now on) is a tenkeyless design which means that the tenkey (or numpad) will be dropped in favor of a smaller form factor and of course the benefits of additional mobility with it as well.
That said, if you're worried that the BlackWidow TE is somehow inferior to its full sized brothers, rest assured that this is not the case. The BlackWidow TE is packed with all the features of the standard edition of the BlackWidow such as Cherry MX Blue switches, on the fly programmable macro keys, as well as some features not found on the standard edition of the keyboard such as a detachable cable.
Interested? Let's explore some more.
Features & Specifications