New Asphalt for your Gaming Mouse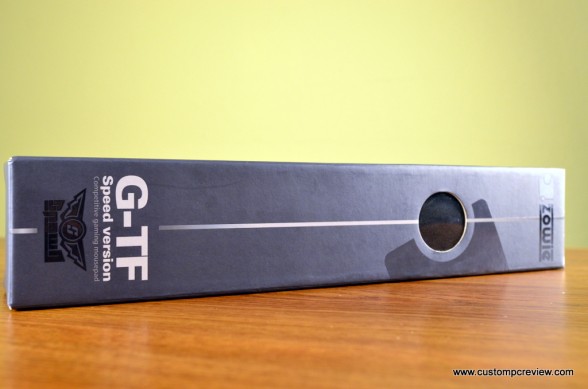 For most of us, gaming peripherals such as keyboard and mice are always on the top of our list when it comes to upgrades for our gaming rigs. After all, it's the interface that connects us to our games. However, when we do end up buying that new $150 gaming headset, the new $150 gaming keyboard, and the new $150 gaming mouse, for some reason the gaming mousepad doesn't come into the picture. Why? Well, it seems like mice these days work regardless of surface. They work on glass, they work on wood, and they certainly work on that cool looking "That's what she said!"  mousepad you got for your birthday. So why upgrade?
Well, you'll need to consider why you got that gaming mouse in the first place. For some, it looks cool and yeah, I get that. For others, you're looking for that little edge on the battlefield and if that's what you're looking to do, why are you skimping on a mousepad? It's easily the most inexpensive item in your collection of gaming peripherals and it could very well greatly enhance your gaming experience. Think about it: your car will drive just fine on dirt, but it drives even better on asphalt.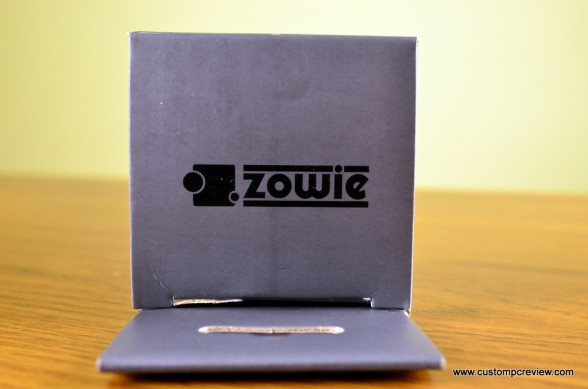 This of course then brings me to the product we'll be reviewing today – the ZOWIE G-TF Speed gaming mousepad. For those unfamiliar with the name ZOWIE, I wouldn't be too surprised. They're a relatively small and relatively new company, but they sure do make some pretty fine gaming peripherals. After all, take a look at their mission statement:
ZOWIE GEAR has no ambition to become the biggest manufacturer of competitive gaming gear. We just want to be the best. If we can develop products that will increase a gamers performance by just 1%, we will do it. This is our mentality.
Features
The speed edition of the popular G-TF – faster than ever
Newly designed rubber base for increased stability
Liquid resistant surface allows for easy maintenance
Triple-stitched edges preventing fray and increases the lifetime of the pad
Rolled edges for added comfort while playing
100% compatible with all types of mice
Perfectly oversized for gamers & designers: 440 x 320 x 2 mm / 17.3 x 12.6 x 0.08 inch
A Closer Look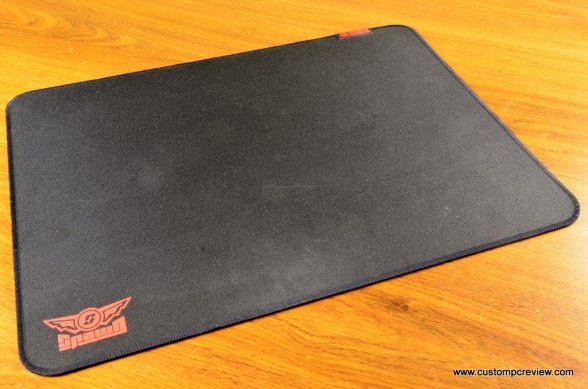 So taking a look at the ZOWIE G-TF Speed itself, the entire top surface of the mousepad is covered in a cloth finish. At the bottom left corner, there's a SpawN logo. Let's take a closer look.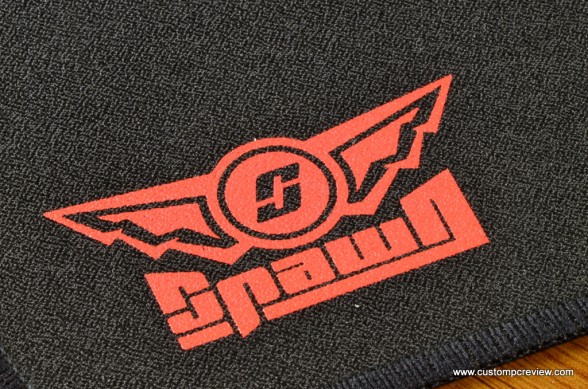 Here's a closer look at the SpawN logo. For those unfamiliar, Abdisamad "SpawN" Mohamed is a professional Counter Strike player who probably had a hand in developing this mousepad. Additionally as you can see here, the mousepad is textured and the cloth is a bit more stiff than other mousepads on the market such as the SteelSeries QCK. This is probably because the mousepad was designed with speed in mind and harder mousepads tend to excel in speed while softer mousepads tend to be more accurate.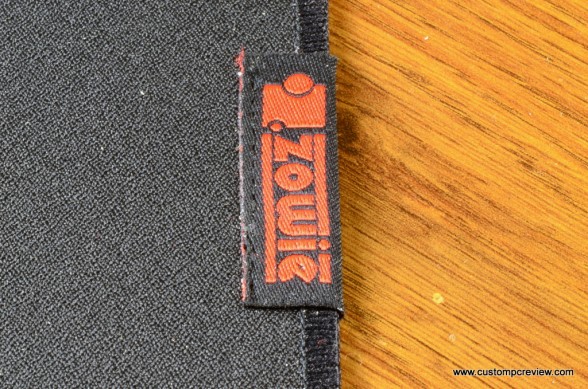 At the top right hand corner of the mousepad, there's a small tag with the ZOWIE logo. Additionally, you can see that the edges are triple stitched, which ZOWIE claims will increase the life of the mousepad. This makes sense as typically the edges of the mousepad is what wears out before the rest of the mousepad itself.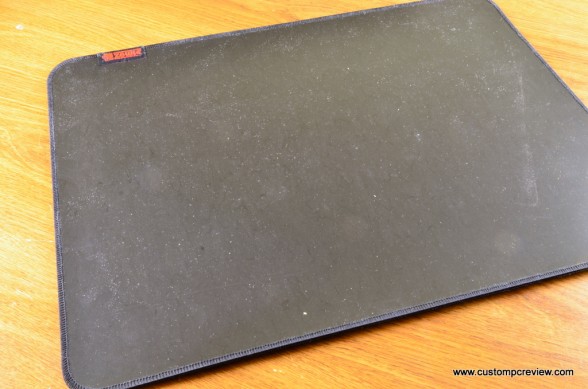 The base of the mousepad is also covered with a rubber like material to prevent slippage. While it does a great job at preventing slippage, it also does a fantastic job at collecting lint and dust as well, but that doesn't really matter.
Testing & Conclusion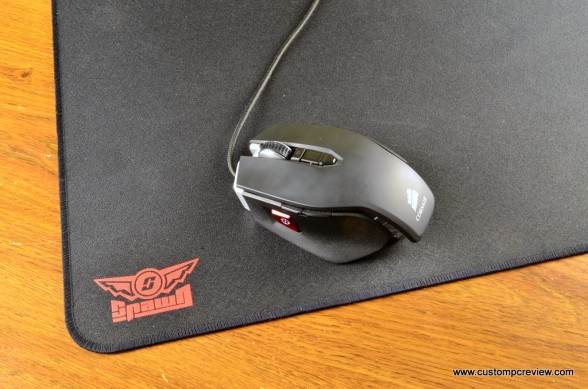 For testing, I used both the Corsair Vengeance M60 gaming mouse as well as the CM Storm Sentinel Advance II. The Corsair M60 uses the Avago ADNS-9500 sensor while the CM Storm Sentinel Advance II uses the Avago ADNS-9800 sensor. Unfortunately I wasn't able to acquire a Phillips Twin Eye mouse for the purposes of this review.
With the Corsair Vengeance M60, the mousepad helped increase both movement speed and tracking accuracy by a lot, especially since I had previously been using an old OEM hard plastic Alienware branded mousepad. This was especially apparent while playing first person shooters such as Battlefield 3 as I was able to acquire targets much faster, giving me an edge in the game. Additionally because of the larger size of the ZOWIE G-TF Speed, the sniping button feature on the Vengeance M60 was much more effective. Whereas I'd previously run out of space to travel with the old OEM mousepad, the larger size of the ZOWIE G-TF Speed allowed me to move much farther at low sensitivity. However, for those using small desks, make sure you have the space. Coming from an OEM mousepad, I was quite surprised at how big the G-TF Speed is.
When I switched over to the recently introduced CM Storm Sentinel Advance II, tracking accuracy was fantastic as well. After all it does use an Avago sensor, similarly to the Vengeance M60. However, because of the smaller feet on the Sentinel Advance II, I actually found that the speed of the mouse decreased a bit because the feet were catching onto the mousepad's texturing. While using smooth cloth mousepads without texturing such as the CM Storm RX or the SteelSeries QcK I did not experience this issue. Additionally, I also tried an old Logitech MX518 with severely faded feet on the mousepad and I experienced similar issues with the feet catching on the texturing as well. While the catching isn't too bad, you do notice it while moving around the mousepad quickly.
Build quality on the mousepad is top notch, and ZOWIE's implementation of water resistant material along with the triple stitched edges is quite innovative -something that you don't see on other high end gaming mousepads. Speed and glide among mice with larger teflon feet is phenomenal as well, but like I said earlier, those with mice with smaller feet or mice with worn out feet may have issues with this mousepad as the texturing does cause some resistance with these mice. Of course, most buyers of high end mousepads like these probably have mice with large teflon feet, so it shouldn't be a problem. Obviously, I recommend that you check your mouse (or the mouse you plan to buy) prior to purchasing the G-TF Speed.
The ZOWIE G-TF Speed can currently be found for $24.99 at Newegg, so it certainly does cost more than other similarly sized, competing cloth mousepads such as the Razer Goliathus Alpha L ($19.99), SteelSeries QCK ($21.00) and the XTRAC PADS Ripper XXL ($21.99). That being said, you're not going to find this kind of build quality on these competing mousepads, so it's going to depend on you if the build quality is worth the extra couple bucks.
Update: The G-TF mousepad doesn't actually use 100% cloth. It's actually a cloth/plastic hybrid. More information can be found here.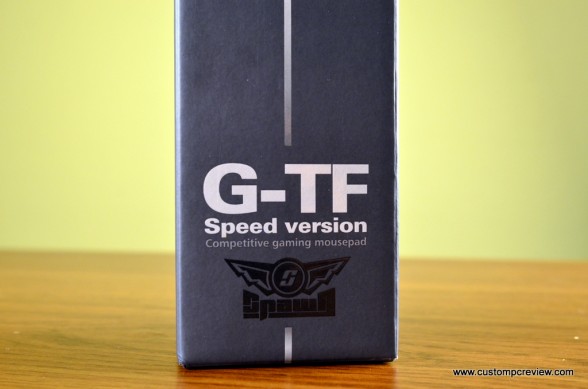 Bottom Line
If you've been gaming with a high end gaming mouse, but you're still using a tiny mousepad with the words "Dell" stamped on it, chances are it'll definitely be worth your while to take a look at what the ZOWIE G-TF Speed has to offer. Just be ready to cough up the $25 for the privilege. Oh, and make sure you're not using a mouse cheaper than this mousepad please.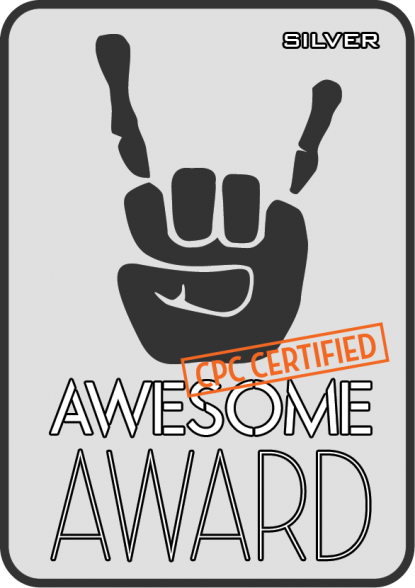 Special thanks to ZOWIE for making this review possible.
The ZOWIE G-TF Speed is currently available on Newegg. A smaller version of the G-TF, the P-TF, is currently available at Newegg as well.