Razer BlackWidow 2013 Ultimate Mechanical Gaming Keyboard Review
Razer BlackWidow, Revamped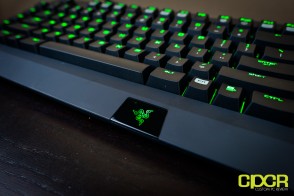 Contrary to popular belief, mechanical keyboards have been around for an extremely long time, and as much as you loved that IBM Model M you had back in the day (yes, that's mechanical!), they were more expensive to manufacture and thus more expensive to purchase in comparison to the "newer" (at the time) membrane keyboards on the market.
Since price is always an important factor when purchasing a new product, keyboard manufacturers, OEMs, and us (consumers) shifted towards membrane keyboards instead. Problem is, well membrane keyboards suck – they break often and the keys feel mushy. In applications such as gaming, where timing and keyboard reliability is critical, the demand for mechanical keyboards was obvious.
While I generally like to credit Das Keyboard for starting the big "resurgence" back to mechanical keyboards for general use, I also like to give credit to Razer and their BlackWidow line of keyboards for really driving awareness of mechanical keyboards in the gaming world. First unveiled all the way back in late 2010, the original Razer BlackWidow/BlackWidow Ultimate was probably the first mechanical keyboard oriented for gamers on the market and it quickly became one of the most popular as well.
Today we will be reviewing the Razer BlackWidow Ultimate 2013 Edition. This is Razer's first refresh of the BlackWidow Ultimate since its introduction in late 2010 and while most of the core features are identical (Cherry MX Blue keyswitches, dedicated macro keys, USB/audio passthroughs, game mode, etc.), there are a number of key improvements to the design.
The glossy finish is now a matte finish.
Razer is now offering 10KRO (key rollover) rather than 6KRO.
The BlackWidow 2013 is designed from the ground up to work with Razer's new cloud based Synapse 2.0 software.
Razer is now going with green rather than blue backlighting, which better fits Razer's company colors of green and black.
That said, it's no longer 2010 and a whole slew of manufacturers have entered the mechanical keyboard market with their own offerings. Does the Razer still have the edge? Hit the jump to find out!
Razer BlackWidow Ultimate Edition 2013 Specifications
Full mechanical keys with 50g actuation force
individually backlit keys
1000Hz Ultrapolling / 1ms response time
Programable keys with on-the-fly cacro recording
Gaming mode option for deactivation of the windows key
10 customizable software profiles with on-the-fly switching
5 additional macro keys
Gaming optimized key matrix for minimized ghosting
Multi-Media Controls
Braided fiber cable
Audio-Out / Mic-in Jacks
USB-Passthrough
Approximate Size: 475mm/18.70″(Width) x 171mm / 6.73:(height) x 30mm /1.18″ (Depth)
Approximate Weight 1500g / 3.31lbs