Patriot Supersonic Magnum 256GB USB 3.0 Flash Drive Review
Go Big or Go Home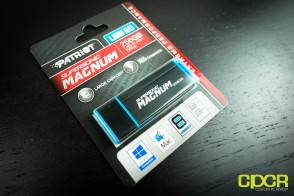 For most of us, personal data has been increasing at a rapid rate and while cloud services have popped up to help keep all that data synced, nothing really beats keeping a copy of your own data close at hand. With USB 3.0 and its higher bandwidth now becoming more and more mainstream, it's now far easier to move all that data around.
A couple months ago, we did quite an extensive roundup of the top 64GB USB 3.0 flash drives on the market and while 64GB seems like a lot especially in comparison to what was available only a couple years ago, it's quite paltry these days, when trying to back up video, pictures, or even a digital game library.
Today we'll be reviewing the Patriot Supersonic Magnum 256GB flash drive. In terms of appearance, the Supersonic Magnum is aesthetically identical to the 64GB edition of the Supersonic Magnum reviewed previously; however, Patriot is is bumping the performance rating on the 256GB Supersonic Magnum up to 250MB/s reads and 160 MB/s writes. While the 256GB Supersonic Magnum is still using a single USB 3.0 controller and 8 channels of flash memory, the higher density of the memory allows greater performance in comparison to the lower flash density in the 64GB edition of the drive.
Patriot Supersonic Magnum Specifications
| | Patriot Supersonic Magnum | Patriot Supersonic Magnum | Patriot Supersonic Magnum |
| --- | --- | --- | --- |
| Capacity | 64GB | 128GB | 256GB |
| Interface | USB 3.0 | USB 3.0 | USB 3.0 |
| Maximum Seq Read | 200 MB/s | 200 MB/s | 250 MB/s |
| Maximum Seq Write | 120 MB/s | 120 MB/s | 160 MB/s |
| Warranty | 5 Years | 5 Years | 5 Years |
| Purchase Link | Click Here | Click Here | Click Here |