Warning
: Undefined array key "width" in
/var/www/vhosts/custompcreview.com/public_html/wp-includes/media.php
on line
1381
Warning
: Undefined array key "width" in
/var/www/vhosts/custompcreview.com/public_html/wp-includes/media.php
on line
1386
Warning
: Undefined array key "height" in
/var/www/vhosts/custompcreview.com/public_html/wp-includes/media.php
on line
1386
Warning
: Undefined array key "width" in
/var/www/vhosts/custompcreview.com/public_html/wp-includes/media.php
on line
1381
Warning
: Undefined array key "width" in
/var/www/vhosts/custompcreview.com/public_html/wp-includes/media.php
on line
1386
Warning
: Undefined array key "height" in
/var/www/vhosts/custompcreview.com/public_html/wp-includes/media.php
on line
1386
Warning
: Undefined array key "width" in
/var/www/vhosts/custompcreview.com/public_html/wp-includes/media.php
on line
1381
Warning
: Undefined array key "width" in
/var/www/vhosts/custompcreview.com/public_html/wp-includes/media.php
on line
1386
Warning
: Undefined array key "height" in
/var/www/vhosts/custompcreview.com/public_html/wp-includes/media.php
on line
1386
[section label=1. Introduction]
Say Hello to My Little Sniper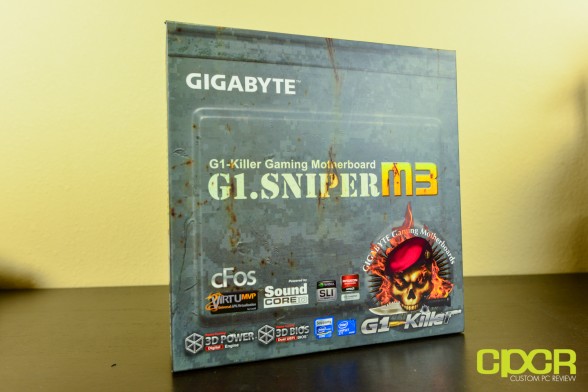 With the introduction of the Intel's Z77 chipset, Gigabyte has made many big improvements to their motherboard line and overall, we've been quite pleased with what they've done. A couple of weeks ago, we took a look at the Gigabyte Z77X-UD3H. While it wasn't the top of the line Gigabyte product by any means, we were definitely impressed with what it had to offer for the price. Sporting tons of features, high quality materials, excellent looks and a more than reasonable asking price, it was easily able to snag our highest recommendations.
With that said, today we're back with a review of another Gigabyte board and this one is from the Gigabyte G1.Sniper line of gaming motherboards – the G1.Sniper M3. Although many of you probably already know the Sniper, the Sniper 2, and the Sniper 3 as full ATX motherboards, the M3 is actually a mATX motherboard aimed at the segment of gamers who prefer smaller, lighter computers for carrying to LAN events or for those who simply just want smaller computers yet don't want to sacrifice many of the features found on full ATX motherboards.
Gigabyte G1.Sniper M3 Specifications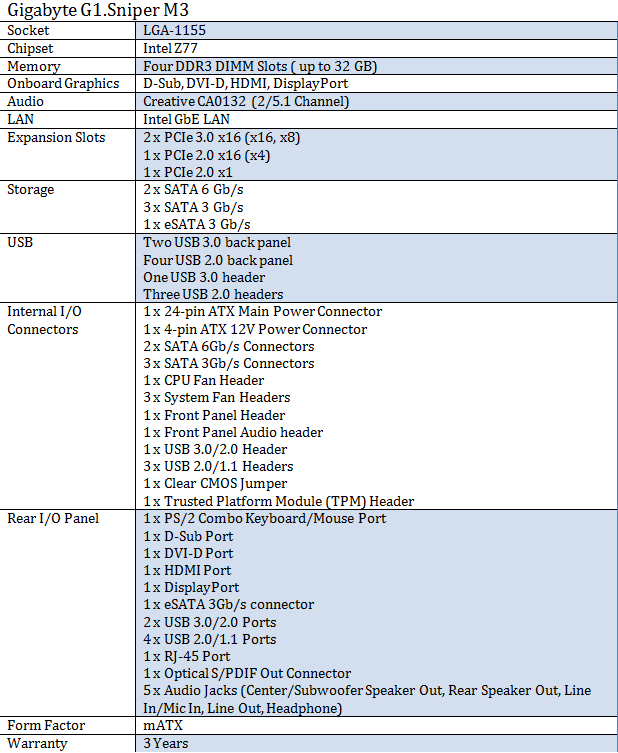 [section label=2. Features]
Gigabyte G1.Sniper M3 Features
Like most other high end Gigabyte Z77 motherboards, the G1.Sniper M3 is equipped with Ultra Durable 4 Technology. Ultra Durable 4, for those unfamiliar, is a series of enhancements Gigabyte implemented on their motherboards to make them more reliable, last longer, and even look better. So what benefits comes with Ultra Durable 4?
New Glass Fabric PCB
Instead of  having a cylindrical structure, this new type of glass fabric sports a flatter shape.This helps reduce the gaps between each weave for added protection against moisture. As an added bonus, the PCB looks extremely good as the typically brown colored copper layer in the PCB is better hidden.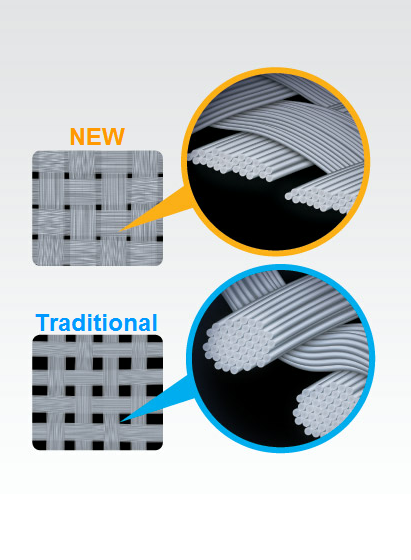 2X Copper
The power and ground copper layers in the G1.Sniper M3's PCB measure in at 70 µm, which is double the thickness of the ones found on traditional motherboards (35µm). Gigabyte claims that the extra thick copper layers increase signal strength by lowering overall board impedance, offers extra protection against EMI (Electromagnetic Interference), and reduces heat output as there's more copper to conduct heat. As expected, this translates to improved system stability and higher overclocking potential.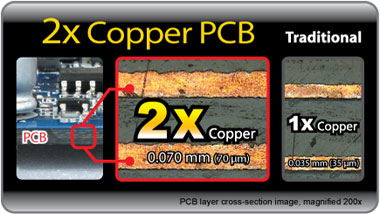 All Solid Japanese Capacitors and Lower RDS (on) MOSFET
The quality of capacitors is important because signals need them as filters. The higher quality the capacitors, the better filters they are. High grade capacitors also last longer and output less heat, and none are better than ones made in Japan. One added bonus is that in event of failure, they shouldn't explode either, which is a problem with cheap, liquid based capacitors. To further reduce the temperature and increase the motherboard's lifespan, Gigabyte has also included lower RDS(on) MOSFETs that outputs lower heat than traditional MOSFET designs. The high resistance ICs and anti-surge ICs can tolerate more ESD and higher surges than traditional ICs.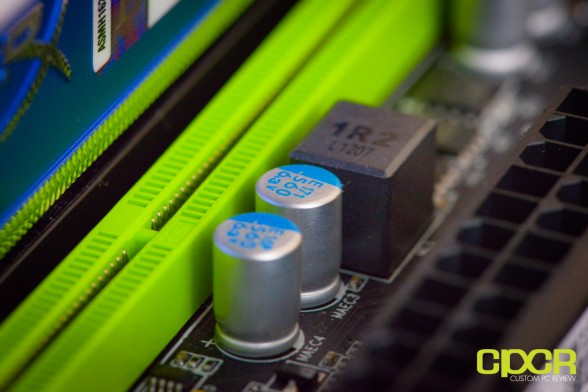 Dual Physical BIOS Chips
Remember that time you pushed your OC a little too far, and you motherboard decided to kick the bucket because you don't have a secondary backup BIOS? Well, that won't happen with the Sniper M3 thanks to its inclusion of two BIOS chips. Having two physical BIOS chips greatly enhances the board's reliability and flexibility. The user can either set the second BIOS chip as a backup for the first, or have a completely different profile stored in there for convenient switching. Unlike other full sized Gigabyte boards though, the Sniper M3 lacks an on board BIOS switch.
Aside from being Ultra Durable, the G1.Sniper M3 also comes attached with 4 "Supers".
Super Sight
Fancy way of saying compatible with 2 way SLI/CrossFireX.
Super Hearing
This comes from the inclusion of the Creative Sound Core 3D quad core audio processor. The Creative audio processor brings many benefits such as THX TruStudio Pro and CrystalVoice effects processing and helps reduce load off of the CPU by processing sound. The M3 also has a built-in front audio headphone amplifier capable of driving loads of up to 150 Ohms. In addition, Gigabyte has also loaded four additional amplifiers for the center/subwoofer, rear speaker, side surround and line out.
Super Speed
This feature refers to the G1.Sniper M3's inclusion of Gigabit Ethernet with CFOS software and Gigabyte 333 on-board acceleration. According to Gigabyte, by combining the CFOS Speed Internet Accelerator software with Intel's Gigabit Ethernet the networking speed can be greatly enhanced. The Gigabyte 333 onboard acceleration basically stands for USB 3.0 SATA 3.0, and a 3x USB power boost on all USB ports so they can quickly charge even the most energy demanding USB devices.
Super Shield
Judging by the sound of this, you're probably thinking of something along the "special protection cover" line, but you'd be very wrong. This is just Gigabyte's way of saying there are four, 4 pin fan headers so you can control your fans via PWM. The name sure had me fooled…
The G1.Sniper M3 also employs Gigabyte's 3D Digital Power Engine to give it an extra edge in overclocking and stability. Compared to analogue power, digital power is much cleaner and easier to control. Combined with PWM and filtering, the output voltage is much more precise as well. This in turn increases power efficiency and more precise power delivery to the CPU, CPU graphics, memory, and VTT. Not only does digital power enhance power efficiency, it also reduces EMI which further increases the lifespan of the motherboard.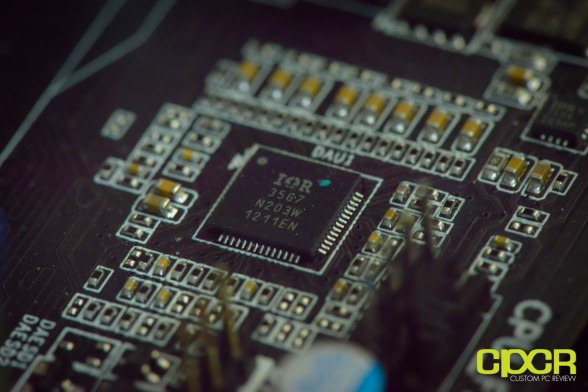 [section label=3. A Closer Look]
A Closer Look at the Gigabyte G1.Sniper M3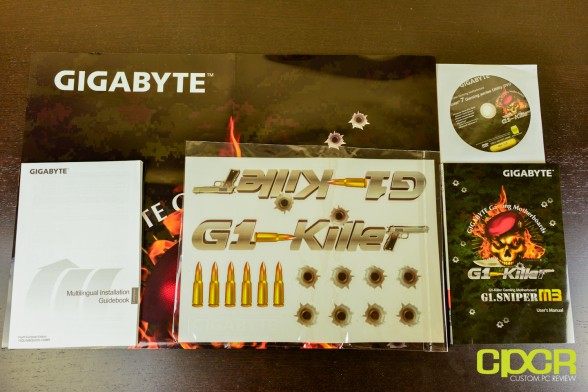 As a premium quality board, it's not surprising that the G1.Sniper M3 came with a bunch of cool accessories. Starting from the top left, we have an awesome looking Gigabyte poster, the driver disk, a multilingual installation book, gun themed stickers for your case so it can look bad ass too, and a user's manual.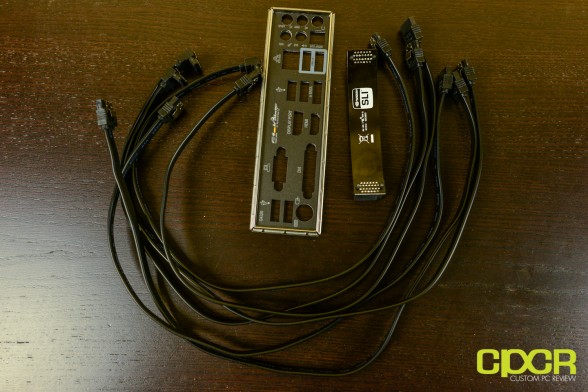 But wait, there's more! The mobo also came with 6x black SATA cables (funny, since there's only 5 SATA ports on the board), an I/O shield, and a black SLI bridge.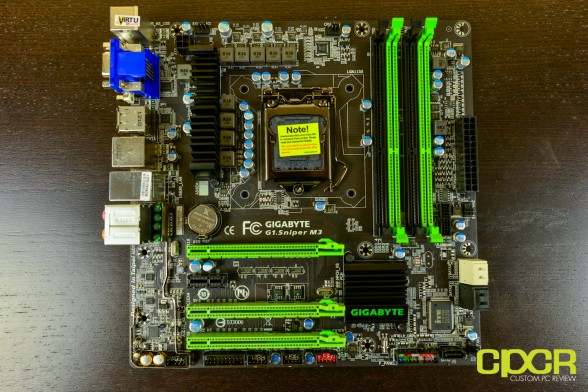 Since the Sniper M3 is a part of Gigabyte's G1 Killer gaming motherboard series, it gets the same green and black color scheme from its full sized ATX form-factor brethren.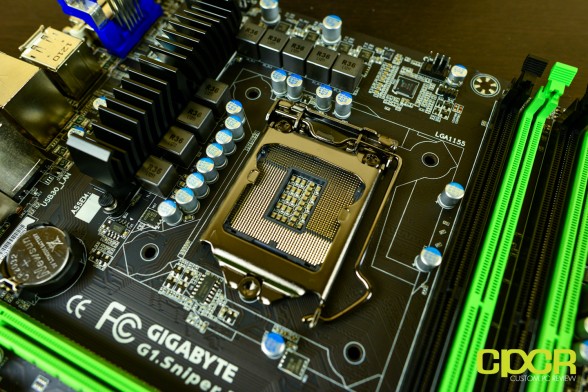 The LGA 1155 socket in all its glory. For those of you who don't already know, the 1155 socket is compatible with both the 32nm Sandy Bridge processors as well as the new 22nm Ivy Bridge processors. The memory slots are a little close to the heat sink installation area though, so larger heatsinks may bump in to the memory modules. You'll want to make sure you either get low profile memory modules or make sure the heat sink is small enough to fit. Like the Z77X-UD3H, the CMOS battery on the Sniper M3 is located directly beneath the VRM heatsink on the left.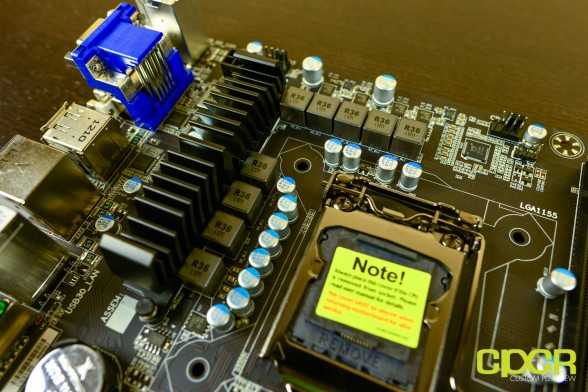 The CPU power delivery system has 6+2+1 phases. While that may sound weak compared to some of the boards out there advertising 16 or 22 power phases, this is actually identical to what's offered on the Z77X-UD3H and that board was an overclocking champ, so I'm definitely not expecting anything less out of this board. Also notice the solid capacitors used on the motherboard. As mentioned earlier, these capacitors are part of Gigabyte's Ultra Durable 4 Technology. Solid capacitors offer the both the advantage of a longer lifespan and they do not leak like liquid capacitors.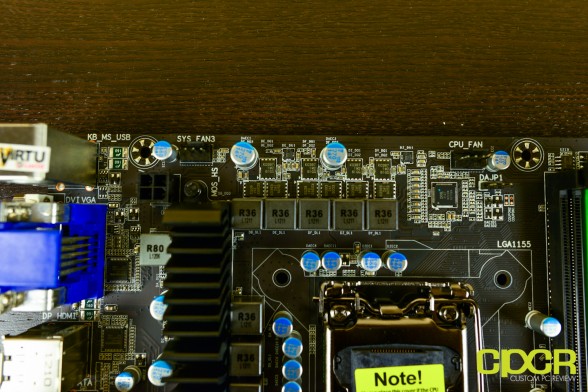 What's most interesting about the G1.Sniper M3 is Gigabyte's decision to use a 4 pin EPS power connector instead of the traditional 8 pin that's usually the norm for high end boards. Then again, with Ivy Bridge processors pushing only a paltry 77w TDP from the 95w TDP found on Sandy Bridge processors, this shouldn't be a problem. Up here we can also see the MOSFETs along with the IR (International Rectifier) digital VRM controller.
At the top left (SYS_FAN 3) and the top right (CPU_FAN), we've got 4 pin fan connectors. As mentioned earlier, as a part of Super Shield there's four of these 4 pin connectors so all of your PWM fans may be speed controlled via the motherboard's fan headers.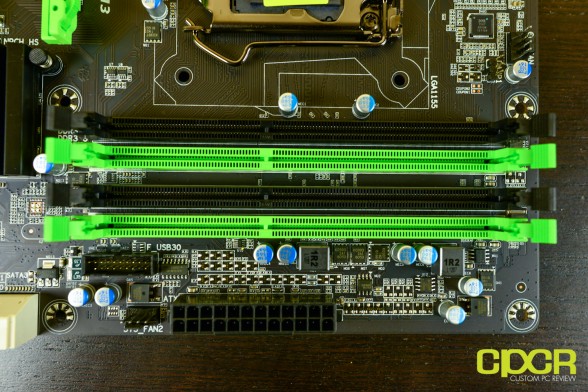 The Sniper M3 is capable of accepting up to 32GB of RAM (4x 8GB). Unlike the Z77X-UD3H we reviewed earlier, the memory slots on this board are actually color matched to indicate pairings. To the bottom of the memory slots we can see a USB 3.0 header, another 4 pin PWM fan header, and the 24 pin power connector.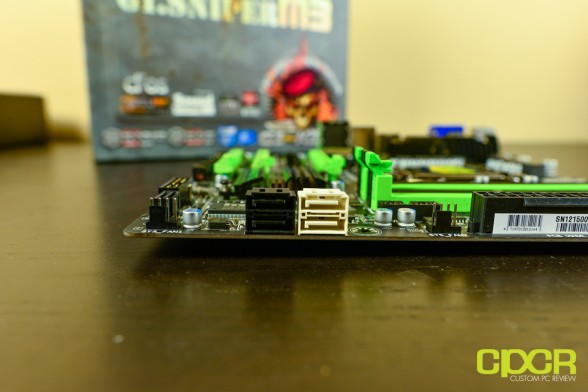 Typical of mATX motherboards, the Sniper M3 has fewer storage connectivity options than its full sized brothers. Here we can see that there are only 2x SATA 3 6 Gb/s ports and 2x SATA 2 3Gb/s ports. There's also one more SATA 2 3Gb/s port a little lower as you'll see in the next image.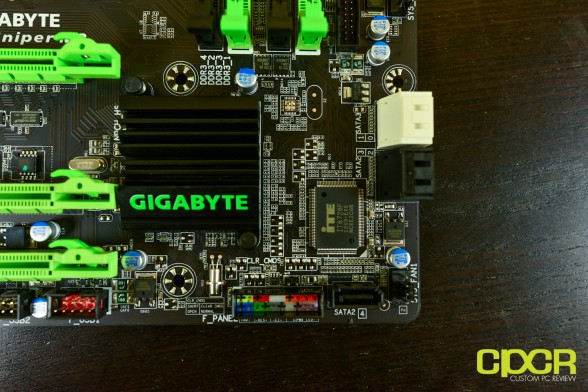 Here, we can see the gorgeous black chipset cooler with a green Gigabyte logo. This is a departure from the ammo clip heatsinks we've seen on the Sniper and the Sniper 2 boards. To the right of the heatsink we have the ITE Super I/O Controller. Moving below the I/O chip, we get a vertical SATA 2 3Gb/s port, the front panel headers, and another 4 pin PWM fan header.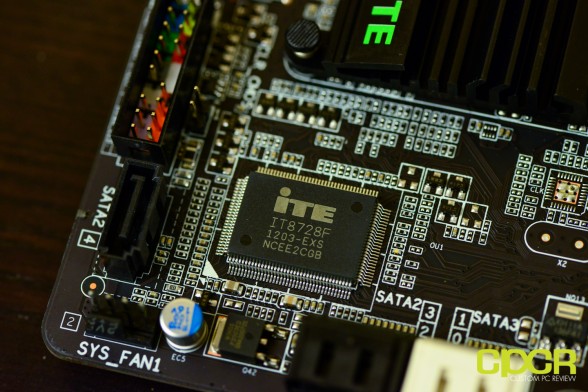 As with the Z77X-UD3H, the Sniper M3 also uses the ITE Super I/O Controller Chip. Here's a closer look. If you recall, this is the chip that controls sensors, fans, etc.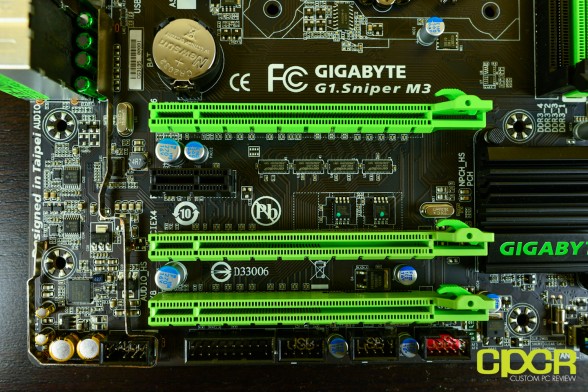 The G1.Sniper M3 comes with 3x PCIe x16 slots and one PCIe x1 slot. The slots at the top and bottom are x16 PCIe 3.0 slots while the middle slot is wired for PCIe 2.o only. The two PCIe 3.0/2.0 slots are controlled by the CPU, while the PCIe 2.0 slot is running at 4x (most likely) via the chipset.
Here, we can also see two MXIC MX BIOS chips sandwiched between the PCIe 1x and the PCIe 16x slots as well. This will allow the board to recover from bad BIOS flashes, corrupt BIOSes, and other random malfunctions. This is considered part of Gigabyte's Ultra Durable 4 technology, but has actually been a staple feature on Gigabyte motherboards for a very long time.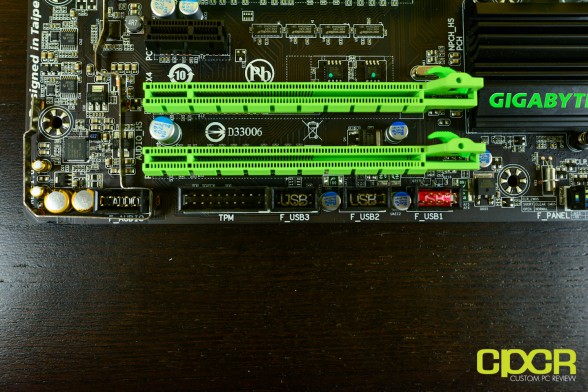 Under the PCIe slots we get the front panel audio connector, the TPM connector, and 3x front side USB 3.0 headers. Additionally, USB header number 1 (right) is capable of Gigabyte's on/off charging function.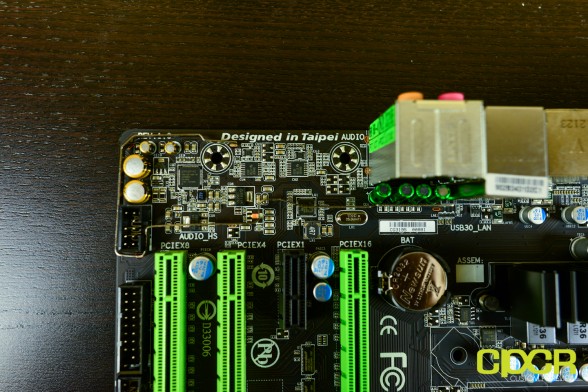 Here we can see that Gigabyte is putting a bit of focus onto the audio capabilities in the board. It's actually quite easy to spot the audio components as there's a little EMI shield installed around the audio components to reduce/eliminate EMI. Let's take a closer look…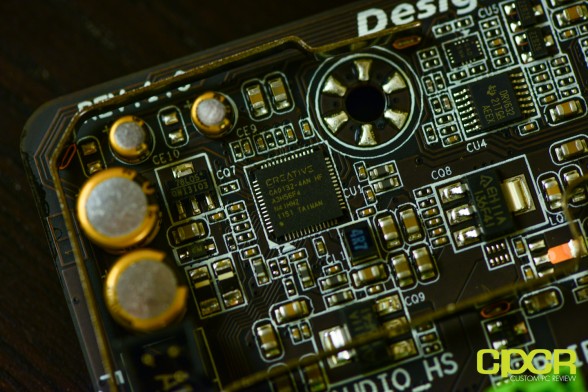 The audio chip planted here is a Creative CA0132 aka the Creative Recon 3Di. This tiny chip here features a quad core audio processor, which should be similar if not identical to the Recon 3D line of sound cards. Additionally, Gigabyte has also included some high end Nichicon capacitors and some amplifiers as well. For those who don't know, Nichicon capacitors are among the most highly regarded for audio enthusiasts.
On the back panel connector we have 4x USB 2.o ports, a dual purpose combo mouse/keyboard PS/2 port, a VGA port, a DVI port, a HDMI port, a DisplayPort, a powered eSATA port, 2x USB 3.o ports, audio jacks capable of up to 5.1 audio, an optical out, and a RJ-45 LAN port.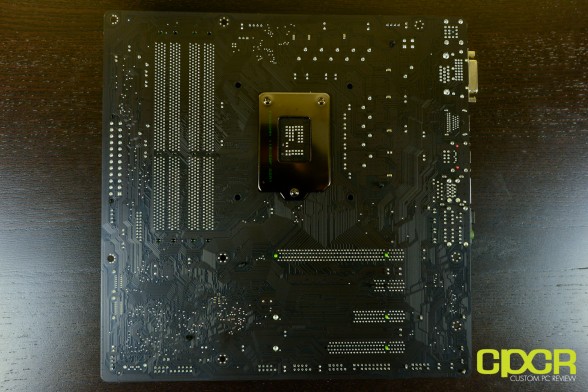 As with all Gigabyte boards, the backside is super clean and organised. Soldering is as professional as always. As with the Z77X-UD3H, The Ultra Durable 4 technology implemented on this board makes the blacks look more saturated. Also notice that Gigabyte has created a "G.1" solder pattern behind the CPU socket. Neato!
One thing that concerns me back here though is Gigabyte's choice in using plastic tabs instead of heatsinks to hold the metal screws down. While this isn't a huge concern, I would've liked to see metal screws used here especially with durability being such an important part of the G1.Sniper M3's feature list.
[section label=4. Software]
Gigabyte G1.Sniper M3 Software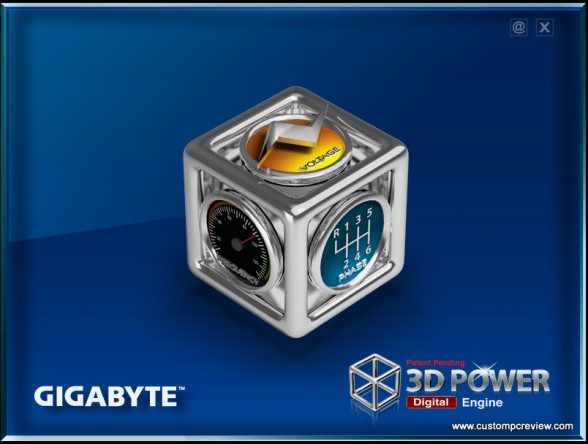 As mentioned earlier, Gigabyte is using a new digital power delivery system to enhance the board's ability to deliver clean, stable power to the CPU. Gigabyte also includes the 3D Power utility to help users adjust power delivery options for the voltage, phase, and frequency. This is a great feature for those looking to fine tune power options for overclocking.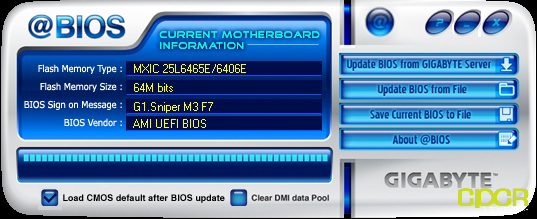 The @BIOS utility allows the user to update the BIOS in Windows. The nice thing about @BIOS is that updated BIOSes can be downloaded directly from Gigabyte's servers. This is extremely handy since you can update your BIOS from inside Windows. The utility also displays information on the current version of BIOS installed on the motherboard.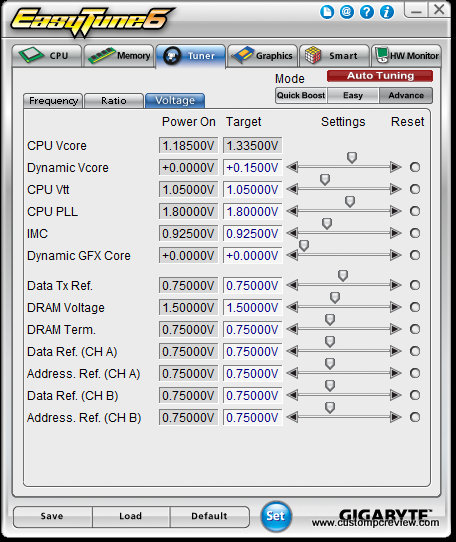 The EasyTune 6 utility is Gigabyte's own overclocking utility. It offers a wide range of settings and scales that can be adjusted to give the user the utmost control. It also displays information on the CPU, memory, system, and fans. One step overclocking may also be accessed through EasyTune 6 as well.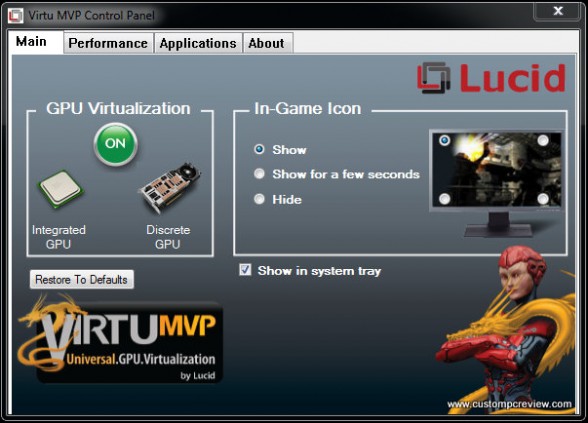 Similar to the many Z77 boards on the market, Lucid Virtu MVP makes its appearance again on the G1.Sniper M3. Although it's supposed to boost graphics performance by combining both the CPU graphics processor as well as the dedicated graphics card, we saw a marginal difference in performance with it enabled in our Crysis 2 benchmark. We'll be doing further testing on Virtu MVP in a future article.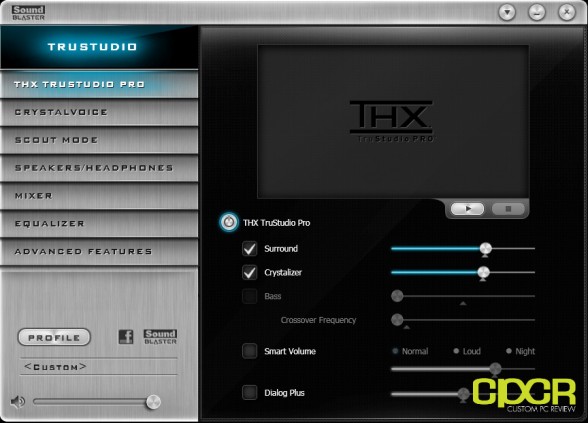 Finally, also included in the software bundle is Creative's THX TruStudio Pro software utility which helps control the onboard Recon 3Di chip. Overall, the software here was 100% identical to the software provided by Creative's Recon 3D soundcard with the exception that the onboard Recon 3Di lacks the ability to handle Dolby Digital Live encoding (missing Cinematic tab). That said, those who don't own a full 5.1 surround sound system will likely not miss this feature.
Aside from missing that feature, as far as I can tell the rest of the software suite is identical to the software found on the Recon 3D standalone sound card. For more information, check out the Creative Recon 3D PCIe Soundcard review.
[section label=5. BIOS Overview and Overclocking]
Gigabyte G1.Sniper M3 BIOS Overview and Overclocking
Since the BIOS on the G1.Sniper M3 is identical to the one seen on the Z77X-UD3H, there was little reason to do another BIOS overview and overclocking tutorial. The BIOS itself and the overclocking process is exactly the same. As I've said before, I'm very impressed with how far Gigabyte has gone with their BIOS. Menus are easy to navigate, explanations for the options are fairly decent (although small improvements can be made here), and everything feels quite snappy. Gigabyte has also implemented a 3D BIOS feature, which although a bit gimmicky, does look quite good. With Gigabyte's advancements with their UEFI BIOS, it's really difficult to remember that it was only a year ago when they were still rocking the old school BIOSes.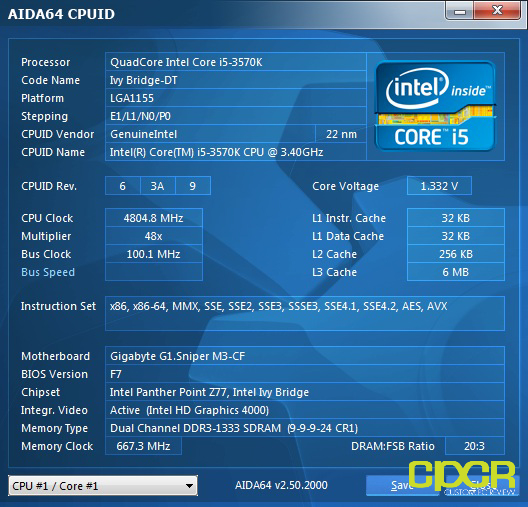 Despite concerns on overclocking since Gigabyte chose to only include a 4 pin EPS power connector onboard, the G1.Sniper M3 was easily pushed to 4.8GHz with the Vcore set to 1.35v. Similar to what we saw from the Z77X-UD3H, there was definitely more headroom for pushing the CPU even further, but our Ivy Bridge Intel Core i5 3570K was running dangerously hot at over 90°C.
[section label=6. Conclusion]
Gigabyte G1.Sniper M3 Conclusions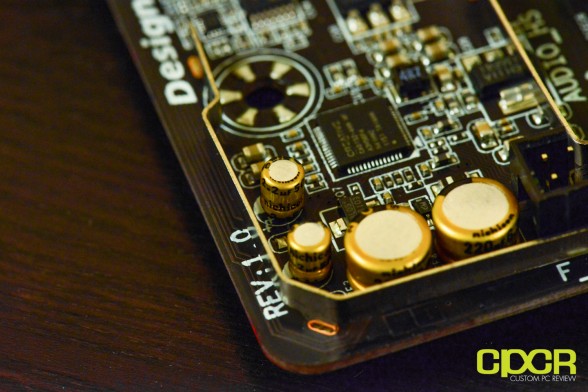 If you remember Gigabyte back in the day, then you probably also remember that they used to make those awesome rainbow colored motherboards. While gamers in the 90's gladly sported the Skittles colored boards, the gamer of today demands a different type of board and the Sniper M3 is a great example of such. Starting with appearance, Gigabyte's decision to go with the black and green color scheme on all their G1.Sniper series gaming products is a great choice. On the G1.Sniper M3, the color scheme gives the motherboard that unique look while simultaneously letting us know that the product is designed for those seeking high performance.
While the board is without a doubt quite pretty, it's also tough as well. I've been a big fan of Gigabyte's Ultra Durable initiative since its introduction way back in the day and I'm glad to see that Gigabyte has now made enough improvements to be on the 4th generation of Ultra Durable. For example, the newly released flat thread glass PCB is a huge improvement on previous board designs with its smooth feel to the touch and the ability for Gigabyte to produce a much more saturated black PCB. Component choices are spot on as well. Using all solid Japanese capacitors, 2x the copper, low RDS(on) MOSFETs, and surge resistant IC's, the Sniper M3 is definitely a board that's looking to last users a long time. That said, I'm still a bit bummed that Gigabyte decided to use plastic tabs to secure the heatsinks instead of the infinitely more durable metal screws. While plastic tabs is something we see in sub-$100 motherboards, this definitely wasn't expected from a high end board like the G1.Sniper M3.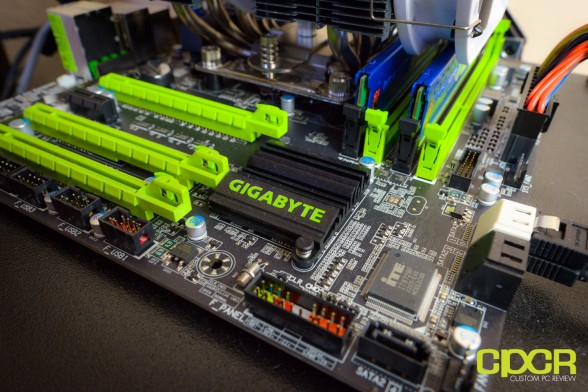 When most people shop for motherboards, it's going to be the features that weigh most heavily on the purchasing decision and I think the G1.Sniper M3 does quite well in this department. The main feature here is of course the Creative Sound Core 3Di audio processor and I think it's possibly the feature that'll make the G1.Sniper M3 a worthwhile purchase for a lot of people. I've done multiple listening tests comparing the onboard Sound Core 3Di and a full on Recon 3D PCIe sound card, and I think I can say that if there were a difference, I couldn't tell it existed – at least with the audio equipment I was testing on (SteelSeries 7H Fnatic, Creative Tactic 3D Sigma, Ultimate Ears TripleFi 10). Considering a Creative Recon 3D PCIe sound card runs for around $75, this is a tremendous value add for those who enjoy decent sound. In addition to excellent audio, it's also notable that the G1.Sniper M3 also features support for 2 way SLI/CrossFireX. This is actually a very welcome feature especially since this is a motherboard designed and marketed towards gamers.
Speaking of 2 way SLI/CrossFireX, I'd have to mention that for some odd reason, Gigabyte decided that the slot seated at the bottom edge of the motherboard should be the x8 slot instead of the one in the middle. I can only guess that Gigabyte wanted to make sure you could cram triple slot graphics cards into the system and still run multi-graphics solutions, but the problem with that is that you end up covering the audio, TPM, and USB headers this way. Additionally, for those with extra long graphics cards, you might also run the risk of covering up the front panel headers as well while those with smaller cases might not be able to fit a large graphics card hanging off the motherboard. Also, do note that there isn't much clearance between the first PCIe x16 slot and the CPU socket, so extra large CPU coolers may have fitment issues.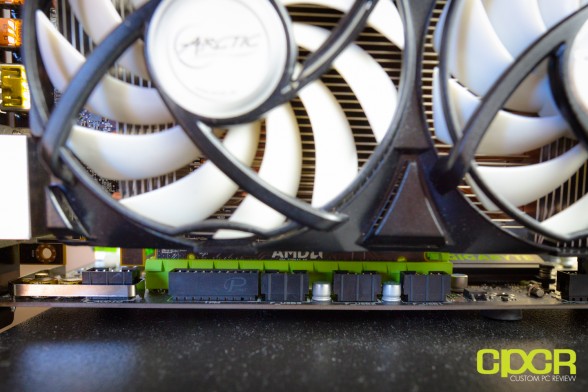 The overclocking capability of the Sniper M3 was more or less as expected since the board's design is quite similar to the Z77X-UD3H, which we reviewed previously. We managed to easily push our i5-3570K to 4.8GHz with this board, which matched the overclock we achieved on the Z77X-UD3H despite the G1.Sniper M3 having only a 4 pin EPS connector instead of the usual 8 pin EPS connector. Overall, Ivy Bridge overclocking on the G1.Sniper M3 will more than likely be limited by your CPU cooling capabilities rather than the motherboard or CPU. For our testing, there was definitely more headroom to hit even higher frequencies than 4.8GHz, but our CPU was running dangerously hot, breaking 90­°C after just a couple of minutes under full load.
Currently, the Gigabyte G1.Sniper M3 is priced at around $179.99 on Amazon making this board a pretty compelling value especially since it has an excellent sound chip included. Competitors include the ASUS Maximus V Gene Z77 ($194.99) and the ASRock Z77 Professional-M ($154.99).
Bottom Line
After putting the G1.Sniper M3 through its paces, I felt like overall it's a rock solid board except for one caveat – the wonky PCIe slot layout. That said, as long as you're going with a single graphics card solution, this board still gets nothing less than my top recommendations. You're still getting excellent onboard sound, excellent overclocking capability and great pricing.
If you are looking for an mATX motherboard to build a small form factor gaming rig that can be lugged around to LAN parties, the G1.Sniper M3 should definitely be in your scope.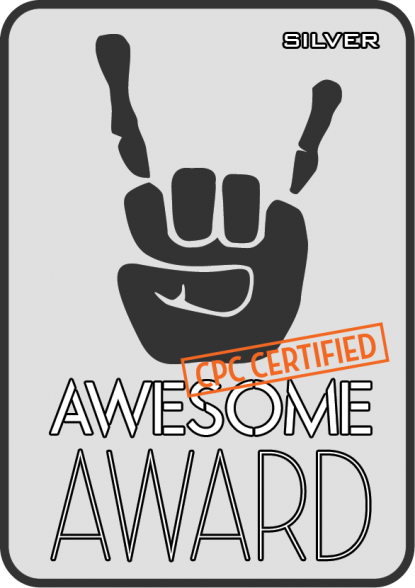 Special thanks to Gigabyte for making this review possible.
The Gigabyte G1.Sniper M3 is currently available on Amazon.